FDA Advisers Back Pfizer RSV Vaccine For Seniors Despite Key Concerns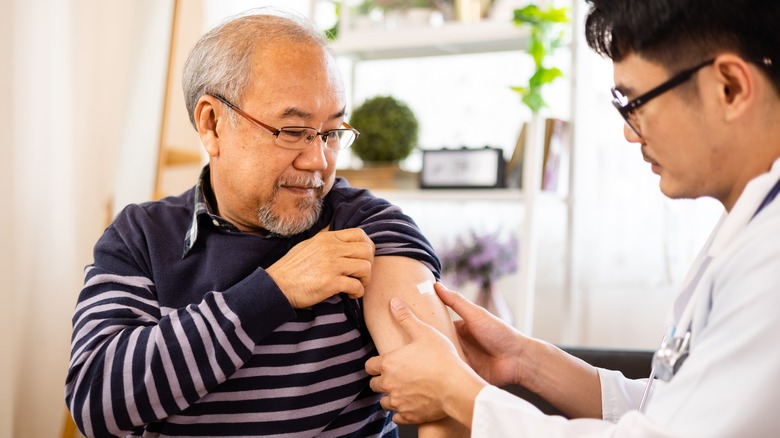 anon_tae/Shutterstock
A panel for the Food and Drug Administration determined in a 7-4 vote that Pfizer's experimental vaccine to protect older adults from RSV was safe and effective, according to the Associated Press. This decision doesn't guarantee full approval from the FDA, which won't be decided for a few months.
The vaccine's safety came under scrutiny when a 66-year-old man developed a life-threatening case of Guillain-Barre syndrome during Pfizer's clinical trials involving 20,000 participants, according to the FDA briefing documents. A 66-year-old woman with diabetes developed a severe case of Miller-Fisher syndrome, which is a variant of Guillain-Barre. Both people recovered from their illnesses several months later. Although Guillain-Barre is rare among people over 60 in the United States, the FDA considered this syndrome to be an important risk factor to consider in its safety assessment.
According to Pfizer's documents submitted to the FDA, the RSV vaccine is 66.7% effective at preventing moderate illness with two or more symptoms and 85.7% effective at preventing severe illness with three or more symptoms. The FDA also plans to review another RSV vaccine from GlaxoSmithKline, according to the Associated Press.
RSV in older adults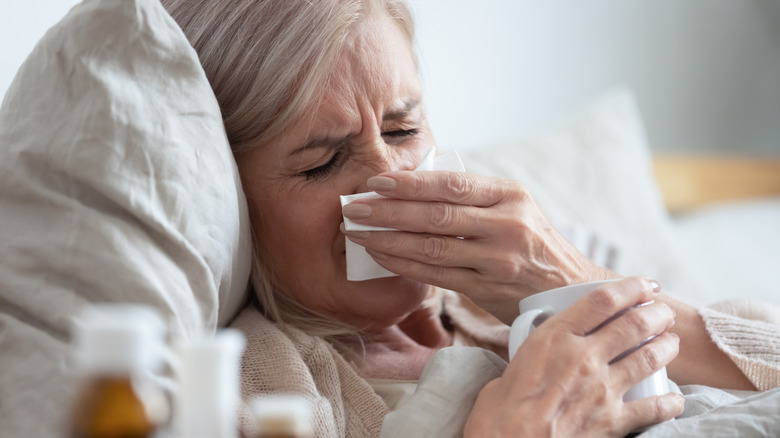 fizkes/Shutterstock
RSV usually shows up with cold-like symptoms such as a runny nose, coughing, and sneezing but can also include wheezing and difficulty breathing. According to the Centers for Disease Control and Prevention (CDC), most infants will get an RSV infection before they turn two years old. More severe cases of RSV can lead to bronchiolitis or pneumonia, which infects the lungs.
Adults over 65 are particularly at risk for severe RSV, and the CDC estimates that up to 160,000 older adults with RSV need hospital care. As many as 10,000 older adults can die of an RSV infection each year. RSV can also worsen conditions such as asthma, chronic obstructive pulmonary disease (COPD), or congestive heart failure.
You can prevent RSV and its spread by washing your hands for at least 20 seconds or using a hand sanitizer that's alcohol-based. Because germs can enter through your eyes, nose, and mouth, keep your hands from touching your face. If you know you're sick, avoid close contact with others and avoid sharing food or drinks. Germs can spread to others if you cough or sneeze, so try to cover your mouth or nose with a tissue or sleeve, particularly when you're around others. It's also best to disinfect surfaces in your home or workplace that other people touch.