What Every Parent Should Know If Your Baby Is In NICU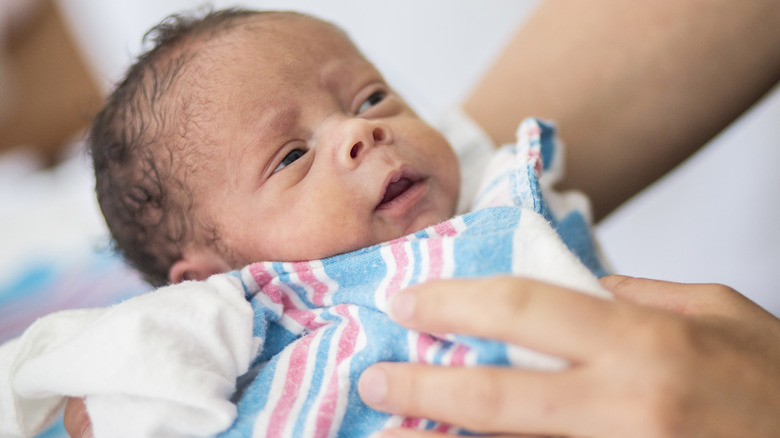 Brocreative/Shutterstock
For many parents-to-be, the birth of their child is something they've been anticipating for months with visits to the doctor, a birth plan made, and a nursery set up. And a healthy birth is something that probably all parents are hoping and planning for. But even the best-laid plans may end up falling through, and a baby may need to be admitted into the neonatal intensive care unit (NICU) to get round the clock specialized care.
There are a variety of reasons that a baby can end up in the NICU. If a baby is born before 37 weeks — and premature births are at an all time high in the US — they'll likely spend time in the NICU, according to Unity Point Health. The preemie's organs need more time to develop and they may be placed in an isolette/incubator that mimics as much as possible being inside the womb, like regulating the temperature. A baby weighing less than 5.5 pounds or having health problems, like an infection or respiratory distress, are other reasons a baby may need to be admitted to the NICU, per Stanford Medicine Children's Health.
It can definitely be scary if your baby ends up in the NICU, and Dr. Melinda Elliott, Neonatologist and Chief Medical Officer of Prolacta Bioscience described some of the things a parent with a baby in the NICU should know and do to make things a bit easier.
The NICU can be a lot to take in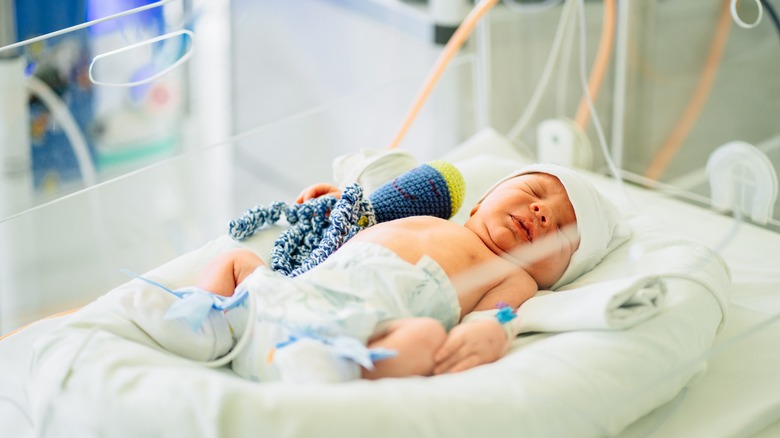 Iryna Inshyna/Shutterstock
Dr. Melinda Elliott acknowledged the amount of stress that a parent may feel when they come into the NICU to see their baby. "At first, the NICU can be overwhelming for parents — with many unfamiliar sights, sounds, routines, and terminology."
One thing you may have to come to terms with quickly is that "you may not be able to hold him or her right away" since they may be in an isolette. They might also be connected to a variety of medical devices. Those devices may include "an intravenous catheter (IV) in one of the baby's veins or a special catheter in the umbilical cord," Dr. Elliot explained. That's how the baby is getting nutrients, fluids, and any "critical medications."
Your baby may also be connected to different monitors tracking their vital signs, so there is the potential to "hear a lot of beeps and alarms. It can be a very disturbing experience for a new parent."
If there's any reassurance to be found in the possibly overwhelming sounds in the NICU, it's that the close monitoring of your baby's vitals is "providing your NICU team with information to make critical decisions about your baby's care," Dr. Elliott said. "Try to remember that it is all there to take great care of your newborn."
Learn why your baby is in the NICU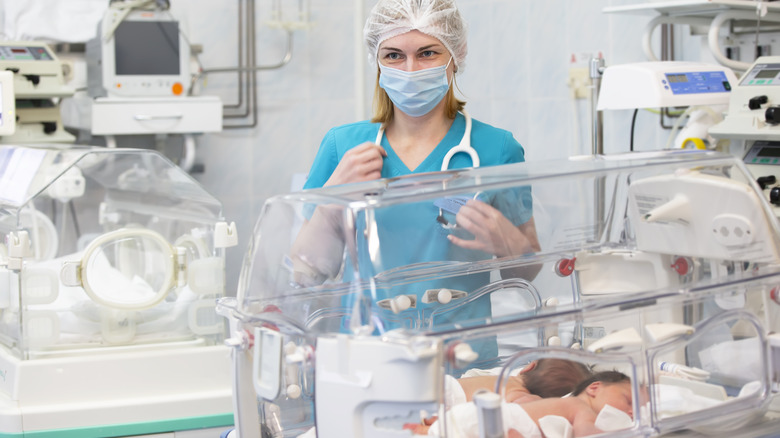 Sviatlana Lazarenka/Getty Images
You should take the time to ask any question you have about what's happening; there's no question too small or obvious for the NICU team. But it can also be hard to know what to ask. Dr. Elliott recommends starting by finding out what the function is of each of the different "tubes and wires connected to [your] baby." Learning what the various monitor sounds mean can also help bring you some degree of peace of mind.
Ask the NICU team exactly why your baby is in the NICU and what to "expect to happen over the next few days or weeks." You may want, but won't necessarily get, a definitive answer as to how long your baby will need to be in the NICU, since things can change from day to day or even hour to hour, and each case is different. But you'll want to have an understanding of what the NICU team is concerned about with your baby's health and development, the potential outcomes, and the signs of progress that they're looking for.
"Generally, your baby has to meet a few milestones to be ready to go home," Dr. Elliott explained. "Those include being able to take all their feedings by mouth rather than through a tube, keeping their body temperature normal in a regular crib, breathing on their own, and not needing any special monitoring or treatments."
Find out what your baby is being fed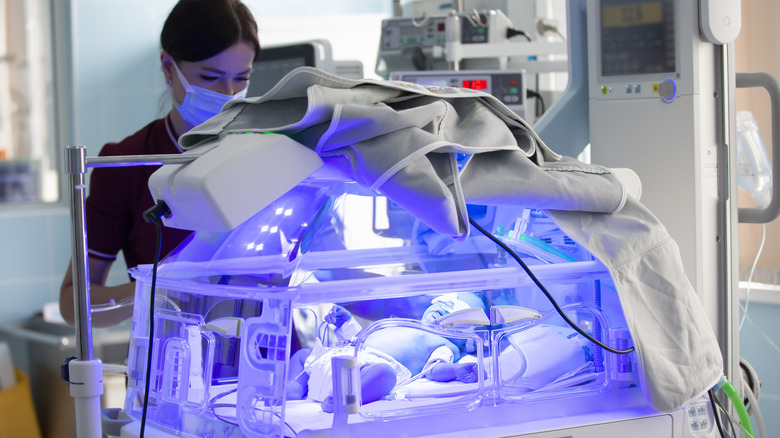 Sviatlana Lazarenka/Getty Images
It's also a good idea to ask about how you can help your baby, like by providing breast milk. Dr. Elliott noted that "breast milk is the best food for all babies, and especially preterm or sick babies."
While you may not be able to breastfeed directly, your baby can still potentially be fed your breast milk. "Your NICU team can provide a breast pump and lactation support to help increase your milk production." Another option may be donor human milk, so if you can't produce breast milk, that doesn't mean your baby can't get any.
Even if you are producing breast milk for your baby, they will probably need additional nutrients, so find out what your baby is being fed along with your breast milk. "Most premature infants need nutritional fortifiers [...] to make up for the calories, protein, and vital nutrients they missed in the third trimester."
Dr. Elliott's recommendation is to ask about human milk-based fortifiers, because they "are proven to reduce complications and get babies home sooner" and may even benefit a baby's long-term health.
Ask about skin-to-skin contact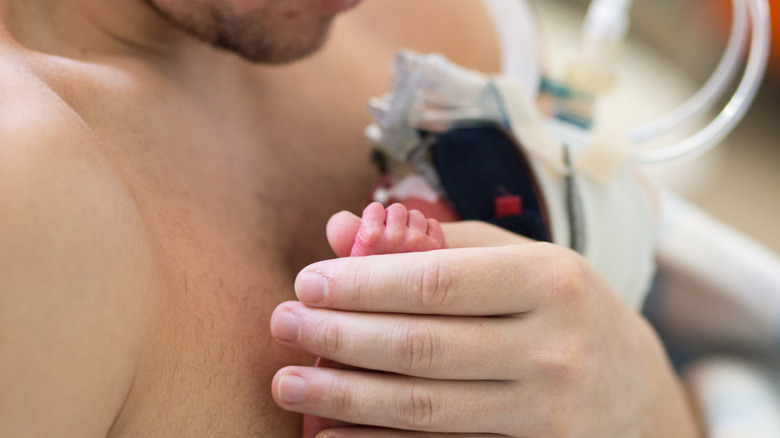 Kristina Bessolova/Shutterstock
Dr. Elliott suggested finding out when you can hold your baby, particularly with skin-to-skin contact, which is also known as kangaroo care. Kangaroo care will help you feel bonded to your little one, and it will also give them health benefits, like regulating their heartbeat and breathing and boosting their oxygen saturation, as reported by Cleveland Clinic.
Find out from your NICU team when it would be possible to get that skin-to-skin time with your baby. Bonus, as Dr. Elliott explained, along with helping the baby, kangaroo care "helps [moms] produce more breast milk [and] it's also a great way for dads to be more involved in their baby's care."
Even if your baby is attached to various machines, you may still have the option to hold your baby skin-to-skin, according to March of Dimes. Or you may be able to give your baby a "hand hug" where you don't pick them up, but gently place your hands on their head and around their feet to help give both you and your baby the healing benefits of touch. 
While there's no way to take away all the anxiety and fear about having a baby in the NICU, communicating with the team of nurses and doctors working on your baby will help. "Talk with the team taking care of your baby and get to know them," Dr. Elliott recommended. "It helps when you are feeling alone and anxious to have a trusted care provider to talk with."