New Migraine Treatment Is On Its Way In The Form Of A Simple Nasal Spray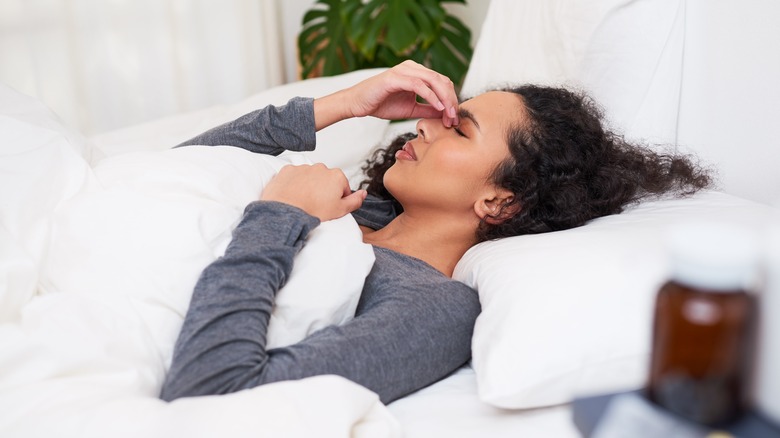 Meeko Media/Shutterstock
If you suffer from frequent migraines, you know how they can put a halt to your day. Now, relief might come in a nasal spray. The U.S. Food and Drug Administration (FDA) approved Zavzpret, which is a calcitonin gene-related peptide (CGRP) receptor antagonist nasal spray. It can provide migraine relief in 15 minutes, according to a news release from Pfizer, the drug's manufacturer.
"The FDA approval of Zavzpret marks a significant breakthrough for people with migraine who need freedom from pain and prefer alternative options to oral medications," said Angela Hwang, Pfizer's chief commercial officer and president of global biopharmaceuticals business.
The approval came after the conclusion of a 2023 study in The Lancet. The study, which included 1,405 participants, found that 24% of those who took zavegepant (Zavzpret) were pain-free after two hours compared to the 15% of those who took the placebo. The most common adverse effects were an altered sense of taste, nasal discomfort, and nausea.
Why this migraine treatment might help
Ground Picture/Shutterstock
In Pfizer's news release, Dr. Kathleen Mullin, associate medical director at New England Institute for Neurology & Headache, said that having a migraine medication that works quickly is important to her patients. "As a nasal spray with rapid drug absorption, Zavzpret offers an alternative treatment option for people who need pain relief or cannot take oral medications due to nausea or vomiting, so they can get back to normal function quickly," she said.
Pfizer hopes to make Zavzpret available in July 2023. The CGRP receptor antagonists are new for migraine treatments and can help people who can't tolerate triptans. People who take them are also less susceptible to overuse and rebound migraine headaches.
A 2023 study in Nature Reviews Neurology estimates that up to 15% of the world population suffers from migraines, and almost 5% live with migraine as a disability. A migraine can last for hours or a few days and can be as frequent as once a week, according to the World Health Organization. Hormonal influences make migraines twice as likely in women.