An Oncologist Shares What To Expect After Being Diagnosed With Ovarian Cancer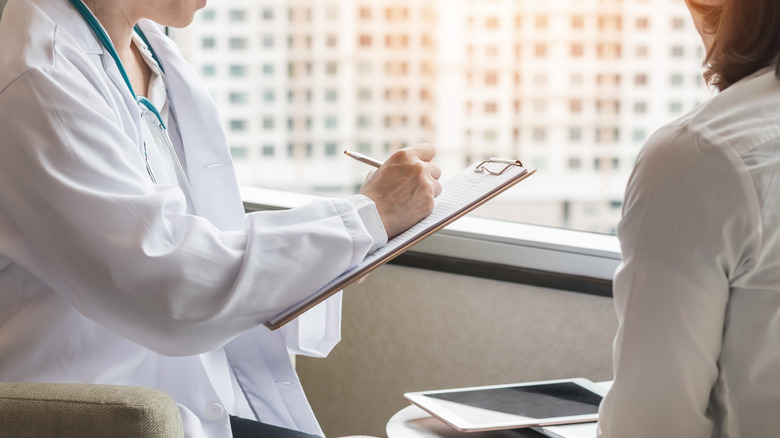 Chinnapong/Shutterstock
Approximately 1 in 78 women are at risk for developing ovarian cancer over the course of their life, according to the American Cancer Society. Upon receiving a diagnosis, a patient will likely have a series of questions pertaining to testing, treatment options, and quality of life.
In an exclusive interview, Health Digest spoke with Yale Cancer Center gynecologic oncologist and professor of obstetrics and gynecology at Yale School of Medicine, Elena Ratner, MD. She explained what patients can expect in the immediate aftermath of an ovarian cancer diagnosis and how to go about pursuing treatment.
"When somebody is diagnosed with ovarian cancer, next steps include surgery for surgical debulking, which is the removal of all the cancer, as well as chemotherapy," Dr. Ratner starts off explaining. "Sometimes surgery is done first, sometimes chemotherapy is done before surgery," she adds. "Patients should expect multiple imaging [tests], including CAT scans and sometimes PET scans," she says.
Dr. Ratner also notes that treatment plans should be catered to a patient's individual needs. "Nowadays, the cancer should be studied for different mutations to allow patients to be able to be treated in a personalized fashion, which includes targeted therapies," she explains. "It is also very important to discuss quality of life and supportive measures with your doctor while you are undergoing this treatment."
Should patients get a second opinion?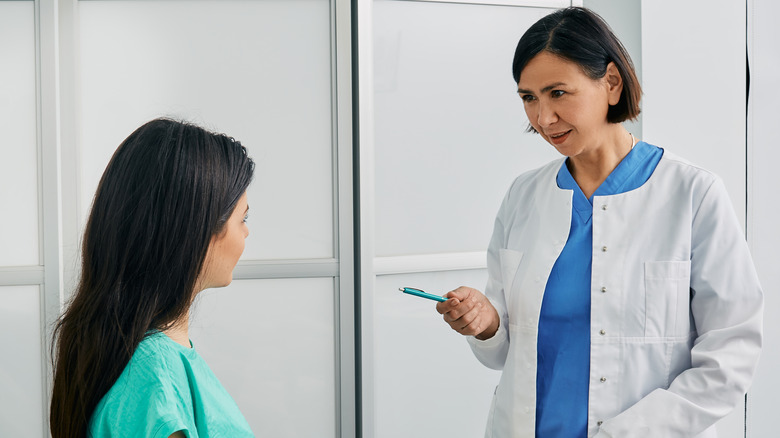 Peakstock/Getty Images
Dr. Ratner goes on to tell Health Digest whether or not a second professional opinion is recommended following an ovarian cancer diagnosis. "Second opinions are frequently helpful," she states. "Second opinions either will offer additional options, including specific clinical trials at a particular institution, or will reinforce the plan provided by the first institution." However, Dr. Ratner notes that most ovarian cancer treatment plans look fairly alike across the board. "Most treatment for ovarian cancer is very standardized and is similar across all institutions."
Overall, Dr. Ratner highlights the importance of receiving care from a physician who specializes in ovarian cancer in order to ensure you're receiving the best possible treatment. "When deciding on a treatment plan, you should take into consideration the kind of the cancer, the stage of the cancer, the patient's functional status and quality of life, as well as tumor-specific mutations," she states.
Concluding the interview, Dr. Ratner once again reiterates the importance of personalized treatment plans for all patients. "Individualized care is most important," she says.