The Link Between Migraines And Menstruation Explained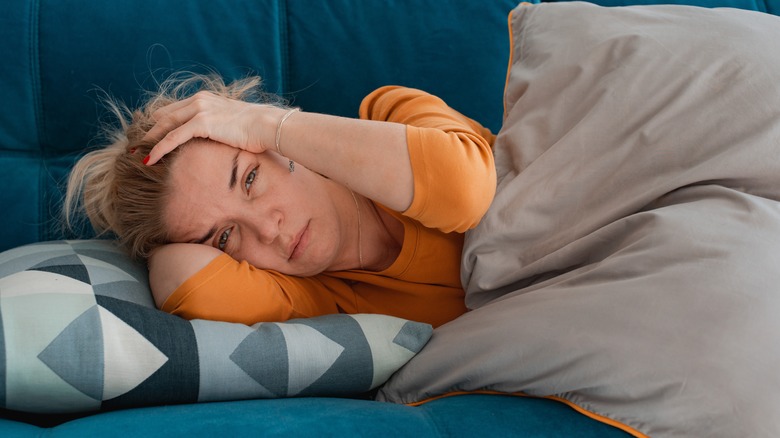 Juliya Shangarey/Shutterstock
More than a billion people across the globe are afflicted with migraines — long-lasting and severe headaches that are often accompanied by nausea, vomiting, and extreme sensitivity to light (per Migraine.com). While migraines can affect anyone, it's estimated that 70% of people who experience them are women (per Cleveland Clinic). If we didn't know any better, we'd begin to wonder whether migraines got the memo about gender equality.
However, we do know better! And probably surprising to no woman, anywhere: The discrepancy can be chocked up to our periods. Nearly two in three women with migraines have noticed that the symptoms always come around the same time of the month (per American Migraine Foundation). You know, the time of the month. Different from regular migraines, menstrual migraines — as they are so aptly named — always occur somewhere between the two days before your monthly flow starts and the third day of your period.
The connection between hormones and headaches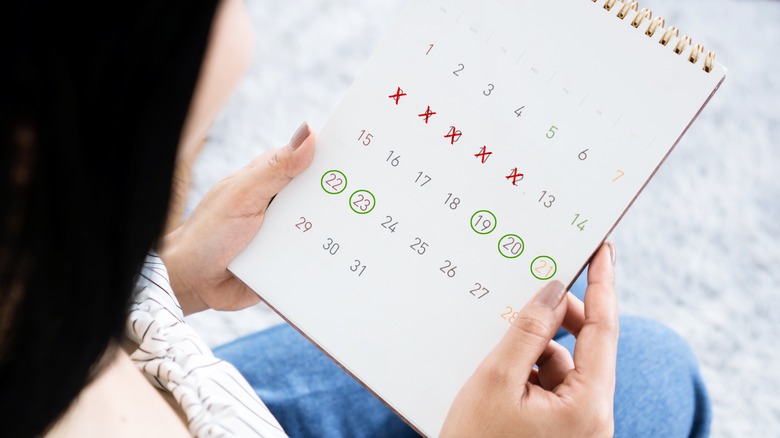 Doucefleur/Getty Images
NPR points out that while typical migraines are often brought on by things like stress, environmental factors, and genetics, menstrual migraines happen because of a fluctuation in hormones. The prime suspect in the case of menstrual migraines is estrogen, though other hormones like progesterone may play a role. In the days leading up to menstruation, estrogen levels significantly drop to allow for the shedding of the uterine lining. For decades, the medical community has recognized that this decrease is responsible for the headaches, but they couldn't figure out exactly why less estrogen equals more migraines (per Medical News Today).
However, in a new study published in Neurology, researchers made a discovery that adds a new layer to the conversation. According to the study, around the same time that estrogen levels begin to fall, the amount of calcitonin gene-related peptide (CGRP) in our system begins to increase. And it may be this elevated CGRP level that's responsible for migraines.
CGRP's role in menstrual migraines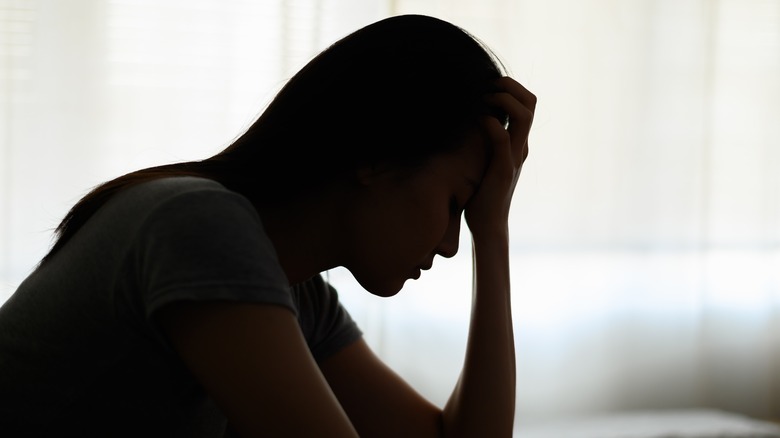 Cat Box/Shutterstock
CGRP is a protein created and released by the sensory nerves that has been associated with the occurrence of migraines (per Physiological Reviews). CGRP can have a profound effect on the brain, causing the surrounding blood vessels to dilate, which in turn creates extreme inflammation in the meninges — the brain's protective membrane (per EMedicine Health). For many people, this results in migraines.
With the exception of menopausal women and women who were on birth control, the 2023 study in Neurology found that women who experienced menstrual migraines had significantly higher levels of CPRG in their system than those who didn't.
Unfortunately, researchers remain unsure why a decrease in estrogen levels triggers an increase in the amount of CGRP released in the body. However, neurologist Dr. Shazia Afridi told Medical News Today that, because the same nerve cells that produce CGPR also have estrogen receptors, the study's findings might point researchers in the right direction.