Could A Nasal Spray Be Your Next Line Of Defense Against COVID?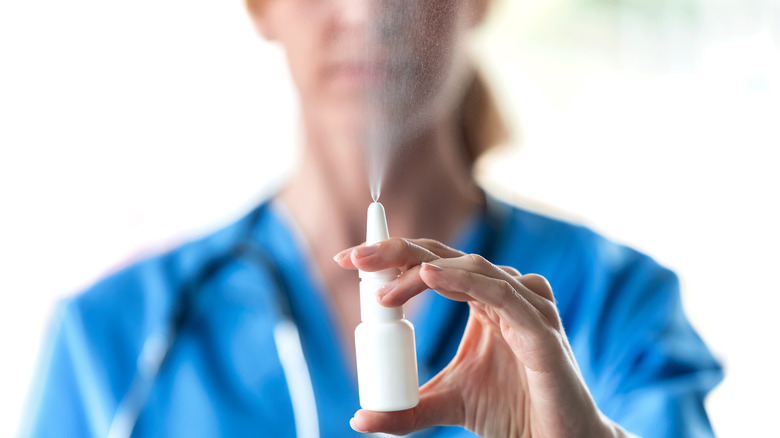 Nensuria/Getty Images
Although vaccines are still effective in preventing severe illness from COVID-19, researchers are still looking for ways to treat the new and emerging variants after infection occurs. The Centers for Disease Control and Prevention recommends against using monoclonal antibodies because they're ineffective in beating out the Omicron subvariants that are currently circulating in the United States. Remdesivir is an antiviral drug that has approval from the Food and Drug Administration, and other drugs like ritonavir-boosted nirmatrelvir (Paxlovid) have emergency authorization from the FDA.
Researchers are also looking for ways to prevent the spread of COVID-19. The World Health Organization still recommends practicing good hygiene (such as washing your hands) and social distancing. You can also avoid spreading your germs to others by sneezing or coughing into a tissue or your elbow. The WHO also recommends wearing a mask. Of course, sometimes in spite of our regular protective measures, we may find ourselves exposed to COVID — but what if we can have some sort of "biological mask" to shield us from COVID infection? A 2023 study in Nature Communications has found a possible answer.
A nasal spray that works as a biological mask
New Africa/Shutterstock
The study recognized the importance of preventing the spread of COVID, particularly since some people with immune disorders can't receive the vaccine, and older adults are more vulnerable to severe illness. The researchers developed a "sherpabody," which are antibody fragments that attach to a virus so it can't infect cells. The study tested a particular sherpabody called TriSb92 and found that although it couldn't prevent the COVID virus from attaching to cells, it was successful in blocking the virus from its infecting properties. Because COVID often enters through the nose and infects the respiratory system, the researchers suggested TriSb92 could be added to a nasal spray to prevent the virus from spreading.
The biotechnology company Pandemblock developed this nasal "biological mask," calling it Covidin. "When administered nasally, the TriSb92 molecule is extremely effective in preventing infection, and experiments carried out in cell cultures indicate that it also encompasses the very latest variants, including XBB, BF7, and BQ.1.1," said lead study author Anna R. Mäkelä in a news release.
Pandemblock is also looking to develop similar nasal sprays for the flu and respiratory syncytial virus. Covidin can prevent infection hours after exposure to the COVID virus, and it can work against any new variants that might emerge. However, before this nasal spray arrives at your pharmacy, Covidin will need to undergo clinical trials for its effectiveness on human populations.