Scientists Alarmed That Bacteria Found In Recalled Eyedrops Can Spread Between People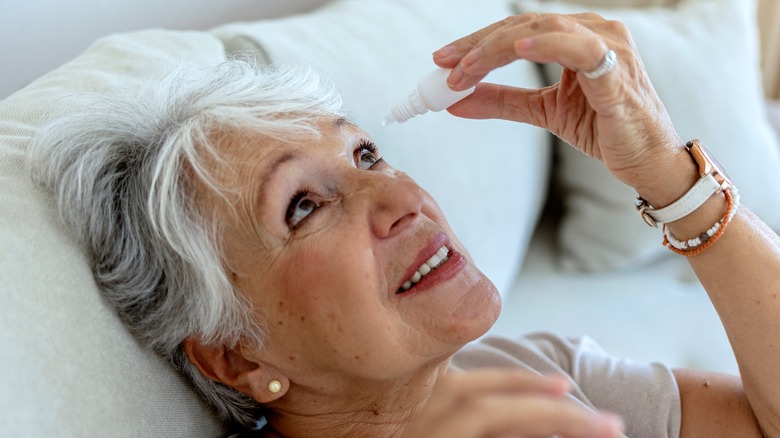 Jelena Stanojkovic/Shutterstock
In February 2023, Global Pharma Ltd. issued a recall notice for EzriCare Artificial Tears products after a dangerous bacterial infection had been linked to the use of the eye drops. Since then, the U.S. Centers for Disease Control and Prevention (CDC) and the U.S. Food and Drug Administration (FDA) have jointly investigated the issue, with 68 patients across 16 states reportedly affected, as outlined in an updated March 21 press release.
Among the identified cases, eight patients have experienced vision loss and four patients have undergone eye removal surgery. Three deaths have been reported. The bacteria of concern has been identified as a strain of Pseudomonas aeruginosa, of which no cases have ever previously been detected in the U.S. The bacteria is not only of concern to officials because of its antibiotic-resistant nature, but it has also been discovered that the bacteria are able to be transferred from person to person after a recent outbreak was detected in a Connecticut residential care facility, reports The New York Times.
A recent government inspection at the product's manufacturing facility in India revealed a host of sanitation issues. As a result, some experts have voiced concerns regarding the FDA's lack of regulation when it comes to overseas manufacturing of over-the-counter (OTC) products.
Infected individuals may be symptomatic or asymptomatic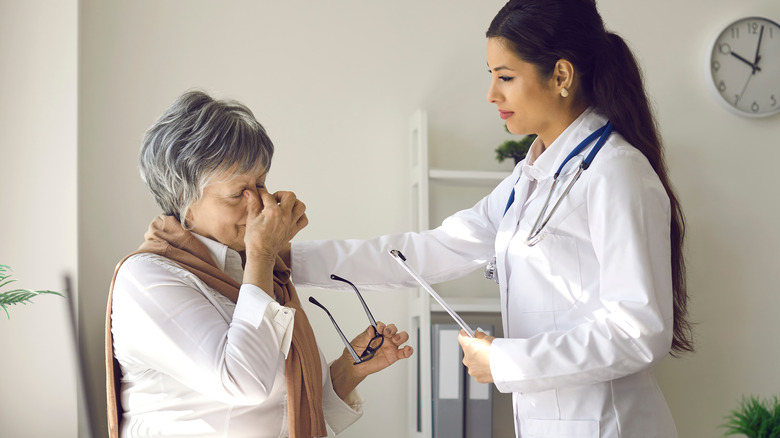 Studio Romantic/Shutterstock
While overseas imports of the product have since been halted from their manufacturing location, health officials are still concerned that bacterial spread may potentially gain traction within the United States (via The New York Times). The reason being is that the bacteria is not solely transferable through direct human contact. Rather, it can also be contracted through contact with contaminated objects, as the bacteria are able to live on surfaces such as water drains or faucets. "It's very hard to get rid of," Dr. David van Duin, an infectious disease specialist at the University of North Carolina School of Medicine, told the news outlet.
While the recent outbreak in Connecticut revealed that infected patients can present without symptoms, others may experience symptoms such as eye pain, redness, blurry vision, light sensitivity, or discharge from the eye that is yellow, green, or clear in color. Those most susceptible to infection are hospitalized patients, particularly those utilizing ventilators, catheters, as well as those with surgery-related wounds or burns (via CDC). Symptomatic patients who have used EzriCare or Delsam Pharma's artificial tears are advised to seek prompt medical attention.
In an email to CNN, an FDA representative conveyed their continued commitment to ensuring the health of the public, stating, "The FDA continues to monitor this issue and is working with the Centers for Disease Control and Prevention (CDC) and the companies recalling these affected products."