The Best Neti Pots To Help Clean Your Sinuses, According To Doctors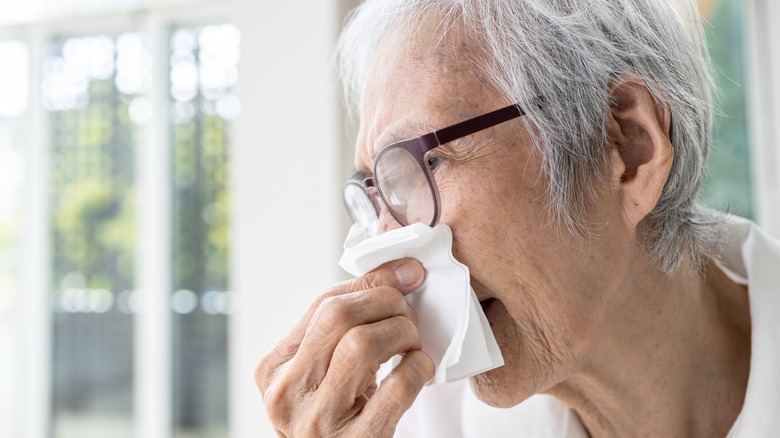 CGN089/Shutterstock
We may receive a commission on purchases made from links.
Feeling backed up, stuffy, and just downright yucky? It sounds like your sinuses may be the problem. In fact, a 2021 survey jointly conducted by Harris on Demand polling and pharmaceutical company Optinose found that roughly 1 in 4 U.S. adults deals with nasal congestion on a daily basis, and 85% of those who experience it every day said that it interferes with their life (via PR Newswire). Specifically, respondents reported difficulty with everyday activities like getting a solid night's sleep, the ability to taste or smell food, as well as enjoying time outside.
Various treatments exist in order to help relieve uncomfortable sinus congestion, including taking a steamy shower, drinking ample fluids, using a humidifier, and more (per WebMD). Others, however, may prefer to get right down to the source and flush their sinuses out directly. Enter the neti pot. Resembling a miniature teapot, the U.S. Food and Drug Administration (FDA) explains that these devices function by running a stream of saltwater or saline solution through the sinuses by way of a long spout in order to rid the sinuses of impurities and buildup. In addition to sinus congestion, they're also a popular treatment method for allergies and colds.
Top overall neti pot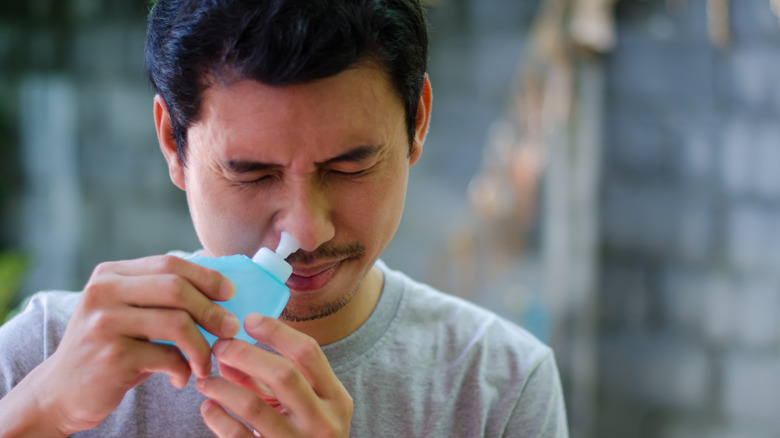 woraatep suppavas/Shutterstock
With so many products available, which neti pot brands do experts encourage us to place our trust in? "If you're going to be using these products, start with the most gentle and work your way up to the more pressurized ones depending on how you feel," Dr. Erich Voigt, an associate professor in the department of otolaryngology at NYU Langone Health, told The Strategist. Of the top neti pot products selected, each offered a range of lower-end pressure from gentle to medium.
Experts voiced their support for the SinuCleanse Soft Tip Neti-Pot Nasal Wash Irrigation System as the best neti pot overall. Coming with 30 single-use solution packets, all it takes to use this gentle-pressure product is a head tilt to one side and a pour of the mixture in through one nostril before it makes its way through our sinuses and out the other. A word of caution, however. The FDA states that tap water should never be used in a neti pot, as this can increase one's risk of bacterial infection. Instead, be sure to only use distilled or sterile water, or water that's been boiled for three to five minutes and cooled.
Top porcelain neti pot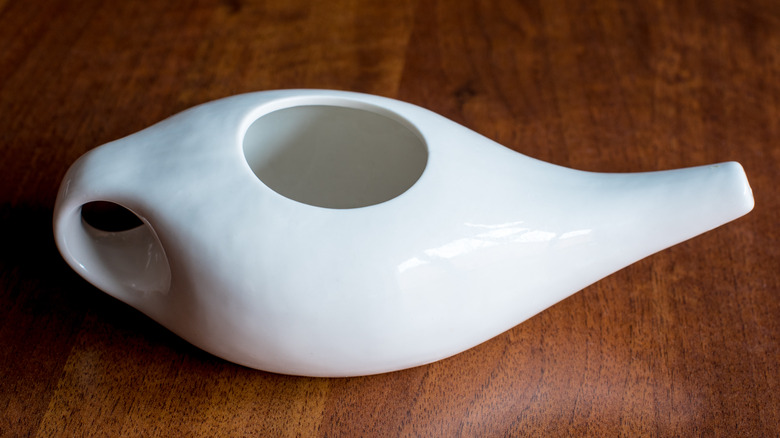 MandriaPix/Shutterstock
While many neti pots are made out of plastic, that's not the only material these products are limited to. Rather, experts at The Strategist deemed NeilMed Classic Porcelain Neti Pot Green with 30 Premixed Packets as the best porcelain neti pot to use for cleaning your sinuses. What sets it apart from similar neti pots is that it's stronger and more sturdy than many of its ceramic counterparts.
Cleaning out our sinuses can be a great way to remove pollen, dust, mucus, and other contaminants when needed. However, it's important to care for a neti pot the same way you would other hygiene items. The FDA advises thoroughly washing and drying one's hands before using the product. Similarly, inspect the neti pot to ensure that it, too, is clean and dry. Prepare the liquid solution (remember, no tap water!) and follow the instructions for product use.
Finally, always thoroughly wash your neti pot after you've used it, as both the pot and the spout can become home to bacterial growth. By ensuring that the product is clean between uses, you will reduce your chances for illness. For this same reason, it's best to keep your neti pot to yourself. You don't want to potentially be passing germs between friends or family.