Love & Marriage: Huntsville's Kimmi Scott Wants More Black Women To Get Their Mammograms - Exclusive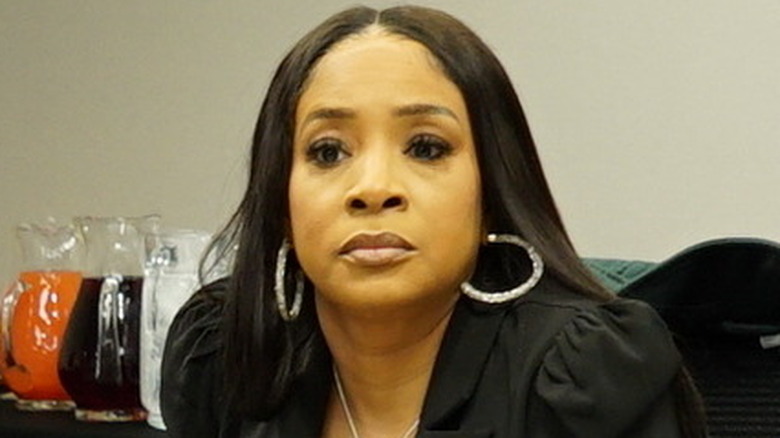 OWN
As a former nurse, "Love & Marriage: Huntsville" star Kimmi Scott knows the statistics about Black women and breast cancer. She knows that Black women have a 40% higher death rate from breast cancer compared to white women even though they have a lower rate of breast cancer incidence, according to a 2022 report from CA: A Cancer Journal. That's because Black women are at a higher risk for more aggressive breast cancers, which are more difficult to treat, according to the Mayo Clinic. Black women are also more likely to delay or skip breast cancer screenings, but Scott wants to change those statistics.
In an exclusive interview with Health Digest, Scott said that being a breast cancer patient rather than a nurse shifted her perspective on breast cancer. "Becoming the patient is astounding, the varied difference and the conversations that I've had in regards to how many people think they have a lump and are scared to go, versus how many people can't afford it. They don't have insurance," she said.
Scott and her husband, Maurice, held a fundraiser called "Bowling for Boobies" to help raise money for Sisters Network, Inc., which helps Black women pay for mammograms and increases awareness about breast cancer. She also told us how sharing her experience with cancer on "Love & Marriage: Huntsville" is encouraging more women to seek screenings.
Scott says information and support are essential
OWN
One of Kimmi Scott's best friends had her annual mammogram, but although she has dense breasts, no one suggested that she get an ultrasound. According to the Centers for Disease Control and Prevention, dense breasts put you at a higher risk for breast cancer, and cancers can hide in this dense tissue. Mammograms can miss small tumors in dense breasts, which is why ultrasound is recommended for women with dense breasts. Scott's friend wound up finding a lump six months later.
"Access to information is huge," Scott said. "Pre-screening is important, reminding people to touch themselves, reminding them to go get their mammograms done and to talk." Scott encourages more women to talk about any issues with their breasts with their doctors and with one another.
More conversation means more support. "That's very important in this regard, and supporting each other as sisters, as daughters, as aunts, as mothers," she said. "Take an aunt to the mammogram day, whatever it is. Some people don't want to go — go with them. Hold their hands. Drive them. We drive people to go vote; we can take somebody to go get their mammogram."
How fans of Love & Marriage sparked conversations about breast cancer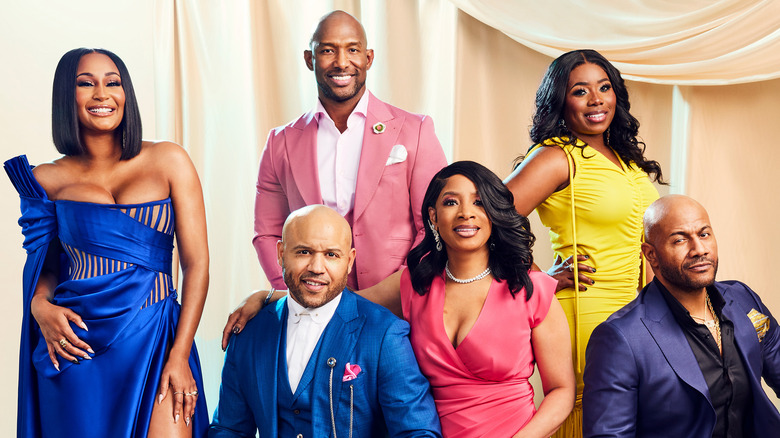 OWN
When Kimmi Scott opened up about her breast cancer diagnosis, her fans sent her gifts and positive messages to help her through her chemotherapy and radiation. "What has moved me the most are people who reach out to tell me their story or their mother's story or their auntie's story of success," she said. "Or people that were scared to go get a mammogram, but because of the show and our situation, they decided to go on and get the mammogram."
Many women getting mammograms also found cancer and shared their news with her. Others showed relief after having clear mammograms or benign results. Scott said she appreciates having such a strong network of fans to spark important dialogue about breast cancer awareness. "This platform and the fan base that it has produced is amazing. It's amazing to me. I would've never thought that people would have that much love and emotion for somebody you see for 45 minutes — inspiring."
"Love & Marriage: Huntsville" is the #1 show on OWN and the most-watched series among Black women. You can catch Kimmi and the rest of the cast Saturday nights at 8 p.m. ET/PT.