FDA Advisory Panel Backs First-Ever Over-The-Counter Birth Control Pill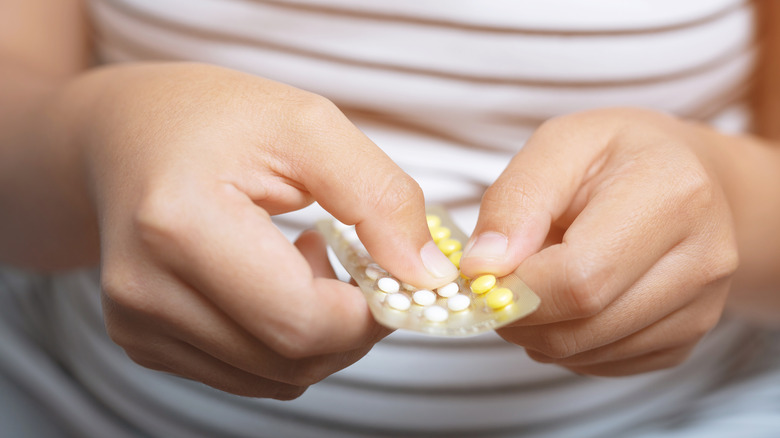 Rattankun Thongbun/Getty Images
The days of prescription-required birth control pills may soon be behind us. From May 9 to May 10, the U.S. Food and Drug Administration (FDA) consulted with the Nonprescription Drugs Advisory Committee (NDAC) and the Obstetrics, Reproductive, and Urologic Drugs Advisory Committee (ORUDAC) to weigh the potential pros and cons of authorizing the first over-the-counter hormonal birth control pill (via FDA). Manufactured by HRA Pharma, the pill — branded as Opill — would not require a physician prescription.
Initially, health experts expressed concerns regarding the medication, such as the potential for improper use by consumers, as outlined in their draft questionnaire in preparation for the meeting. After deliberations, however, the FDA advisory panel voted unanimously in favor of the pros of authorizing the medication, deeming it safe for use (per The New York Times). Whether or not the progestin-only pill will be formally authorized by the agency will be decided upon in August. Should the authorization go through, the drug could be available to the public by the end of 2023 (via CBS News).
Potential drug side effects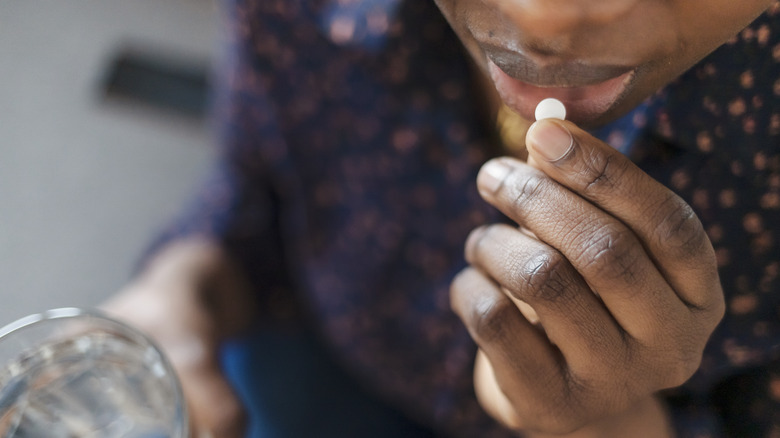 Pixelseffect/Getty Images
"FDA's approval of Opill for over-the-counter use would address a key unmet need for contraceptive access, be a groundbreaking expansion for women's health nationwide and a step forward toward ensuring people can have improved access to contraception without unnecessary barriers," said drug company representative Frederique Welgryn in a public statement, reported via CBS News.
However, some concerns still remain amongst health officials, such as the potential for overuse of the drug. Self-reported data from one of the clinical trials submitted for review revealed that a number of participants had taken as many as hundreds of additional doses than they were supposed to.
Compared to other forms of birth control, Opill is reported to have fewer side effects. Unscheduled bleeding was found to be the most common adverse outcome (via The New York Times). However, some studies have linked progestin-only birth control pills to worsening cases of liver disease or breast cancer. Therefore, the drug is not advised for individuals diagnosed with these conditions. At this time, no price point for the pill has been set.