Tips For Selecting The Best Squatty Potty For Your Bathroom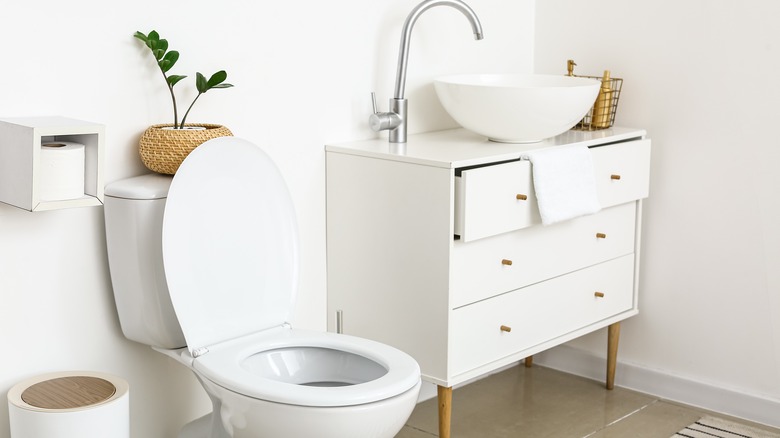 Pixel-Shot/Shutterstock
Among the medical community, some experts believe that the toilet is to blame for a number of health conditions that have been continuously recognized across westernized countries. Such conditions include irritable bowel syndrome (IBS), hemorrhoids, polyps, ulcerative colitis, and even colon cancer (via Gate to Wellness). 
The connection is thought to lie in the positioning of our body when we're seated on the toilet. When sitting similarly to how we would on a chair, it creates a right-angle bend between the rectum and the anus. This makes bowel movements more difficult for the body, as it places additional strain on our muscles to move stool through this curvature. When squatting, however, this curve straightens out, paving the way for easeful bowel movements.
Unfortunately, squatting isn't always the easiest position to hold ourselves in. After all, maintaining a squat requires a good bit of leg strength. Enter the Squatty Potty. Resembling a small step stool, when placed underneath our feet, the device naturally forces our body into a squatting position while on the toilet. Here's how to pick the right Squatty Potty for you.
Height considerations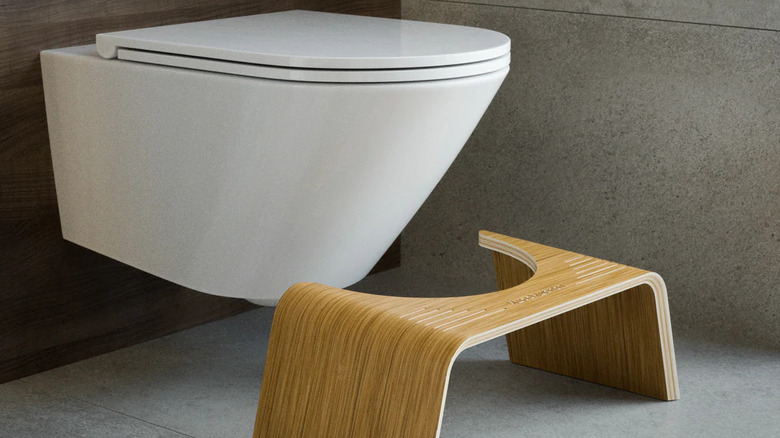 Squatty Potty
When shopping for a Squatty Potty, there are a few things to keep in mind, primarily height. For first-time users with a standard 14- to 16-inch toilet height, the 7-inch Squatty Potty option is considered best, especially for taller folks. People who are shorter, are regular squatters, or those with Comfort Height toilets that measure at over 16.5 inches tall will be better suited for a 9-inch Squatty Potty. If you want to err on the side of caution, however, consider purchasing either the Bamboo Flip Squatty Potty or the Adjustable Stool Squatty Potty. These two models do not come with a fixed height and can be modified. 
Additionally, think about what you intend to use your Squatty Potty for. Do you need it on the go? The company offers a travel model. Alternatively, what elements are most important to you? This may depend a bit more on your bathroom layout. If you have a small space, for example, then something that doesn't take up too much floor area may be important to factor in. In that event, the Squatty Potty Fold-N-Stow option may be just right for you. Do you have an older family member who may be prone to falls? This may be another element to consider. In that case, the best option may be the Eclipse model, which comes equipped with a motion-activated night light.
Bathroom design options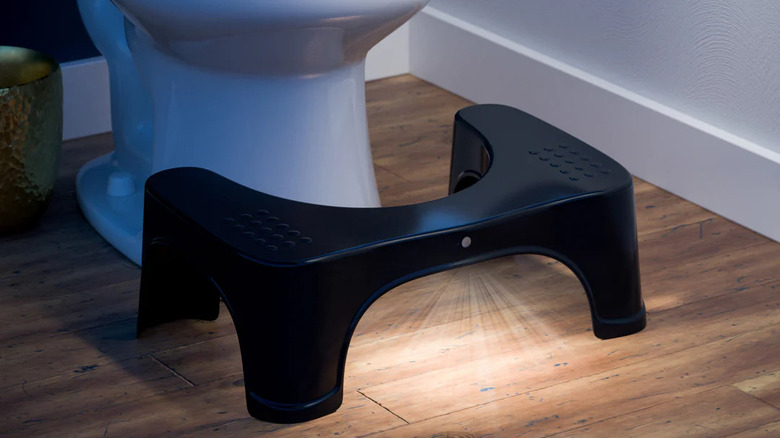 Squatty Potty
In addition to considering the physical size of your bathroom, you may also be concerned about whether or not a Squatty Potty will complement the style of your bathroom. Thankfully, they've got that covered. While we've already mentioned the bamboo model, that's not your only option when it comes to design. Squatty Potty also offers a Slim Frosted Ghost model, a Slim Teak Contempo, or a Carrara Marble option. These models can be a great fit for bathrooms with more of a sleek, modern vibe or a monochromatic color scheme.
If you have young children and your bathroom is bursting with bright colors and beloved cartoon characters, Squatty Potty has an option for that too. This can be particularly helpful for kids and caregivers in the midst of potty training. To make the toilet more enticing, consider purchasing one of their two available Potty Pets models. (If you're looking for something a little extra special, however, you might want to scoop up the limited-edition SpongeBob SquarePants Squatty Potty before it's gone.)