Gross Things That Could Be Lurking In Your Spice Jars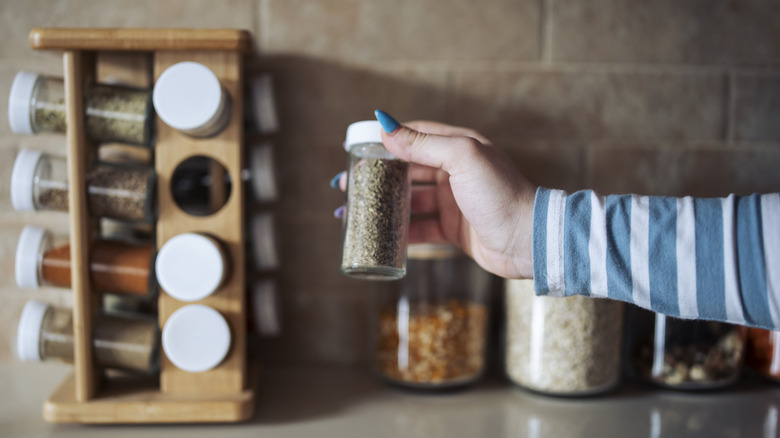 Artistgndphotography/Getty Images
We know the dangers of food contamination. In fact, the World Health Organization (WHO) reports that contaminated food items account for approximately 600 million cases of illness annually around the globe. Exposure to viruses, bacteria, and parasites through contaminated foods has been linked to over 200 different diseases in humans and can pose the greatest health risks to children, older adults, and other vulnerable populations.
For this reason, practicing proper food preparation is critical. This includes the safe handling and storage of items such as produce, raw meat, and dairy, amongst others. Equally as important is the cleaning and sanitizing of utensils, countertops, sinks, and any other surfaces that may have come in contact with these foods.
While some of the more obvious places where bacteria can be found include our trash cans or kitchen sponge, there is one area you may be overlooking. Rather, look no further than your spice rack.
Beware of bacterial and viral contaminants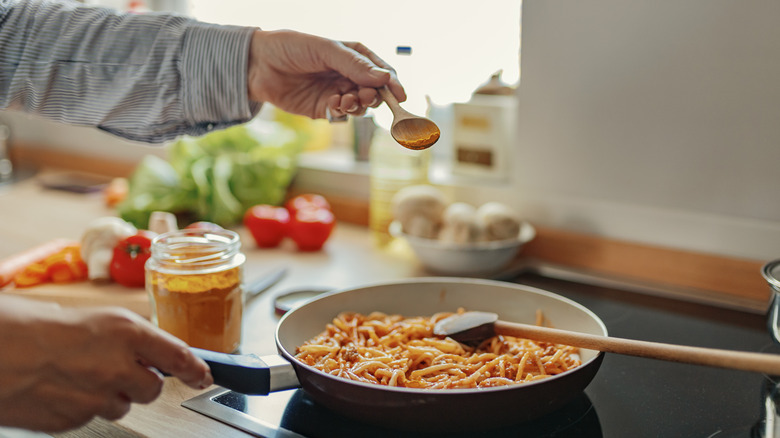 Pixelseffect/Getty Images
In a 2022 study published in the Journal of Food Protection, more than 370 participants in North Carolina were tasked with making ground turkey patties and a ready-to-eat vegetable salad in a test kitchen. The raw turkey meat had been injected with a virus known as MS2, which poses no threat to humans (via Rutgers Today). Out of two groups, only one was given a food safety lesson prior to cooking.
The researchers examined participant food preparation behaviors and tested various kitchen items for levels of cross-contamination. Such items included soap dispensers, trash can lids, faucet handles, counters, spice containers, and more. The study findings revealed that prior food safety education did not influence levels of cross-contamination. For most surfaces, contamination levels were found on no more than 20% of samples. However, this was not the case for spice containers. Rather, MS2 cross-contamination was detected in 48% of the samples and was found to have the highest viral concentrations.
"Our research shows that any spice container you touch when you're preparing raw meat might get cross-contaminated," study co-author Donald Schaffner told Rutgers Today. "You'll want to be conscious of that during or after meal preparation."
Tips for keeping your spice jars as clean as possible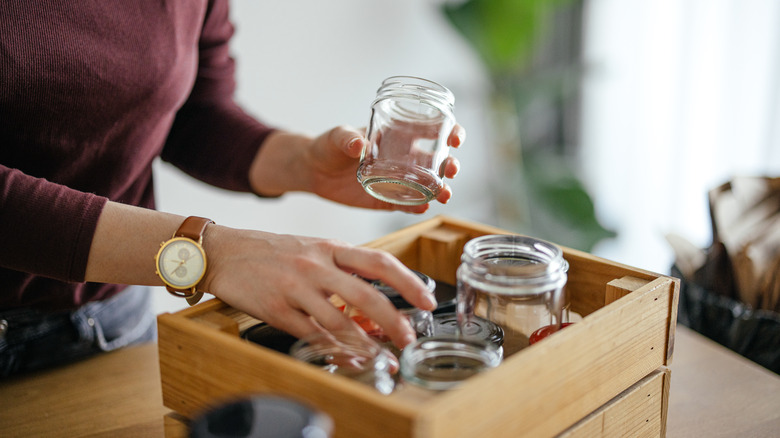 Miniseries/Getty Images
Unfortunately, bacteria and viruses are likely not the only things lurking in your spice jars. Additionally, the U.S. Food and Drug Administration (FDA) permits a certain amount of insect and rodent filth within spice containers. For example, one type of ground spice known as allspice is allowed to have at least 30 insect fragments and at least one rodent hair for every 10 grams of spice. This number jumps for ground nutmeg to 100 or more insect fragments per 10 grams of spice. Even higher, 1,250 or more insect fragments are permitted in every 10 grams of ground oregano. Whole pepper is permitted to have an average of 1 milligram or more of rodent poop per pound.
Now before you go and dump your spice rack right into the garbage, know that there are ways in which we can best keep our spice jars clean. While we may not be able to get our spice containers 100% germ-free, senior author of the study Benjamin Chapman told The Washington Post that frequent hand-washing before, during, and after cooking can go a long way — especially prior to reaching for your favorite spices. If you want to go the extra mile, try cleaning your spice jars thoroughly with a soap-soaked washrag and following it with a squirt of disinfectant spray.