Jimmy Buffett's Cause Of Death Explained
Axelle/bauer-griffin/Getty Images
It has been reported that Jimmy Buffett, creator of the iconic songs "Margaritaville" and "Changes in Latitudes, Changes in Attitudes," has died at the age of 76 after previously being diagnosed with skin cancer, according to TMZ. Buffett had reportedly been in hospice care since August 28th, and TMZ was told that Sir Paul McCartney visited the musician and performed for his family. As described on Jimmy Buffett's website, the singer was surrounded by love during his passing. He was in the company of family, friends, music, and dogs. 
Buffett was born in Mississippi and raised in Alabama, as reported by the Florida Division of Arts & Culture. He earned a history degree before deciding to pursue his interest in becoming a musician. The budding star was exposed to the "island life" in Key West which added a unique spark to his songwriting. In fact, it was in Key West where he wrote the top hit "Margaritaville." Buffett also received an award for his duet with country singer Alan Jackson named "It's Five O'Clock Somewhere."
Buffett was highly accomplished and experienced a life well lived. Prior to his death, he was forced to cancel shows because he was unable to perform due to health issues and a brief hospitalization, according to People. Buffett didn't disclose his medical condition, and added that "growing old is not for sissies, I promise you." We now know that it was Merkel cell skin cancer that ultimately led to his death. 
Buffett died of Merkel cell skin cancer that progressed into lymphoma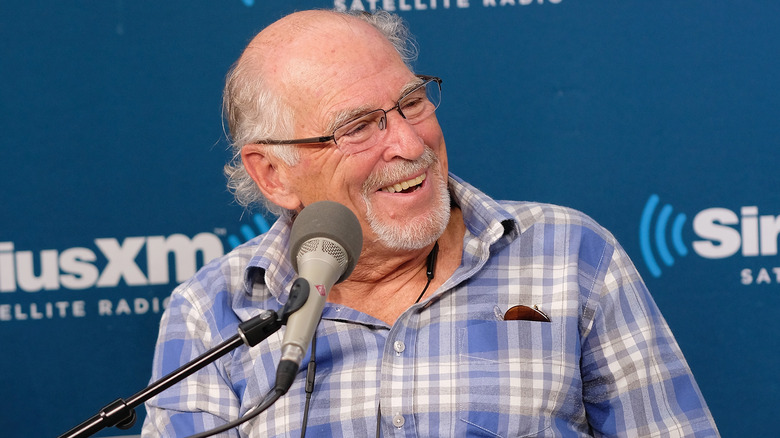 Dimitrios Kambouris/Getty Images
It was no secret that Buffett was having problems with his health, but many people were unsure exactly what those health issues were. It has recently been disclosed that Buffett was diagnosed with a rare form of skin cancer called Merkel cell carcinoma four years ago, as reported by People. Merkel cell carcinoma occurs when Merkel cells grow too large and the disease spreads to tissue, the lymphatic system, and the blood, as described by the National Cancer Institute. Surgery, chemotherapy, radiation therapy, and immunotherapy are some treatment options available for Merkel cell carcinoma.
His Merkel cell carcinoma later developed into lymphoma, which was Buffett's official cause of death, as noted by the New York Post. Lymphoma is classified into four stages and leads to an overabundance of abnormal white blood cells that interfere with the lymphatic system, according to the UPMC Hillman Cancer Center. 
Buffett was receiving cancer treatments and kept performing until he was too ill to do so. His final performance was a surprise appearance at a Mac McAnally show and the crowd went wild when they saw him, according to USA Today. Following the Rhode Island show, Buffett's health worsened to the point that he had to cancel several shows. Earlier this year, Buffett revealed in a statement on X (formerly known as Twitter) that he was admitted to the hospital to "address some issues that needed medical attention."
The legacy of Jimmy Buffett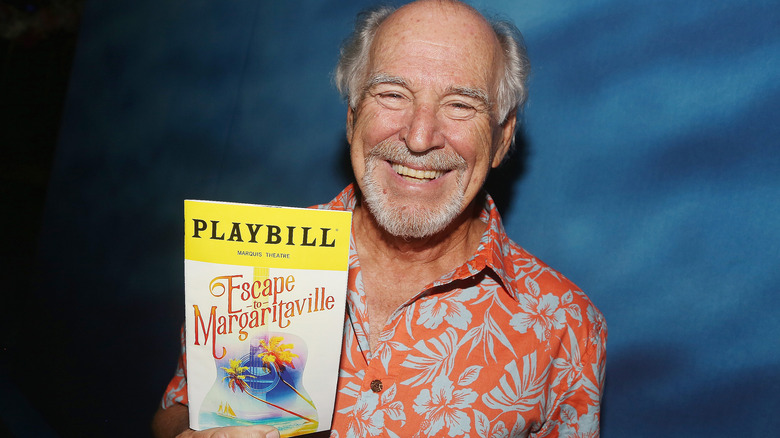 Bruce Glikas/Getty Images
Buffett will be remembered fondly by anyone who was ever the recipient of his kindness and generosity. Those who knew Buffett would describe him as a bright star with a zest for life. "Right up to the last minute his eyes still twinkled with a humour that said, 'I love this world and I'm going to enjoy every minute of it,'" Sir Paul McCartney explained in a heartfelt tribute to his dear friend on Instagram. "So many of us will miss Jimmy and his tremendous personality."
The English songwriter noted that Buffett carried a deep love for his family, friends, and humanity as a whole. He reminisced about a holiday when Buffett let him borrow his guitar before gifting him a left-handed guitar. Bill Flanagan echoed McCartney's sentiments about Buffett's character in a CBS News article by stating, "I don't think I ever knew anyone with more positive life force." 
Other celebrities have paid tribute to the late musician, including Sir Elton John, Kenny Chesney, and Alan Jackson, according to Today. As reported by AP News, President Joe Biden has also made a statement, calling the singer "full of goodwill and joy, using his gift to bring people together." Talk show host Andy Cohen posted a throwback photo of Buffett on X and described him as the "king of cool," noting that "paradise was wherever Jimmy Buffett was." 
Buffett's loving fans are likely to continue wearing Hawaiian shirts and other beachwear in his honor, just as they did during his concerts, according to the Florida Division of Arts & Culture.