Where Is Boo Boo Goo From Shark Tank Season 5 Today?
Drawing, coloring, and painting are just a few of the numerous ways in which children express their creativity. While most of these creations are made on paper (and hopefully not the walls), 6-year-old Kiowa Kavovit felt that bandaging a cut or scrape could also be a source of fun and creativity for kids.
Kiowa appeared alongside her father and fellow inventor Andrew Kavovit on Season 5 of "Shark Tank" to pitch their bandage product Boo Boo Goo (via ABC News). What set the bandage apart from a typical Band-Aid was that you didn't just stick it onto your skin. Instead, kids could enjoy the experience of painting it on themselves. The young entrepreneur told the Sharks that she was never a fan of Band-Aids. She felt they were too visible to those around her and would feel more comfortable with a less conspicuous bandage. Resembling a small bottle of nail polish, Boo Boo Goo was available in bright pastel colors or flesh-toned paint colors that would better hide the wound and draw less attention to the injury (per Gazette Review). The inventing duo were asking for a $100,000 investment in exchange for a 17.5% share in the company.
What happened to Boo Boo Goo on Shark Tank?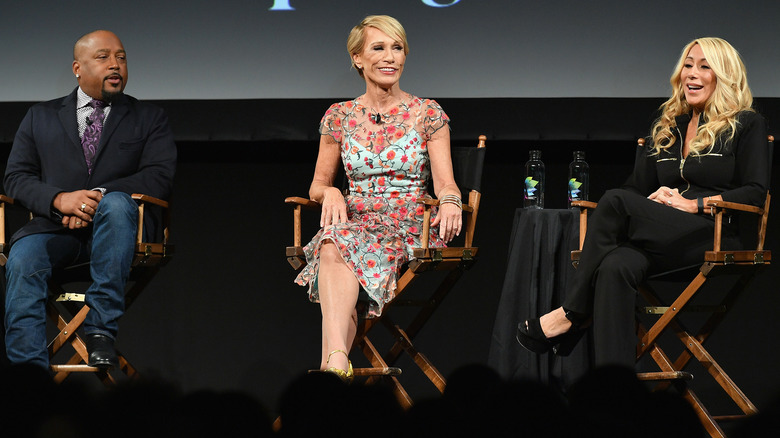 Dia Dipasupil/Getty Images
With the help of a display board, Kiowa posed a question to the Sharks. The three images on the board were of a patch of skin covered by three different types of bandages: a regular stick-on Band-aid, a clear painted-on bandage, and a skin-tone shade of Boo Boo Goo (via ABC News). "Which one do you like best?" the budding entrepreneur asked, earning herself a compliment from Lori Greiner who dubbed Kiowa a "great little sales lady."
Another product highlight was the fact that the paint-on, waterproof bandage helped reduce environmental waste. Not only that, but it also offered users plenty of bang for their buck, with a 5-ounce bottle of paint offering the same amount of protection as 75 Band-Aids (via Gazette Review). While these were certainly promising selling points, the product was still in its prototype phase and the Sharks had their reservations. The formula itself had been established with the help of healthcare specialists, yet the bottle was still a work in progress. Furthermore, the patent for the product was still pending. For some of the Sharks, this was reason enough to tap out. Others felt that Boo Boo Goo wouldn't effectively stand out from the competition. In the end, Boo Boo Goo sealed the deal with Kevin O'Leary, who offered the $100,000 investment but for 25% equity.
What happened to Boo Boo Goo after Shark Tank?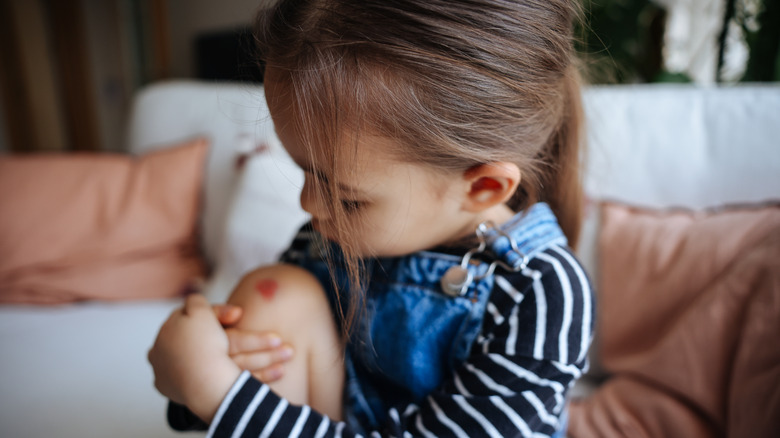 Ozgurcankaya/Getty Images
After her time on "Shark Tank," Kiowa did a number of press interviews. At the age of 7, she reflected on her time on the show, telling ABC News, "I want to tell kids that you can be something." Kiowa paused to think before quickly adding, "even though you're small." She also spoke to USA Today, stating that she had plenty more ideas percolating.
Initially, Boo Boo Goo was slated for an early 2015 release, reports the Gazette Review. There were even talks of future products to come, including Boo Boo Burns and Boo Boo Salve. However, the company experienced significant delays. In a 2016 update video posted to the company's Facebook page, Kiowa excitedly explained that they had received their first bulk batch of Boo Boo Goo and that they were in the process of undergoing a consumer test with other popular liquid bandage brands around the globe.
Where is Boo Boo Goo Now?
Ultimately, the product never came to fruition and Boo Boo Goo came to an end in 2017 (via Gazette Review). Even so, it appears that the Kavovit family hasn't given up on the idea of environmentally friendly bandages just yet. Although Boo Boo Goo's Facebook profile hasn't been updated since 2019, viewers can click on a link that directs them to a new company webpage. Marketing itself as the original Boo Boo Goo, the family has since developed Eco Bandage, a liquid-bandage product that comes in a variety of shades and colors, including Sand, Honey, Mocha, Positively Pink, and Ocean Blue. While the brush-on bandages aren't currently available for purchase, the company states that all orders are scheduled to ship in early October 2023.
While the Boo Boo Goo we came to know and love on "Shark Tank" may be no more, other companies have put the catchy name to good use, including That One Lavender Farm's Boo-Boo Goo's Premium Salve or Dimpleskins Naturals Boo Boo Goo Soothing Salve. As for Kiowa herself, perhaps we'll see some of those other percolating ideas she had as a young kid come to be in the future.