Where Is Plunge Cold Water Immersion From Shark Tank Season 13 Today?
Over the years, a growing number of celebrities have touted the health benefits of starting off their day by submerging their bodies in ice water. As initially unpleasant as it may sound, some experts suggest that doing so may support one's mental health as well as help relieve pain and inflammation (via Shape). While more research is still needed, this didn't stop entrepreneurs Michael Garrett and Ryan Duey from approaching the judging panel during season 13 of "Shark Tank" and asking for a $1.2 million investment in exchange for a 5% stake in their company, Plunge (via Sony Pictures Television).
The California-based business partners stated that their sleek bathtub product could improve consumer sleep, boost energy, stimulate fat loss, and much more, all within 60 seconds. How does it achieve this? Through cold exposure, they explained. The crystal-clear, self-filtering water could be set to any temperature between 60 degrees Fahrenheit and a chilling 39 degrees Fahrenheit. Much to the sharks' amusement, Robert Herjavec immediately jumped at the opportunity to take the plunge for himself — a moment that viewers won't soon forget. After letting out a few startled screams from the initial shock, Herjavec was eventually able to lower himself into the tub, regulate his breathing, and begin adjusting to the cold.
What happened to Plunge on Shark Tank?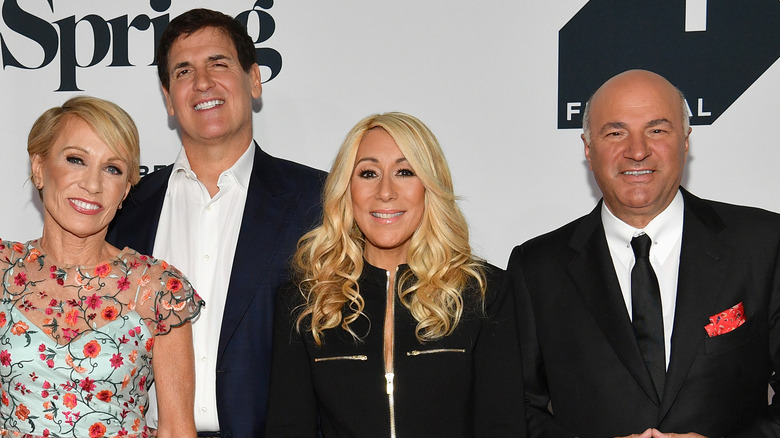 Dia Dipasupil/Getty Images
After Herjavec climbed out of the tub feeling recharged and refreshed, Kevin O'Leary dove into the numbers. Initially operating out of Garrett's garage, the entrepreneurs explained that within one year, the company had managed $4.9 million in sales (via Sony Pictures Television). Although all of the judges were thoroughly impressed, they voiced concerns over the product's price, competitive market, and how they would be able to best make their money back.
While Greiner backed out, Garrett and Duey were still left with four wildly different offers on the table from Herjavec, O'Leary, Cuban, and Corcoran. In the end, they struck a deal with Herjavec, who originally offered the entrepreneurs a total of $2.4 million. $1.2 million would be invested for a 15% stake in the company, and the other $1.2 million would be offered as a loan. With a little negotiation, however, the co-founders were able to get Herjavec to instead agree to 12% equity, and Plunge swam away with a deal.
Life for Plunge after Shark Tank
Plunge originally came about during the COVID-19 pandemic, when Garrett was forced to close down his float spa centers and pivot to a new endeavor (via Plunge). Co-founder Ryan Duey had been on a similar journey when he met Garrett, as he had been in the process of creating his own float facility at the time. After their "Shark Tank" episode aired in May 2022, both entrepreneurs continued to publicly promote the health benefits of the Plunge cold water immersion tub. Shortly after the airing, Duey appeared on an episode of Jason Khalipa's "Effort Over Everything" podcast, and Garrett was interviewed by Bionic Buzz at the 8th annual Biohacking Conference in Beverly Hills, California, in late 2022.
Just one month following their "Shark Tank" premiere, Plunge posted on Instagram that they had expanded their product line and released the new Plunge Pro XL to cater to taller individuals in need of a longer, deeper tub. That same year, the company announced that they had partnered with One Percent for the Planet, where 1% of their annual sales would be given to the organization in support of environmental protection programs. With sales booming, Plunge rounded out 2022 by awarding two consumers an all-expenses-paid weekend wellness retreat titled the "Plunge Experience Weekend."
Is Plunge still in business?
Plunge is still thriving today, with approximately 178,000 followers on Instagram. The cold water immersion tub is now also available for purchase as a Certified-Refurbished model or as a Plunge Pro Commercial model (via Plunge). The original model can be purchased on their website for a starting price of $4,990, with payment plan options and protection plans available. Consumers can also modify their order by size, cooling speed, or style, for users interested in the dual hot and cold plunge features. Additionally, every order comes with a skimmer net, cell phone holder, insulated spa cover, and even a rubber duck toy. In-home delivery and a 1-year warranty are also included in every consumer purchase.
The customer reviews essentially speak for themselves. "Coming from the frozen Tupperware and bags of ice world, this thing is top notch!!" one reviewer wrote within the last week (via Plunge). "Since its arrival, I've plunged every day and love it — my body feels amazing and so does my mind," another customer stated. In addition, Plunge now offers a variety of fun merch including bath mats, towels, swim shorts, neck pillows, a snorkel, and even a miniature trampoline called the Plunge Rebounder (via Plunge).
What's next for Plunge?
Recently named "best overall" cold plunge tub of 2023 by Healthline, it's clear that Plunge continues to be a fierce competitor when it comes to the cold-exposure market. That being said, it appears the company will soon be branching out into the world of heat exposure, too. Now available for pre-order at $250 is the Plunge Sauna (via Plunge). Heating up to 230 degrees Fahrenheit, the Plunge Sauna can be easily controlled from your phone. Designed for the ultimate user experience, the sauna is built with aromatic incense cedar, high ceilings, customizable lighting, and an ergonomic backrest for optimal comfort. Slated to begin processing pre-orders in early summer, a few customers have already gotten a sneak peek at the new product. "This was a well thought out design and idea towards the sauna revolution," one reviewer wrote. "As someone who's been using heat in training for 20 years, this product is well worth it."
To stay in the know of all that's happening with Plunge, follow the company on social media, where you'll find no shortage of giveaways and featured customer tutorials from consumers, athletes, and celebrities alike.