Why Some People Wait To Die Until They're Alone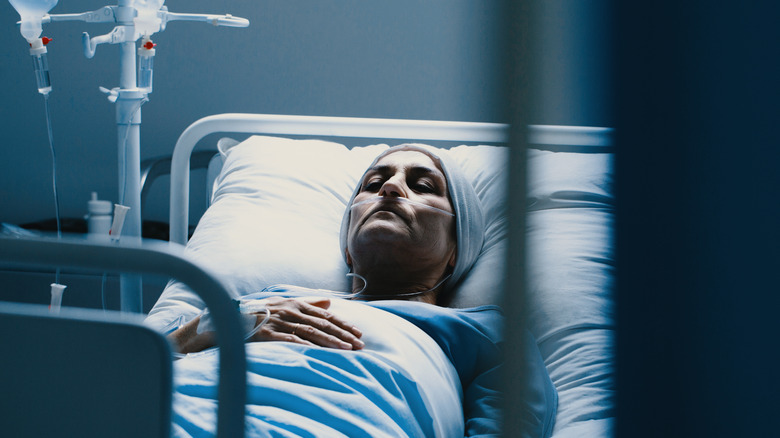 Ground Picture/Shutterstock
We may receive a commission on purchases made from links.
Dying alone usually has a negative connotation attached to it. This is probably why movies portray it as sad and heartbreaking. On the flip side, dying while being surrounded by friends and family is often thought of as a good death. The person was loved and made to feel secure as they passed on. They didn't have to endure the pain of dying alone. 
But what happens in the final moments of death is a subject that's largely still being discovered. No one really knows for sure definite answers to the big questions like "Does your consciousness continue after you stop breathing?" or "Will you have a better death if you have loved ones surrounding your bed?"
Social researcher and death studies scholar Glenys Caswell from Nottingham University noted that, for some people, dying alone is something that they choose of their own accord (via The Conversation). One of Caswell's studies, which was published in the journal Mortality in 2017, involved interviewing 11 elderly persons who lived by themselves and seven hospice nurses about their thoughts surrounding dying alone. While there was some belief among the hospice nurses that dying alone is not something they'd endorse, Caswell found that for the older people, "dying alone was not seen as something that is automatically bad, and for some of the older people it was to be preferred." They preferred it to having their freedom curtailed or being confined to a care home. 
They might die alone to spare their loved ones pain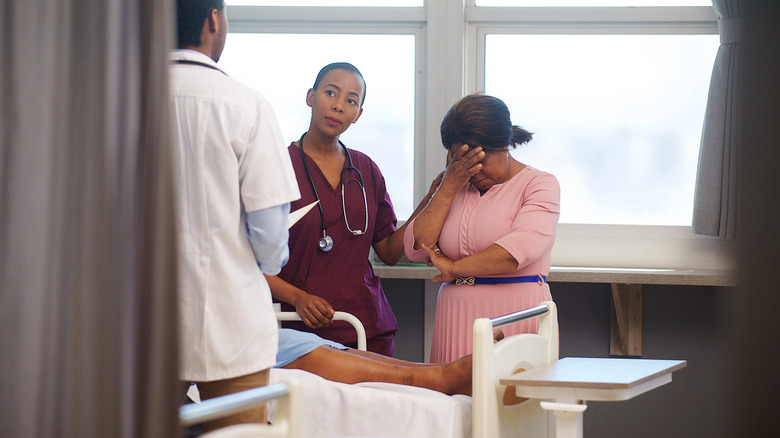 Wilpunt/Getty Images
Lizzy Miles — a Columbus, Ohio-based hospice social worker and author of "Somewhere In Between: The Hokey Pokey, Chocolate Cake and The Shared Death Experience" — is of the opinion that some people can choose when they die. She wrote in the hospice and palliative medicine blog Pallimed that people who choose to wait and die alone might be doing so out of concern for their loved ones. 
"We have those patients who die in the middle of the night. We hear stories about the loved one who just stepped out for five minutes and the patient died. We may have even witnessed a quick death ourselves. I believe this happens by the patient's choice," wrote Miles. She added that this happens mostly in instances when the dying person is a parent. "I believe it is a protective factor," she explained. 
Henry Fersko-Weiss, a licensed clinical social worker and executive director of the International End-of-Life Doula Association, feels slightly differently about the topic. While he doesn't discount the fact that some people might die alone, he shared in a YouTube video that people like feeling connected and safe before they pass away. Fersko-Weiss said that "because of the way we think about death, [we] feel that we'll be a burden to loved ones" if we let them see us die. Sparing loved ones the pain of it all might be at the heart of the decision but this is something friends and family should have an open conversation about, he added. 
Having an open dialogue with your loved one can help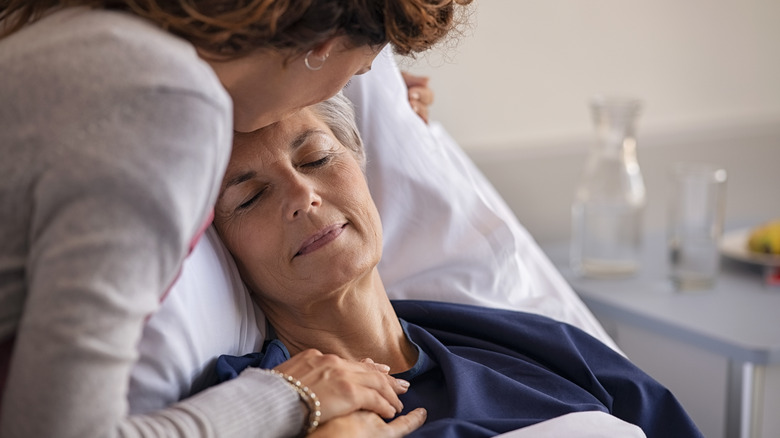 Ridofranz/Getty Images
No matter how painful those final moments might be, it can be a good idea to equip yourself with the right tools to have open conversations that foster understanding on both sides, say the experts. You might want to lean into what dying people want you to know about how they'd ideally want to go, and also assess your own emotions, cultural biases, and ideas around it. If you're unable to broach the topic yourselves, enlist the help of hospice care workers or even a therapist. 
It is possible that the person who is dying is concerned that the loved ones whom they are leaving behind will carry with them for the rest of their lives the burden of seeing them pass, shared Fersko-Weiss in the video. You could reassure them by saying something like, "Of course, we want to be there. It doesn't matter how it looks or how it sounds or how emotionally difficult it may be to be present. It is part of our love for you that we would want to be there," said the death doula. 
How you choose to be present when someone you love is dying is a decision both the dying and those being left behind can arrive at together, per the experts. And, in the instance when your loved one chooses to wait and die alone, "openness created through discussion might also help to remove some of the guilt that family members feel when they miss the moment of their relative's death," added Caswell (via The Conversation).