This Healthy Swap Should Replace Your Coffee Creamer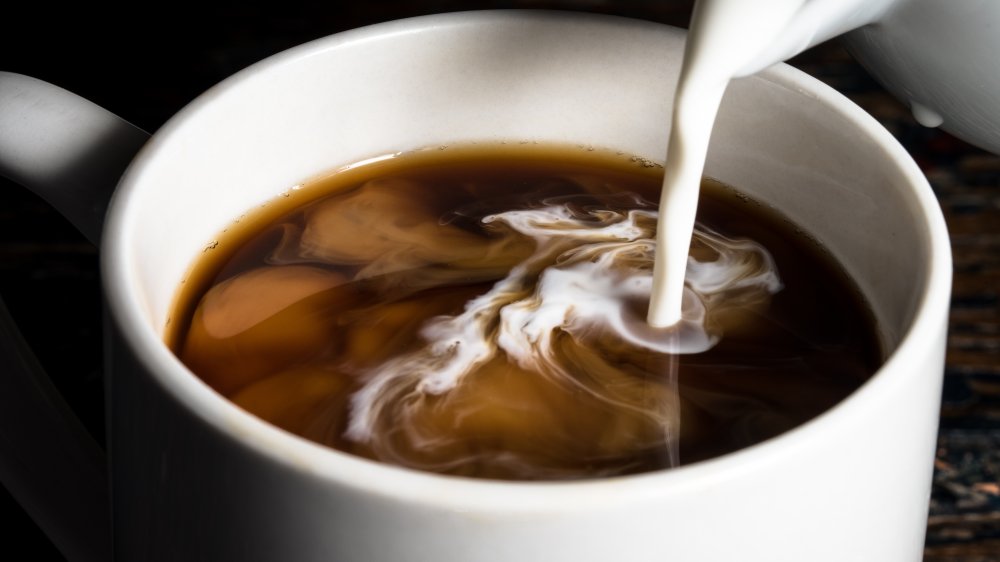 Shutterstock
Sorry, Starbucks. Your Pink Drink and Unicorn Frappuccino are feeling a little basic these days, compared to the exotic discoveries awaiting us at the grocery store. Coffee-Mate now offers coffee creamer in flavors ranging from "Toasted Marshmallow Mocha" to "Funfetti" — because who doesn't want their afternoon brew to taste like a birthday party? The problem with coffee creamers, though, is that they really aren't the healthiest. Despite the word "cream" being part of the name, a "creamer" typically isn't dairy at all; partially hydrogenated oils, along with sugars and thickeners compose this highly processed coffee accompaniment (via Food Network). While the calorie count isn't terribly high — about 35 calories per tablespoon — the average unmeasured pour averages four times that, according to Eat This, Not That!. So yeah, you might as well just eat that Funfetti cupcake instead of drinking it. 
We know what you're thinking... looking forward to that chemical-laden splash of fake-cream-that-tastes-like-birthday-parties is the only thing getting you through your tedious meeting with Cheryl from accounting. Or maybe it's actually the only thing that's getting you out of bed in the morning. Fortunately, you can make your own healthier coffee cream alternative, and you can flavor it so it tastes like marshmallows, or cupcakes, or whatever your heart desires.
How to make your own healthy coffee creamer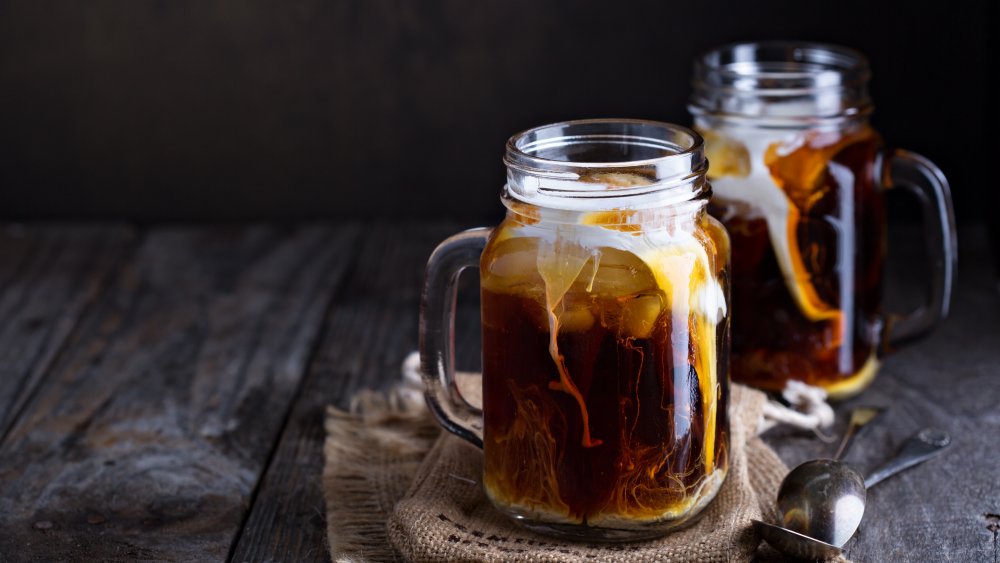 Shutterstock
You can make an all-natural, non-dairy creamer that jazzes up your morning joe by mixing one can of coconut cream with a tablespoon each of maple syrup and vanilla extract (per Healthline). Store it in a mason jar and enjoy it all week long. Throw in whatever additional flavors you want to match the dessert you're trying to mimic. Pumpkin and pumpkin spices will give your creamer PSL vibes, while some peppermint extract and cocoa will transform your coffee into a mint-chocolate-chip-like phenomenon. If it's that marshmallow coffee creamer flavor you're craving, you can actually buy marshmallow extract; in fact, you can find flavoring for everything from spiced rum to cheesecake at Amazon. Check the label to ensure you're avoiding options with artificial flavoring, though.
DIY coffee creamer has become an internet obsession, with foodie bloggers riffing on the simple, three-ingredient recipe to experiment with consistency and add their own creative touches. "I just want to say, this dairy-free coffee creamer is delicious. I could drink it by itself, it's almost like a melted coconut ice cream without a super strong coconut flavor," gushed the What The Fork blog, which suggested a version of this DIY non-dairy creamer that included both condensed and full-fat coconut milk.