This Trendy Diet Is Adele's Secret To Staying Slim
We may receive a commission on purchases made from links.
You might have noticed that Adele has lost some weight if you've caught her stunning transformation on Instagram. Adele has said "Hello" to a trendy diet called the Sirtfood diet, which also counts British celebrities Pippa Middleton, Jodie Kidd, and TV chef Lorraine Pascale among its followers (via Marie Claire). So what exactly are these Brits eating? The three-week plan, which is detailed in the book The Sirtfood Diet by Aidan Goggins and Glen Matten, promises a 7-pound weight loss in the first week, and a menu of strawberries, chocolate, and red wine. Ummm... yum! But why these foods, and how do they help people lose weight?
"The eating plan itself is designed to 'turn on' the sirtuin genes (particularly SIRT-1), which are believed to boost metabolism, increase fat burning, fight inflammation, and curb appetite," registered dietitian Edwina Clark, RD, explained to Women's Health. Other foods on the plan which are also rich in sirtuin activators include green tea, onions, celery, parsley, arugula, and kale, walnuts, buckwheat, and citrus fruit (via Insider).
The Sirtfood diet may be too low-calorie to be safe, according to experts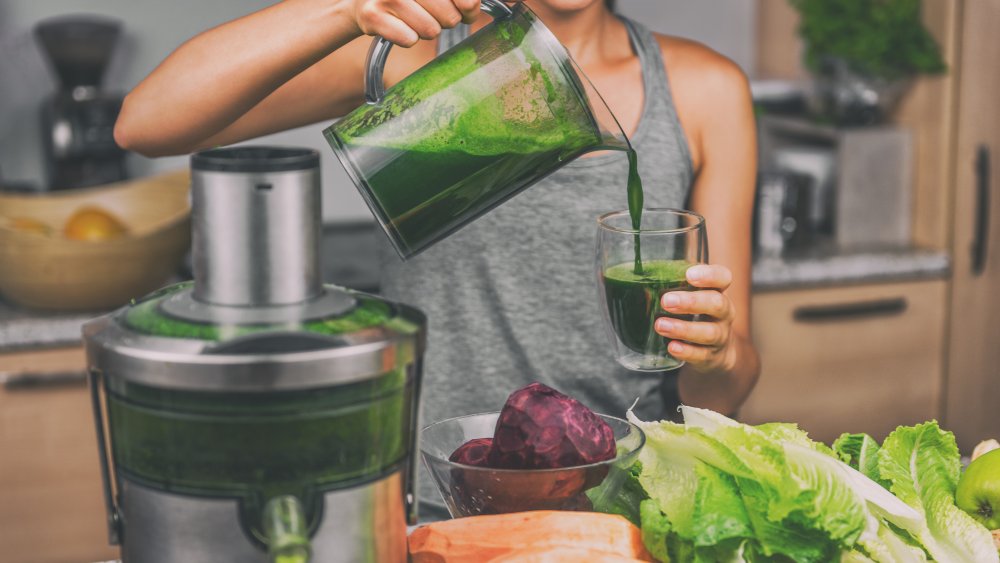 Shutterstock
All of this talk of sirtuin aside, though, experts point out that the real reason why Adele and other Sirtfood fans shed so much weight is that they simply aren't eating very much at all. During the first few days of the plan, you only eat one meal a day and the rest of the time, you drink sirtfood-rich juices, not exceeding 1,000 calories a day. Nutrition experts think that sirt-ainly isn't enough food to live on. "A 1,000 calorie-diet is below what is used in almost all human research studies because it is deemed unsafe," Scott Keatley, R.D.,told Prevention. After this severely restricted phase of the diet ends, you can eat up to 1,500 calories a day, which includes three sirtfood-rich meals — none particularly high in protein — and one juice.
Once you've stopped following the Sirtfood diet, regaining the weight you lost is likely, as your body replenishes its depleted glycogen stores (per Healthline). You can go back on the Sirtfood diet if that happens, but experts point out that like any crash diet, severe restriction actually can lower your metabolic rate, meaning you'll naturally burn off fewer calories than you did before you had gone on a strict diet. "Limiting protein intake with juices will result in a loss of muscle mass. Losing muscle is synonymous with dropping your metabolic rate or 'metabolism,' making weight maintenance more difficult," Adrienne Youdim, M.D., explained to Shape.