Why People Are Talking About Kaley Cuoco Wearing A Mask During A Workout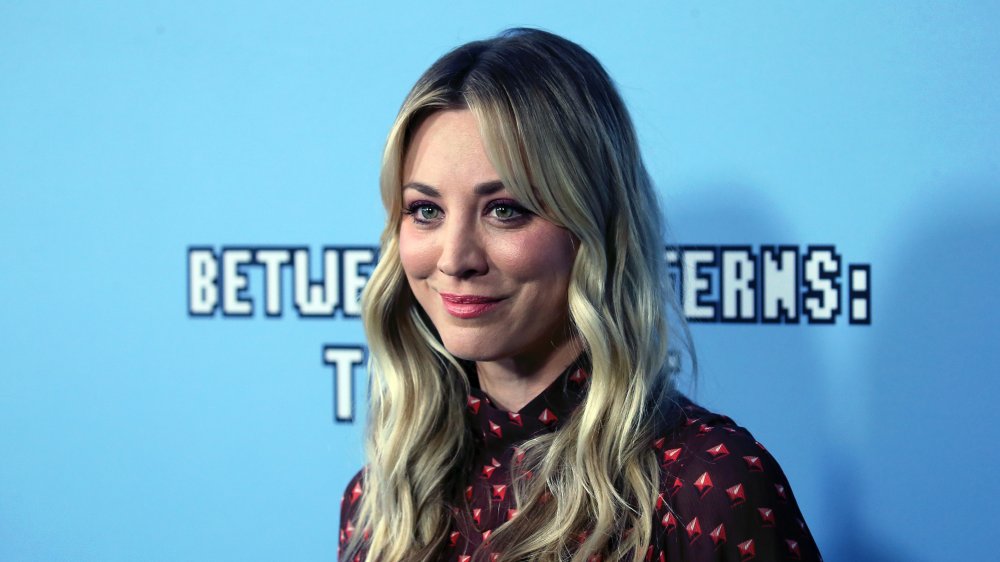 David Livingston/Getty Images
So mask-wearing is just a thing right now. Like wearing a seat belt when you drive. You may not love it, but it's not even a topic of debate, nor should it be. Except, of course, on social media, where everything is worth opining on — even years after it has ceased to be a hot issue. In fact, pro-maskers and anti-maskers are likely to be slugging it out somewhere in cyberspace long after the masks themselves cease to be a necessity.
Celebrities, of course, have a louder voice than the rest of us, and most of them seem to be doing the socially responsible thing by promoting mask-wearing, as Lady Gaga did at the VMAs. Another famous mask advocate is Kaley Cuoco, who, when posting a video of her workout routine to Instagram, was seen to be wearing one throughout the 1 minute 20-second clip that showed her jumping rope. Surprisingly, a lot of the comments she received were pretty negative, at least as regards her mask-wearing.
Reactions to Cuoco's masked workout were mixed
One Instagram user claimed, "Masks while exercising is ridiculous. All you are doing is breathing in your carbon dioxide." Another chimed in, "With mask workout is very dangerous," and yet another said, "Don't use mask to exercise. CO2." Other users jumped to Cuoco's defense, with comments like, "She is being a responsible citizen, it's a shame more people can't be!!" and "Let the woman exercise as she sees fit."
Both sides are right, at least to some extent. We already know that mask-wearing when you're around others in a gym is common politeness, since spreading potentially deadly germs is just plain rude. Also, if you choose to exercise in a mask even when you're alone, that is nobody's business but your own. If you work out while masked, though, there are some precautions you need to take, such as paying attention to your breathing and being aware of your fatigue level. As one comment put it, you should "listen to your body."
Wearing a face mask during exercise is usually okay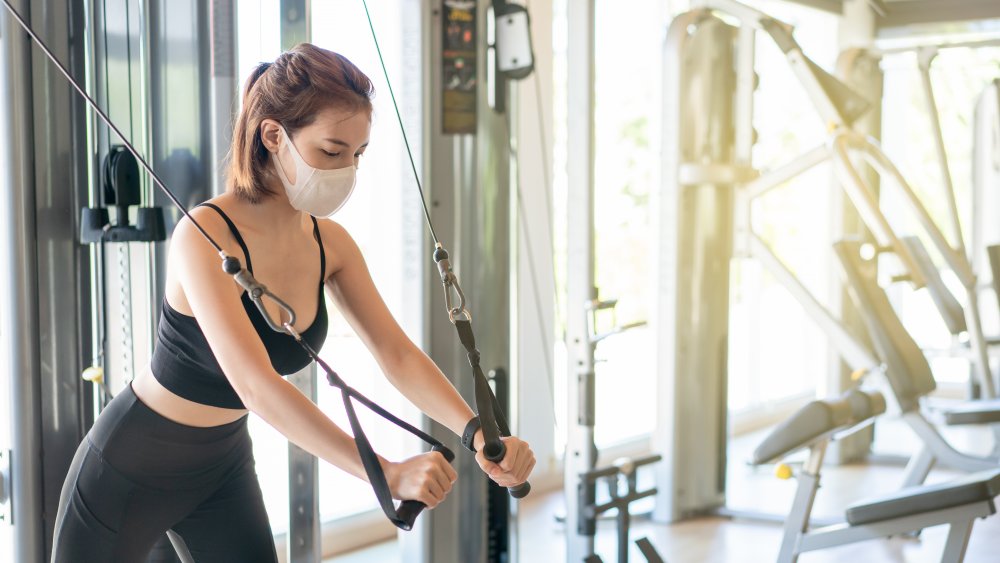 Shutterstock
Cuoco herself came out and defended her decision to mask up while working out (via SELF). "For everyone and their mask comments. I wear a mask when I'm in an enclosed space around others, which I was," she wrote. "I also wear a mask when I'm outside around others. I'm protecting myself and everyone around me. That's why I choose to wear a mask. Thanks for playing."
For the most part, however, exercising while masked is fairly safe. Should it be determined that there is a widespread threat to the exercising populace that comes from wearing a mask, we can expect medical professionals to issue a warning instead of leaving it up to random internet comment threads to spread the news. In the words of one commenter, "Alright you google doctors, stop getting your underpants in a wad. If she feels comfortable working out with a mask, good for her. That is her prerogative."