The Lowest Calorie Sandwich You Can Order At Subway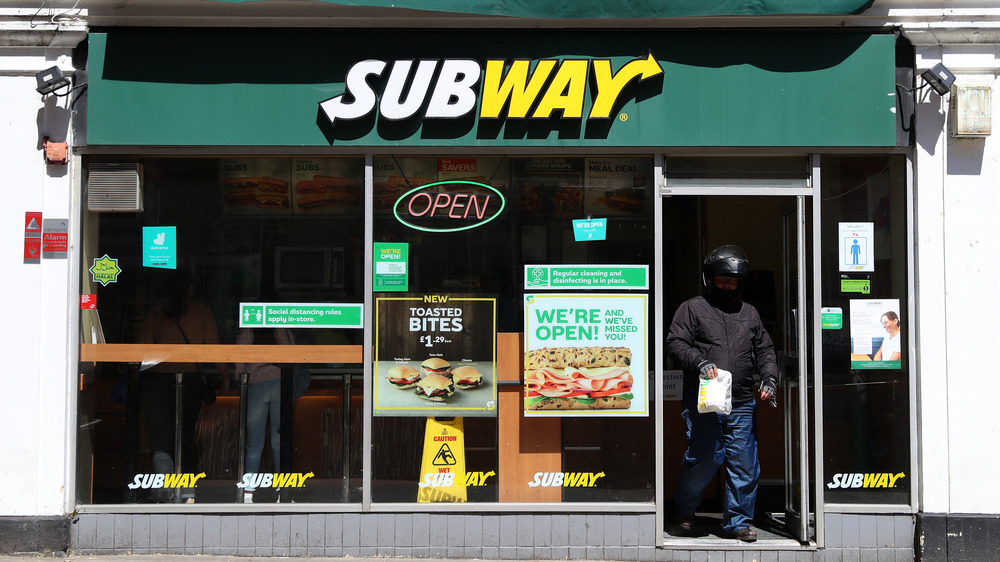 Catherine Ivill/Getty Images
Subway once famously built an ad campaign around a man who lost 245 pounds from eating their sandwiches (via Los Angeles Times). Sadly, this ad campaign, and the spokesman who became an overnight celebrity, went horribly wrong when it turned out that the newly-slimmed down Jared had a seriously dark side that landed him in prison. Yeah, that was kind of a big oopsie for the still-struggling chain. It did, however, succeed in planting the idea that Subway does actually have a few relatively healthy menu options if you know how to choose wisely. 
Subway is still one of the nation's largest fast-food chains. Chances are, unless you're deep in the depths of a remote rural region, there's sure to be a Subway somewhere in your vicinity. If you only have the time for a fast-food meal but you don't want to blow half the day's calorie budget, Subway could well be your best meal option. They do, after all, offer the healthiest fast-food chicken sandwich you can buy. If you want an even lower calorie choice, however, you'll be ordering a bird of a different feather: we're talking turkey. The lowest of the low, though, is their meat-free veggie sub.
Skip the sauces and cheese at Subway
According to Subway's nutrition info, its lowest-calorie items are the minis and sliders. We're going to assume if you're eating there you want something that's more likely to fill you up and serve as an actual meal, though, so we're just looking at the 6-inch subs. (A 12-inch sub, sad to say, is never going to be a diet-friendly option unless you're working as a coal miner or aerobics instructor.) If you're a vegetarian, or at least not opposed to eating plant life, a 6-inch Veggie Delite on 9-grain wheat bread with all the fresh vegetables Subway offers (cucumbers, green peppers, lettuce, onions, spinach, and tomatoes) is 200 calories per serving. 
If you're more the carnivorous type and a meal isn't a meal without meat, the turkey breast (same bread, same veggies) is 250 calories, although for 10 more calories you could have Black Forest ham instead. Of course, all these subs must be cheese-free, since a slice of American adds 40 calories while upgrading to cheddar is 60 calories.
Not a fan of wheat bread? The white Italian bread (not the hearty or herb and cheese options) has the same amount of calories (180) as the wheat. If you want some flavor in that sub, all of the dry condiments (salt, pepper, oregano, and sub spice) are calorie-free, as are vinegar, Buffalo sauce, and hot pepper relish. You can also pile on the pickles, jalapenos, and banana peppers without taking a caloric hit.