The First OTC COVID-19 Test: What You Need To Know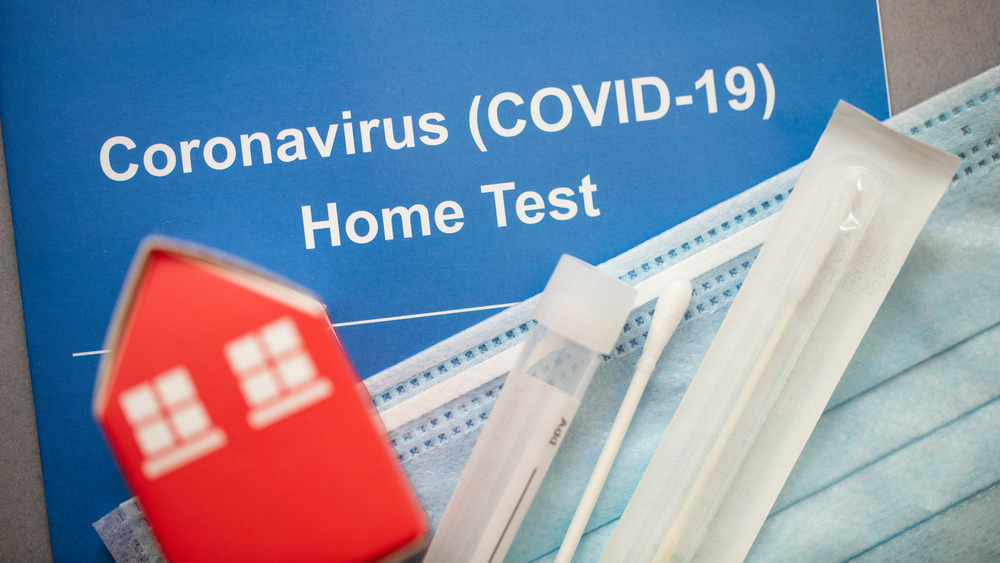 Shutterstock
With nearly 17 million cases and over 303,000 related deaths, the novel coronavirus is spreading like wildfire throughout the United States (via Johns Hopkins). COVID-related hospitalizations are at their highest levels since the start of the pandemic, following the Thanksgiving holiday across the nation. Some hospitals are nearing or have reached their maximum capacity (via CNN). 
The bottom line is that while the cases, hospitalization rates, and death counts are climbing, more needs to be done to slow the spread. Mask wearing, avoiding social gatherings, maintaining social distancing, and frequent hand washing are all effective, but we are still — even nine months in — facing a real testing dilemma. Urgent care centers and other testing sites are experiencing long lines and result turnover times, but a new innovation has been approved to increase access to COVID testing right in your own home.
Yesterday, the Ellume COVID-19 Home Test received emergency use authorization by the U.S. Food and Drug Administration (FDA). What's so promising about this test kit, you say? Well, it's the first non-prescription over-the-counter at home COVID-19 diagnostic kit available on the market. According to FDA Commissioner Dr. Stephen Hahn, the agency's authorization allows the test kit "... to be sold in places like drug stores, where a patient can buy it, swab their nose, run the test and find out their results in as little as 20 minutes... we are helping expand Americans' access to testing, reducing the burden on laboratories and test supplies, and giving Americans more testing options from the comfort and safety of their own homes."
Results in 20 minutes through your smartphone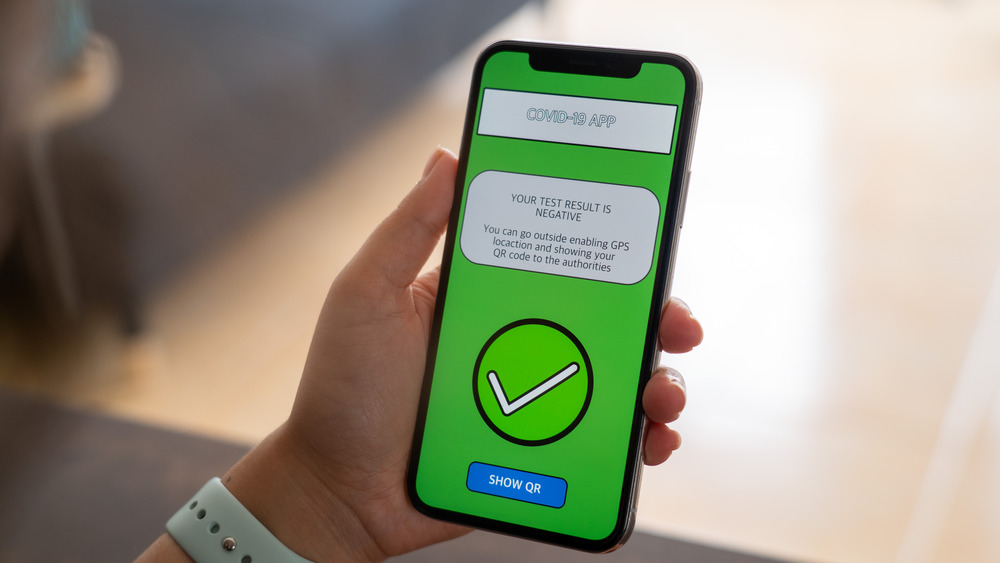 Shutterstock
While the FDA has authorized over 225 diagnostic COVID-19 tests since the pandemic start, the Ellume Home Test is the first fully at-home test on the market. Last month the FDA approved Lucira Health's All-In-One self-test kit, another at-home test; however, this one required a prescription from a medical provider. The Ellume test does not require a prescription.
The Ellume Home Test is recommended for use in individuals two years or older. It detects SARS-CoV-2 protein fragments from a nasal swab which reaches the mid-turbinates — not as far back as a nasopharyngeal swab which does require a trained healthcare worker to obtain. The test kit has been highly accurate in studies, correctly identifying 96 percent of positive samples and 100 percent of negative samples in symptomatic individuals. As is true for most diagnostic testing, false positives and false negatives can occur. The numbers dropped slightly in asymptomatic cases to 91 percent of positive samples identified and 96 percent of negative samples.
Results from testing sites may take a few days to find their way back to you — however, users of Ellume can find out their results in 20 minutes. Through an app on their smartphones, users will be notified of their results which will also be sent to the appropriate public health department for epidemiological purposes.
While 2020 has been marred with tragedy and loss at unprecedented levels in our lifetimes, we have seen science and innovation truly shine for the greater good.