How Meal Prepping Really Helps You Lose Weight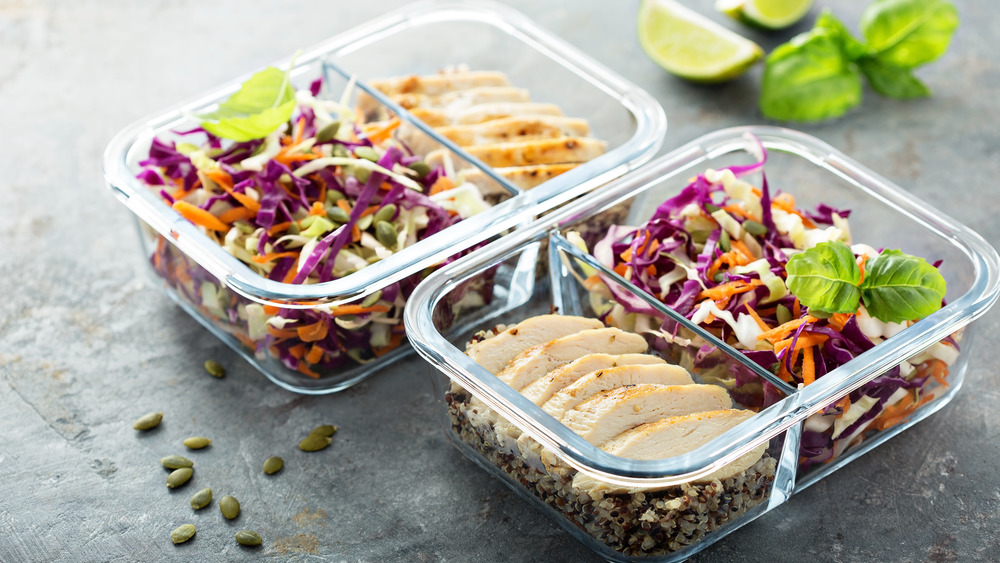 Shutterstock
Meal prepping — that once-a-week chore of cooking most of the components for your breakfasts, lunches, and dinners for the busy workweek — may seem like a mundane household task that's only designed to save you time. But it can also help you lose weight in the process.
It helps you avoid accidental unhealthy meals. By preparing your proteins, whole grains, and vegetables ahead of time, you're less likely to end up in the drive-thru line of the closest fast-food restaurant when hunger hits at lunchtime. It also takes the stress out of your day-to-day diet decisions, since you already know exactly what you'll eat for breakfast, lunch, dinner, and snacks, registered dietitian Emmie Satrazemis explained to Oxygen.
It also buys you more time for exercise. Whether you prefer to work out in the morning, during your lunch break, or before dinner, having your meals mostly prepared means that you have more time to fit in your workout instead of cooking a full meal from scratch (via Class Pass).
How else can meal prep help?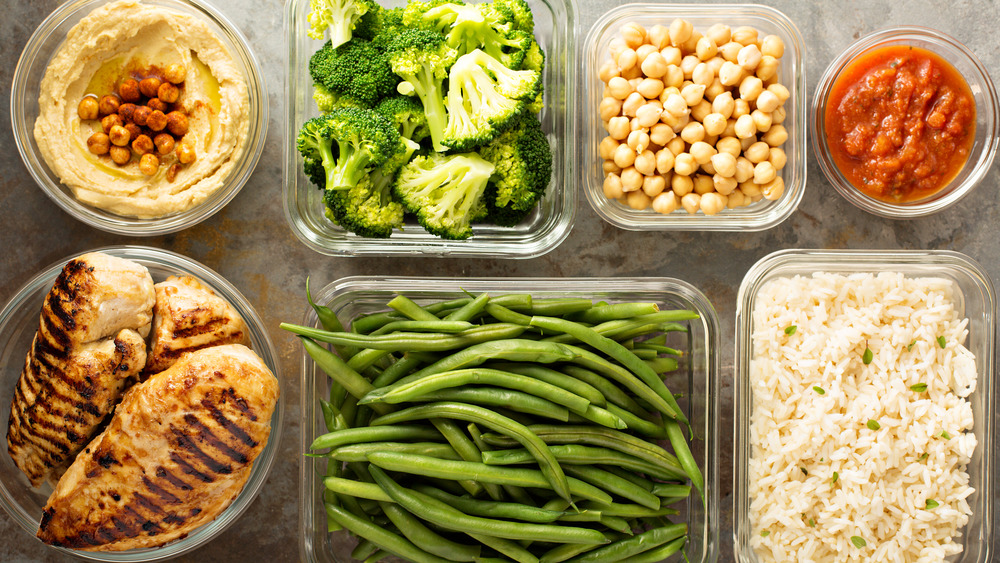 Shutterstock
With meal prep, you can control everything about the meal. Rather than hoping that you have the trappings for a balanced breakfast in your cupboard, you can guarantee success throughout the week. You're essentially removing temptation from your food equation and completely controlling your caloric intake in addition to your macronutrients including fat, carbohydrates, and protein, Satrazemis says. 
It also helps control portion size (via Harvard Health Publishing). When you only cook enough rice or chicken for a few days of meals, you're less likely to overindulge one day, since you know exactly how much you have to get you through the week. You can even add pre-portioning into your weekly meal prepping by doing things like dividing oatmeal and chopped nuts and fruit into single servings in mason jars or portioning rice into five different glass containers. 
Remember to make sure that your meal-prepped food is safe to eat. Most cooked options will only stay safe in the fridge for up to four days, so you may need to meal prep a second time during the week if you're cooking your proteins and grains (via Today). Or, if you'd rather avoid a second day in the kitchen, switch to canned options like tuna or a plant-based protein later in the week instead of pre-cooked chicken breasts.