Getting The COVID-19 Vaccine? You Might Want To Avoid Alcohol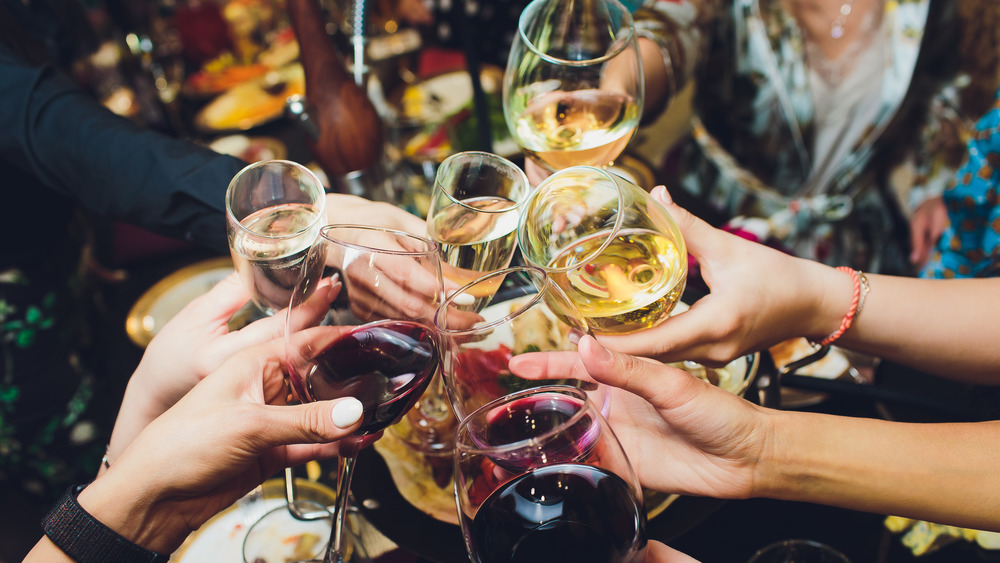 Shutterstock
Having a COVID-19 vaccine available is reason to celebrate, but health experts advise taking it easy on alcoholic beverages if you get the shot so your immune system stays at full strength (via Insider). Alcohol won't interfere with the makeup of the vaccine itself, but it can cause your immune system to operate at a lower capacity, research shows. The COVID-19 vaccines that Moderna and Pfizer/BioNTech developed each require two doses to trigger a more complete immune response.
In a BBC episode this month called "The Truth About... Boosting Your Immune System," Dr. Ronx Ikharia noted that just three glasses of the sparkling wine Prosecco could lower levels of infection-fighting lymphocytes by up to 50 percent (via Metro). Lymphocytes are types of white blood cells that produce antibodies and protect the body through the lymphatic system: the lymph nodes, spleen, and tonsils (via Healthline).
Another study from the United States found that "alcohol disrupts immune pathways in complex and seemingly paradoxical ways. These disruptions can impair the body's ability to defend against infection, contribute to organ damage associated with alcohol consumption, and impede recovery from tissue injury." In addition, heavy drinking — eight or more drinks a week for women and 15 or more drinks a week for men — has been found to weaken the immune system by altering gastrointestinal microorganisms (via CDC). These help "serve as the first line of defense against bacteria and viruses," protecting your bloodstream from potential pathogens, Insider says.
Health experts vary on how long to abstain, but easing up on alcohol before and after the shot can't hurt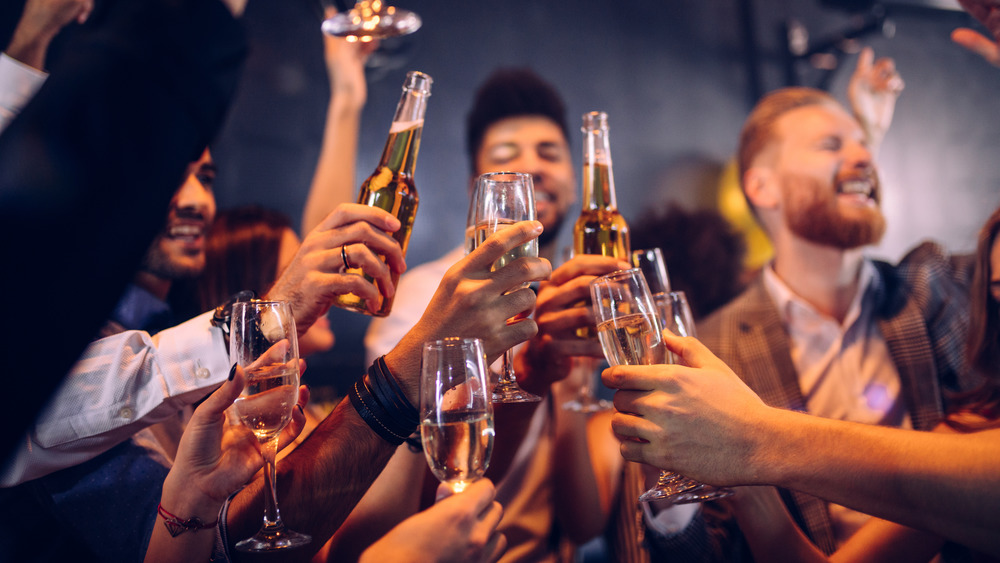 Shutterstock
As far as the COVID-19 vaccine goes, William Moss, executive director of the International Vaccine Access Center at Johns Hopkins University in Baltimore, Maryland, told Insider that there is "no evidence" that one beer or a glass of wine a few days after receiving the vaccine would interfere with its efficacy.
But as a precaution, Russian health official Anna Popova advised citizens in December not to drink alcohol two weeks before receiving the vaccine and six weeks afterward (via Business Insider). Alexander Gintsburg, the developer of Russia's vaccine, called Sputnik V, dialed that down on Twitter, saying people should abstain from alcohol three days before and after any injection of any vaccine.
In the United Kingdom, immunologist Sheena Cruickshank, a professor at the University of Manchester, also advised people to ease up on drinking alcohol before and after receiving the vaccine. "You need to have your immune system working tip-top to have a good response to the vaccine, so if you're drinking the night before, or shortly afterwards, that's not going to help," she said.