What You Should Know About Carrie Underwood's New Fitness App
Craig Barritt/Getty Images
Carrie Underwood may sing about Jesus taking the wheel in one of her hit songs, though it looks like she's staying firmly planted in the driver's seat when it comes to her fitness regimen. We're so relieved she is not one of those celebrities who claims to get her notoriously sculpted legs by just sitting on the couch. No, Underwood puts in the effort. And now she's made it easy for her followers to do so as well. Here's what you should know about her fitness app.
According to Health, Underwood's fitness app came perfectly in sync with her recent book, Find Your Path: Honor Your Body, Fuel Your Soul, and Get Strong With the Fit52 Life. "I want to be healthy and fit 52 weeks of the year, but that doesn't mean I have to be perfect every day," she shares. "This philosophy is a year-round, common-sense approach to health and fitness that involves doing your best most of the time."
The app incorporates what Carrie Underwood has been doing for years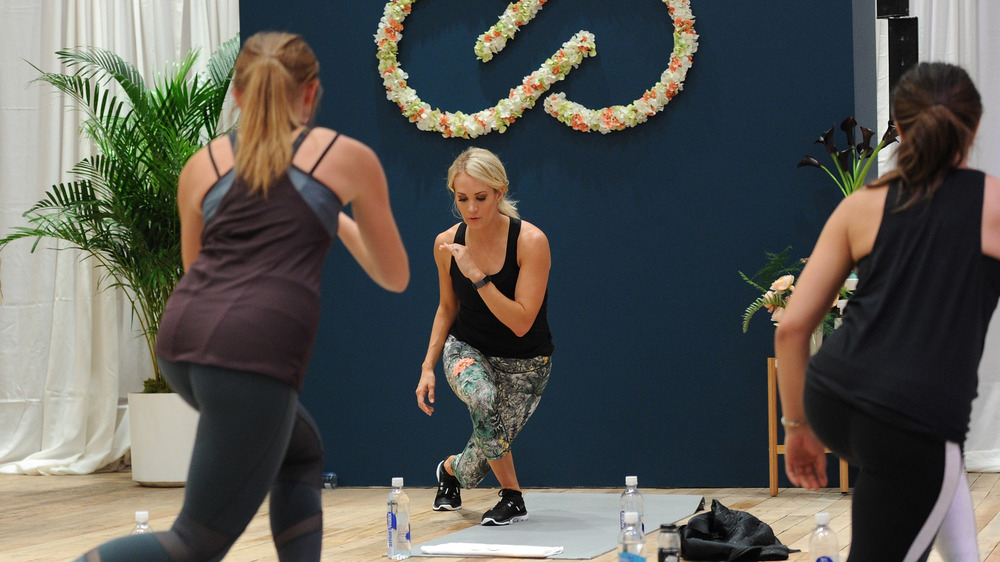 Craig Barritt/Getty Images
If you're still wanting some insight on this bonafide country singer's workout plan, then you can download her app, fit52 instead. And not just third-party insight. The app's fitness regimens were created by Carrie Underwood herself along with her personal trainer, Eve Overland. "Fitness is a true passion for me," Underwood told Cision. "The fit52 app incorporates what I've been doing myself for years, and we've made it easy and totally accessible for anyone that wants help to work in working out. We worked really hard to create a high-quality, user-friendly app that is designed for busy people and their busy lives. fit52 meets you wherever you are on your health journey, and I'm so proud of it," she says.
A press release for the app, which was released in 2020, claims it is, "a fresh and balanced approach to wellness, that follows her knowledgeable and fun fitness routine," The Verge shares. From pushups, quad stretches, to modified crab toe touches, the app sequences through common workouts. The majority of the workouts last about 30 minutes and include a mix of 52 exercises. You can choose between beginner, intermediate, and advanced levels, and its intention is to take the guesswork out of your routine, Health claims. So if you're looking to take the wheel on your own fitness workout routine at home, but would love to have Underwood in the passenger seat, then fit52 might be the way to do it.