Here's Why Elderberries Are Selling Out At Your Supermarket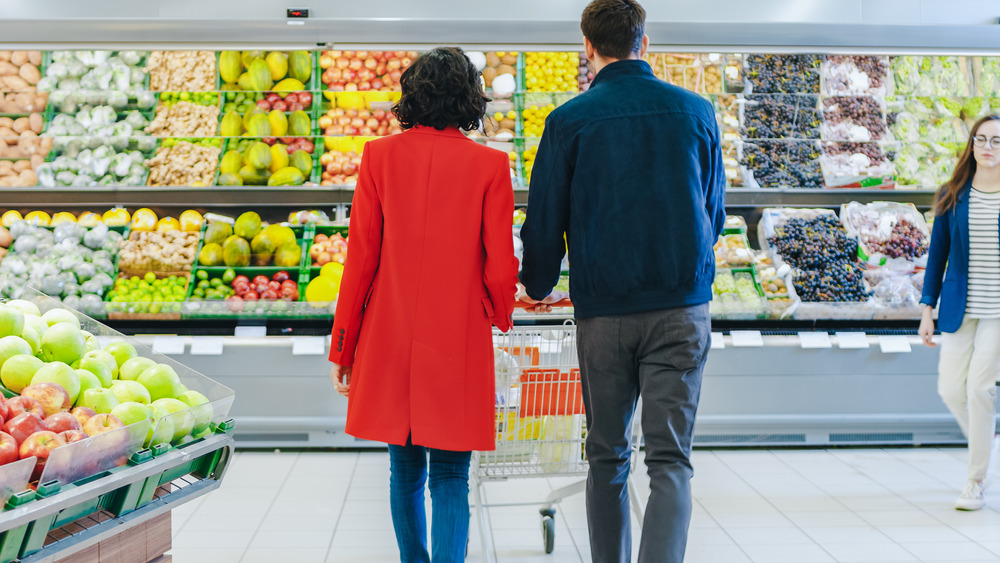 Shutterstock
You may not have seen bunches of dark, round elderberries in the produce aisle, but chances are you've noticed elderberry popping up on labels all around the grocery store. However, even items featuring elderberry on the label have been harder to find as people look for all-natural ways to boost their immunity during the pandemic (via Food Dive).
Elderberries are normally sold as tinctures or supplements. However, according to Food Dive, several retailers like Uncle Matt's, Beyond Better Foods, and Nubia Food and Beverage have been incorporating them into drinks. LuAnn Williams, director of insights at Innova Market Insights, describes it as an "opportunity to make a link between sleep, exercise and nutrition and immunity." Across the country, retailers are seeking to broaden the appeal of the health market by incorporating immune boosters as everyday ingredients. These elderberry-infused beverages are further lifted up with well-known health staples like zinc and vitamin C.
What are the health benefits of elderberries?
Shutterstock
According to Verywell Health, elderberries are high in a specific antioxidant known as anthocyanin. In addition to the antioxidant benefits, anthocyanin is an antiviral agent, making it effective against colds and flus. It's also known to clear free radicals, helping to repair cellular damage. Elderberries have been used to treat inflammation, pain, and colds for centuries. Although it doesn't prevent illness, it does seem to lessen the severity of symptoms.
Because elderberries are considered to be a nutritional supplement, they're not as closely regulated as medicines. The uncooked and unprocessed leaves and berries should not be consumed, as they contain cyanide (via Healthline). Gathering the plants yourself isn't advised, since there are many highly-toxic species of elderberry. Not much research has been done on their benefit for pregnant people, nursing parents, and children, so you should exercise caution since there's not enough data to confirm the safety of elderberry use. And as always, speak to your doctor before you start taking any supplements.