Is Sore Throat A Symptom Of COVID-19?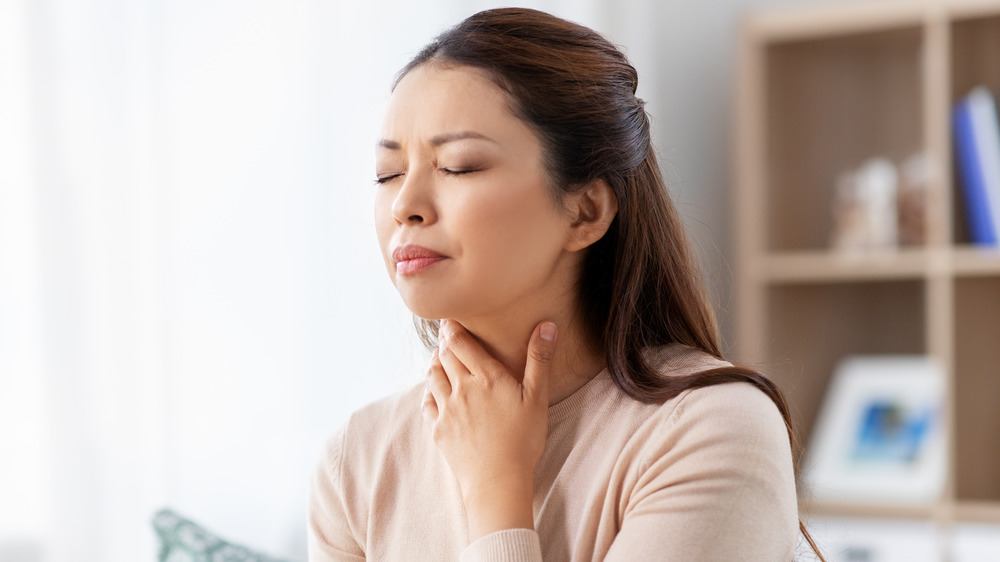 Shutterstock
When you feel the beginnings of a sore throat, it's natural to worry a little that you're getting sick. Now, with COVID-19, a sore throat can be a real source of concern. But is it actually a symptom of the novel coronavirus?
Health Digest spoke to Dr. Vasileios Margaritis, core faculty in Walden University's PhD in Public Health program and an epidemiologist who specializes in health promotion, disease prevention, and working with underserved populations. He confirmed that sore throat can be one of a list of symptoms of coronavirus. "Sore throat, including pain or irritation in the throat, is one of the most common mild symptoms of the novel coronavirus. The other mild symptoms include sudden loss of smell, chills, fever, dry cough, body ache, and fatigue. The frequency of sore throat as a coronavirus symptom is not fully understood, but recent studies show it is a symptom in about 15 percent to 50 percent of cases," he said.
Sore throats are common because the coronavirus initially affects the head and throat, according to Margaritis. "The novel coronavirus is a respiratory virus that enters the nose and throat first. Then, as in other viruses, it infects the area at the back of the throat, resulting in redness or swelling that can be painful," he said.
Testing is the only way to know
Shutterstock
That doesn't mean that everyone who comes down with COVID-19 will get a sore throat. It's possible to contract the virus and have very few or even no symptoms at all. Margaritis said scientists don't fully understand yet why this happens, but it's the reason that testing is so important.
"Because coronavirus symptoms are so similar to that of other diseases, including influenza, it is difficult to tell the difference between the illnesses based on symptoms alone. The CDC and other public health organizations suggest that testing may be needed to help confirm a patient's diagnosis, especially in vulnerable populations such as older people and individuals with underlying conditions," he said.
If someone develops any symptoms, including a sore throat, the best action is to be cautious and stay at home. Contact your doctor or local health department to see about getting tested for COVID-19. Wear a mask, wash hands regularly, and social distance when you must be around other people.