The Real Reason People With Dementia Are Twice As Likely To Get COVID-19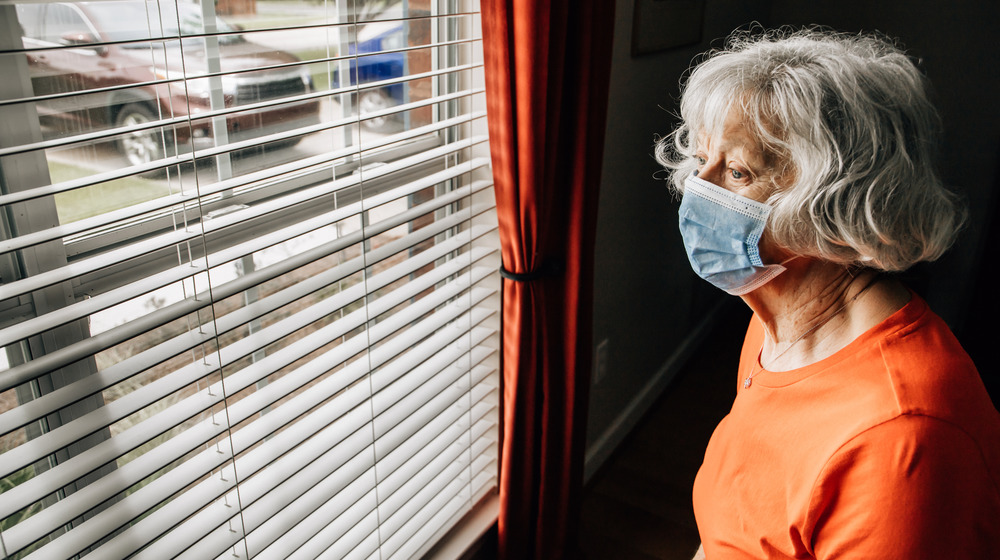 Shutterstock
A recent research article published by Alzheimer's and Dementia found a startling statistic. People with dementia exhibited a significantly increased risk of developing COVID-19 compared to patients without dementia. Dr. Ann Kriebel-Gasparro, a faculty member for Walden University's Master of Science in Nursing program, and a family and gerontological nurse practitioner with over 26 years of experience, gives Health Digest some insight into these new findings.
It is currently estimated that approximately 6 million Americans or 50 million people worldwide are affected with either Alzheimer's disease or dementia. This study reviewed the medical records of nearly 62 million adult and elderly Americans to evaluate if having dementia increased their risk of catching COVID-19. The findings were conclusive that having dementia did increase risk of developing COVID-19 for many reasons. "One of the risk factors they found is that many people with dementia suffer from comorbidities such as diabetes, obesity, and hypertension, which all increase their risk of contracting COVID-19," Gasparro says. "The authors also found that having dementia itself, causes a disruption in the circulation of the blood-brain barrier, which can allow certain bacteria and viruses to enter the brain more easily."
COVID-19 in nursing homes and long-term care facilites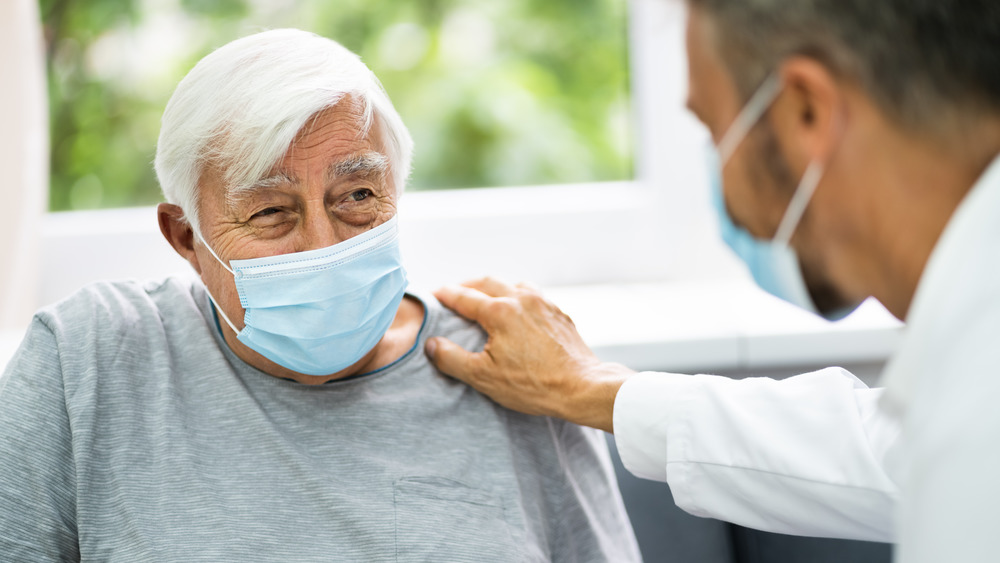 Shutterstock
Gasparro goes on to say that the "findings highlight the need for older patients with dementia to have extra precautions in place to prevent the spread of COVID-19; for example, vaccination, hand sanitation, social distancing, and wearing masks if possible. It is especially important to sanitize these individuals' living spaces, especially in long-term care environments."
A recent report from AARP found that nearly 160,000 COVID-related deaths occurred in nursing homes and other long-term care residents and staff, which consists of nearly 33 percent of all COVID deaths in the United States. Many people with Alzheimer's and dementia find themselves living in healthcare facilities. Gasparro also emphasizes that the "memory impairment of dementia itself can prevent the patient from following the mitigation efforts that we have all become familiar with, such as hand washing, social distancing, and wearing a mask." As a result, it is even more important that they are looked after more critically.
Although experts warn that we need to be cautious in light of newly emerging COVID variants, the U.S., as well as some other countries around the world are noting positive trends. The World Health Organization reports that within the last week or so, COVID-19 hospitalizations, new cases, and deaths are declining (via U.S. News and World Report). Even with more and more people receiving vaccinations, continued mitigation methods such as mask wearing, social distancing, and frequent hand washing are all just as important now as they were at the start of the pandemic.