Baked Kale Chips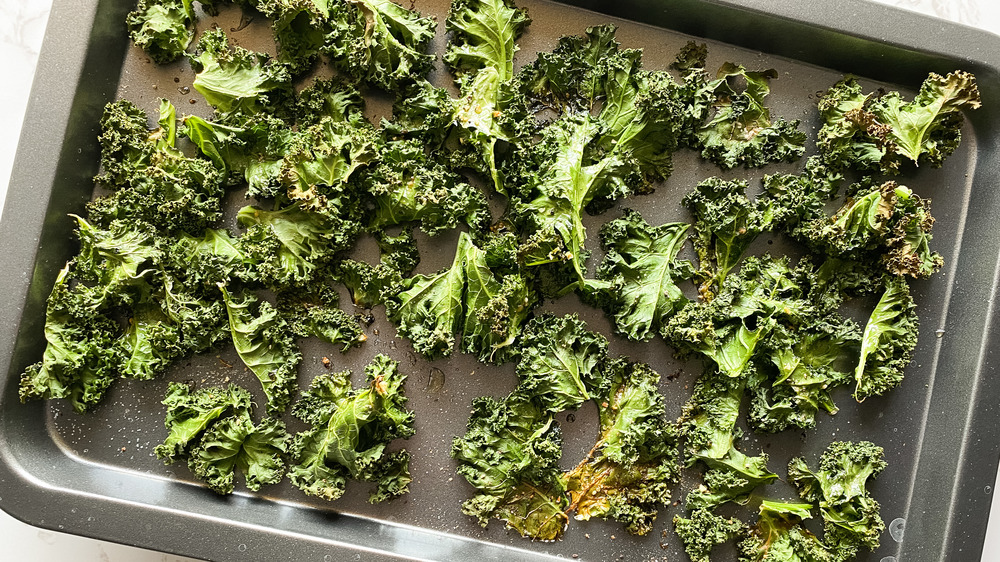 Kristen Carli/Health Digest
Whoever said chips weren't healthy? Assuming we're talking about potato chips, pretty much everyone. Of course, there are baked chips, and those are a bit healthier, yet still have a satisfying crunch. And lots of sodium. And still a fair amount of fat in most cases. 
If you want the crunch of a chip but without the nutritionally derelict calories potato chips deliver, it's time you bake up some kale chips instead. Yes, you did just find your new favorite guilt-free treat.
Kale is some seriously healthy stuff. According to Healthline, a cup-size serving of kale provides way more than 100% of your daily needs for Vitamins A, C, and K, and it has lots of antioxidants. Plus, it delivers about 10% of your daily needed potassium, calcium, and copper. The list goes on, but your free time doesn't, so we'll stop here.
As far as our baked kale chips are concerned, get ready to be obsessed. "I love these as a snack during work," says chef, food writer, and registered dietician Kristen Carli, who developed this genius recipe. She adds, "They do not keep great, so I recommend to eat them fresh," but as the prep takes all of 5 minutes and they bake for just 15, you can by all means make fresh kale chips as part of your daily routine. 
Make a quick batch of these chips in the morning as you whip together breakfast, and you'll have the perfect healthy snack to enjoy when the hunger hits, but lunch is still an hour away. When the cravings hit yet again at 4 p.m., you'll have a savory treat ready to be devoured.
Gather your ingredients for baked kale chips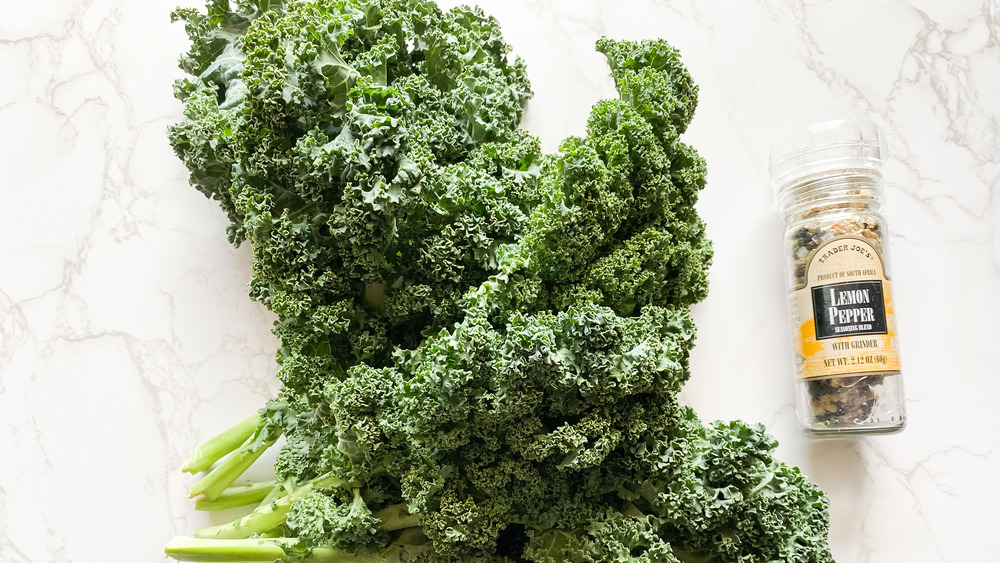 Kristen Carli/Health Digest
This recipe is refreshingly simple in all ways, from the ingredients to the preparation. You'll need 2 bunches of kale, 2 tablespoons of olive oil, 1 teaspoon of salt, and ½ teaspoon of lemon pepper.
Think of this basic recipe as a starting point. Do you love all things spicy? Sprinkle some cayenne pepper onto your kale. Are you obsessed with garlic? Add some garlic powder. Try a touch of onion powder, some cumin, some turmeric ... really any spice you love to use in cooking your vegetables will work with this recipe for baked kale chips.
Prep your kale, bake, and enjoy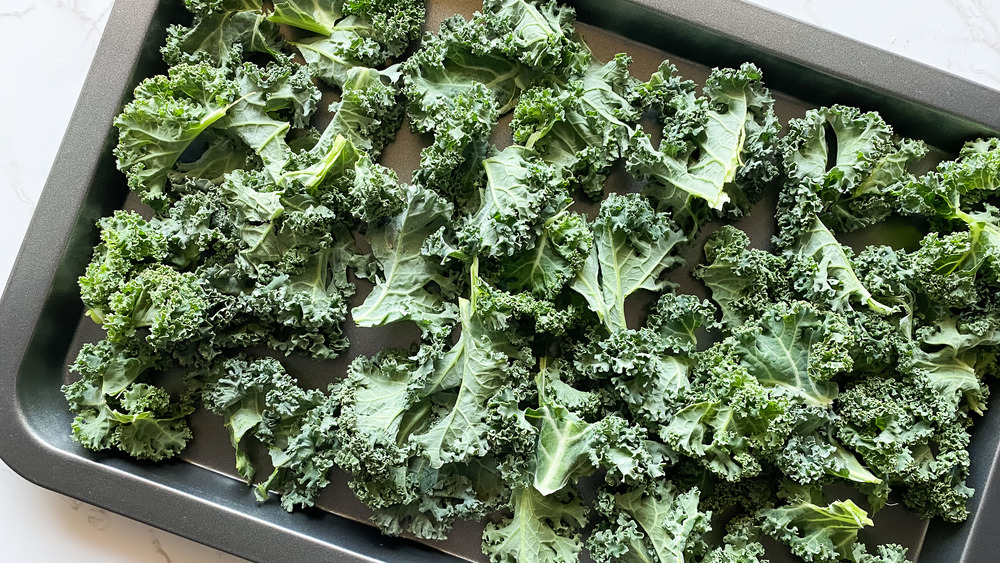 Kristen Carli/Health Digest
First things first: Pre-heat the oven to 350º F. Now, if you have not already done so, wash and dry the kale. "The most common mistake is not drying your kale leaves completely after washing," says Carli. "These must be completely dry before baking."
With that taken care of, remove the kale leaves from the stems, and rip the large leaves into bite-size pieces, then arrange these on a baking sheet with minimal overlap.
Drizzle the leaves with the olive oil, and sprinkle on the salt and lemon pepper.
Lastly, bake the prepared kale bits for 15 minutes, and make sure you let them cool for at least 1 minute before eating. And that's it!
Baked Kale Chips
From the simple preparation to the undeniably tasty flavor, these baked kale chips will be your new favorite guilt-free treat.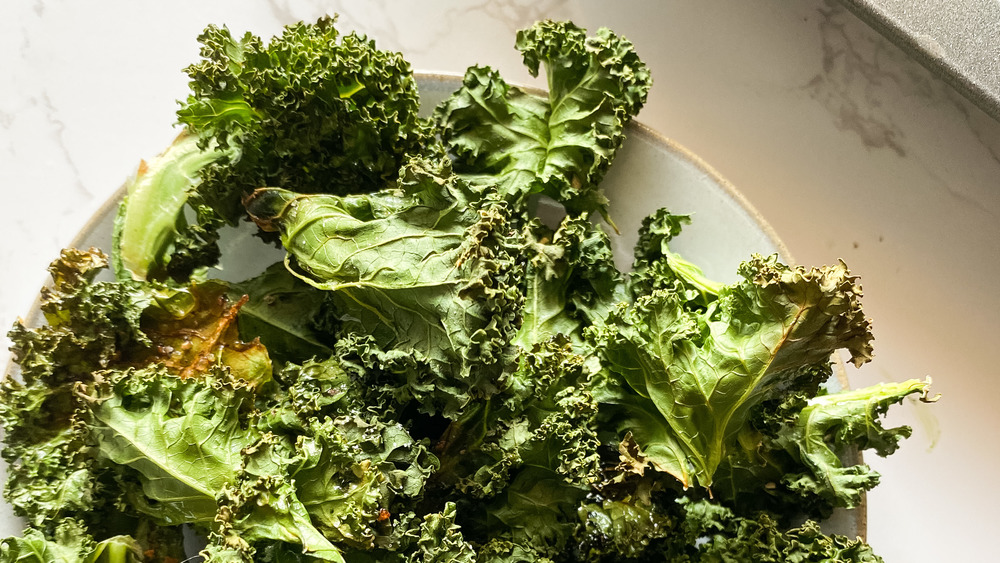 Ingredients
2 bunches of kale
2 tablespoons olive oil
1 teaspoon salt
½ teaspoon lemon pepper
Directions
Preheat oven to 350º F.
Remove kale leaves from stems and break leaves into bite-size pieces. Then, place on baking sheet.
Drizzle kale with 2 tablespoons olive oil, 1 teaspoon salt, and ½ teaspoon lemon pepper.
Bake for 15 minutes.
Cool for 1 minute before digging in and enjoying.
Nutrition
| | |
| --- | --- |
| Calories per Serving | 110 |
| Total Fat | 7.7 g |
| Saturated Fat | 1.0 g |
| Trans Fat | 0.0 g |
| Cholesterol | 0.0 mg |
| | |
| --- | --- |
| Total Carbohydrates | 9.0 g |
| Dietary Fiber | 3.7 g |
| Total Sugars | 2.3 g |
| Sodium | 250.3 mg |
| Protein | 4.3 g |