Low-Carb Meatballs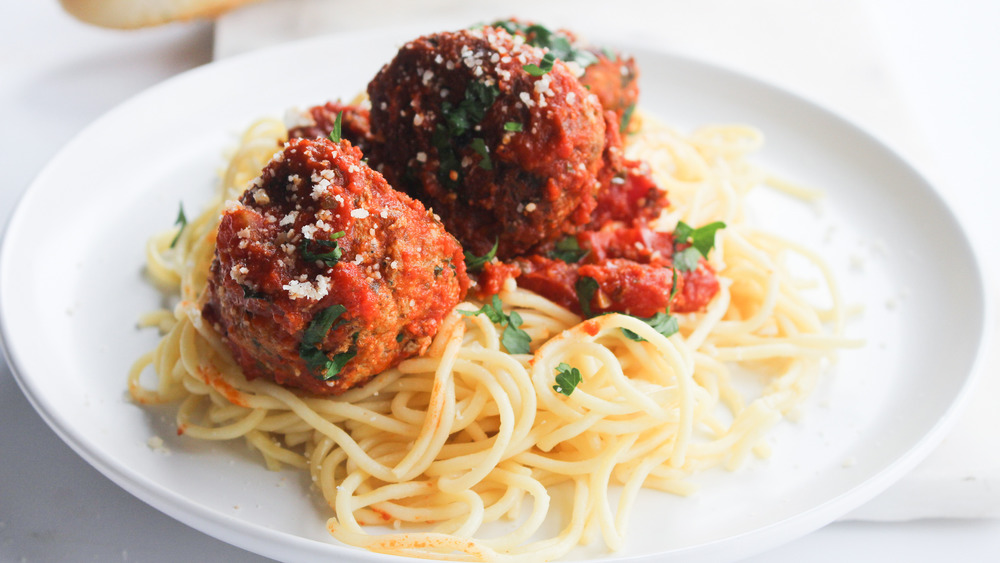 Susan Olayinka/Health Digest
There are some foods that just belong together. Take for example peas and carrots. Or peanut butter and jelly. Coffee and crumb cake. And, of course, there's pasta and meatballs, a classic combination that is all but impossible to beat. If you are trying to cut down on your carbs, you may think you need to shy away from meatballs, as most recipes use a hefty dose of breadcrumbs. In fact, all you need to do is follow this recipe for low-carb meatballs from chef and recipe developer Susan Olayinka of The Flexible Fridge.
"I once heard that the key to any great meatball is to mix pork mince and beef mince so that it's not dry but [instead] juicy and tender," Olayinka says, revealing herself as a Brit through the word "mince" to describe a state of pork and beef that, on the American side of the pond, would be called "ground." As for juicy and tender? Those words mean the exact same thing in England as they do in the U.S. and beyond, and they perfectly describe these low carb meatballs which are, Olayinka adds, "extremely easy to make."
So leaving the breadcrumbs aside, let's grab our ingredients and get cooking.
Gather your low-carb meatball ingredients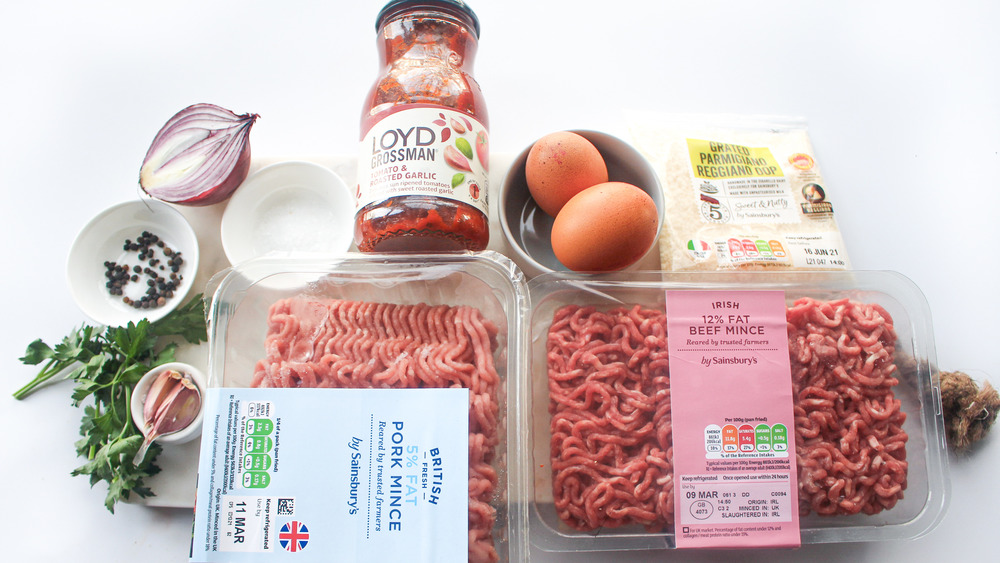 Susan Olayinka/Health Digest
To cook up a batch of juicy, tender, low-carb meatballs, you'll need 1.5 cups of ground pork (or pork mince, to our U.K. friends), 1.5 cups of beef mince (or ground beef, to Americans), 1/4 of cup of Parmesan cheese (or even a bit more — Olayinka says: "Parmesan cheese gives it such a delicious savory taste"), half a red onion; finely chopped, 2 cloves of garlic; minced, a 1/4 cup of chopped parsley, 1/2 a teaspoon of salt, 1/2 a teaspoon of black pepper, 2 eggs, 1 cup of vegetable oil for frying, and optionally, 2 cups of your preferred red pasta sauce.
Chop the veggies and mix all ingredients for these low-carb meatballs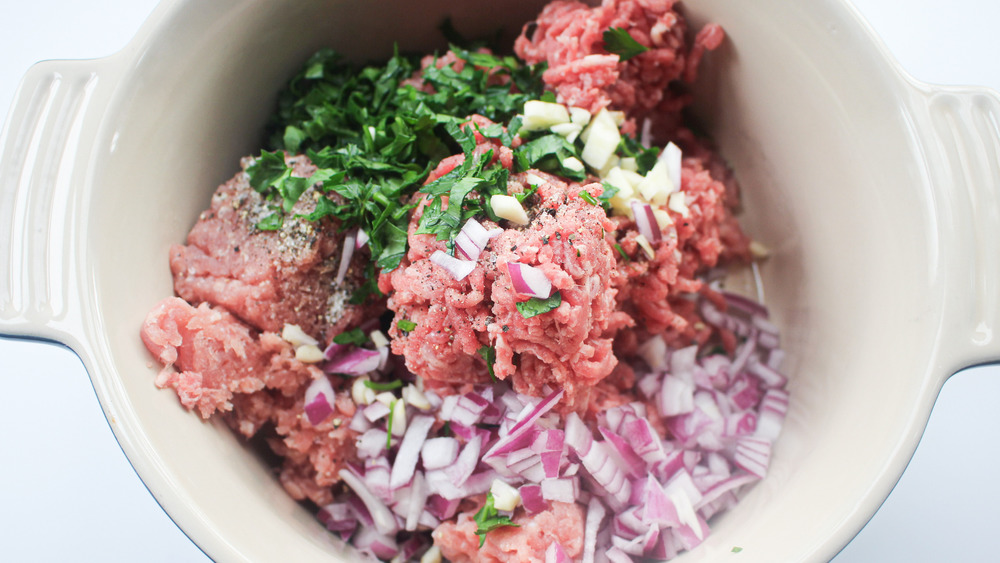 Susan Olayinka/Health Digest
First things first, get chopping! Finely chop the onion, the garlic (don't cheat and use the pre-minced garlic from a jar), and the parsley. Now put both ground types of meat into a medium-sized mixing bowl and mix them together with a fork — you don't need to blend them fully or anything, just a rough mixing will do for now.
Next, atop the mix of ground meats, add the chopped onion, chopped garlic, chopped parsley, eggs, Parmesan cheese, and salt and pepper. Now mix everything together with a spoon or a fork and ensure all of the ingredients are well incorporated with one another.
Form and then fry the low-carb meatballs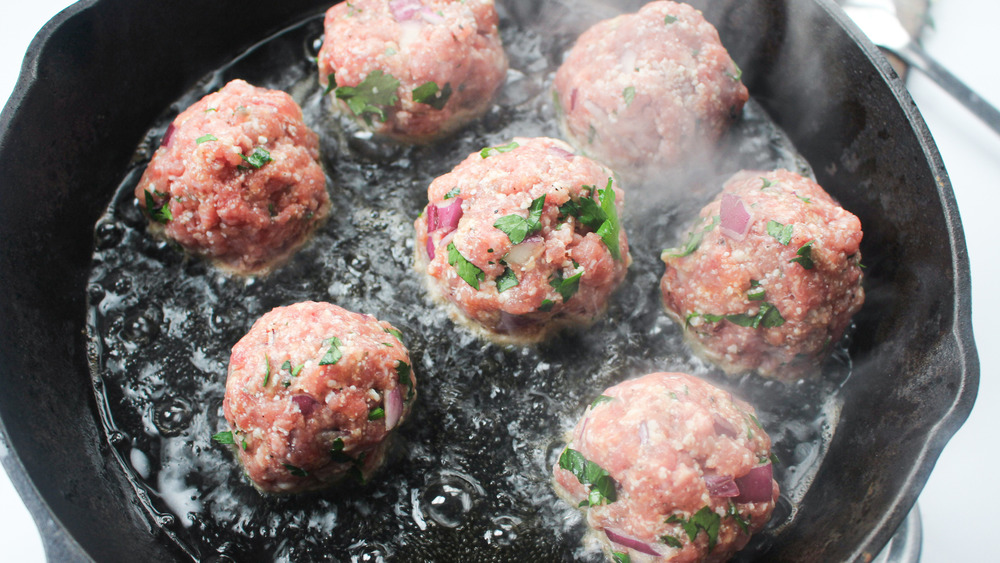 Susan Olayinka/Health Digest
Form the meat, veggie, and cheese mixture into golf ball-sized balls with your hands. Don't squeeze and compact them too much, just make sure you form a cohesive sphere that's not going to fall apart when you place it down into the hot oil. Once all of your meatballs are formed, lay out some paper towels on a plate or pan, then pour the vegetable oil into a Dutch oven or a frying pan with high sides and warm it up over medium heat.
Once the oil is hot, place the meatballs in frying pan (use a long spoon or tongs, and don't squeeze too tightly if using tongs) and fry them for 15 minutes, turning each meatball onto a different side about once per minute.
Time to enjoy your low-carb meatballs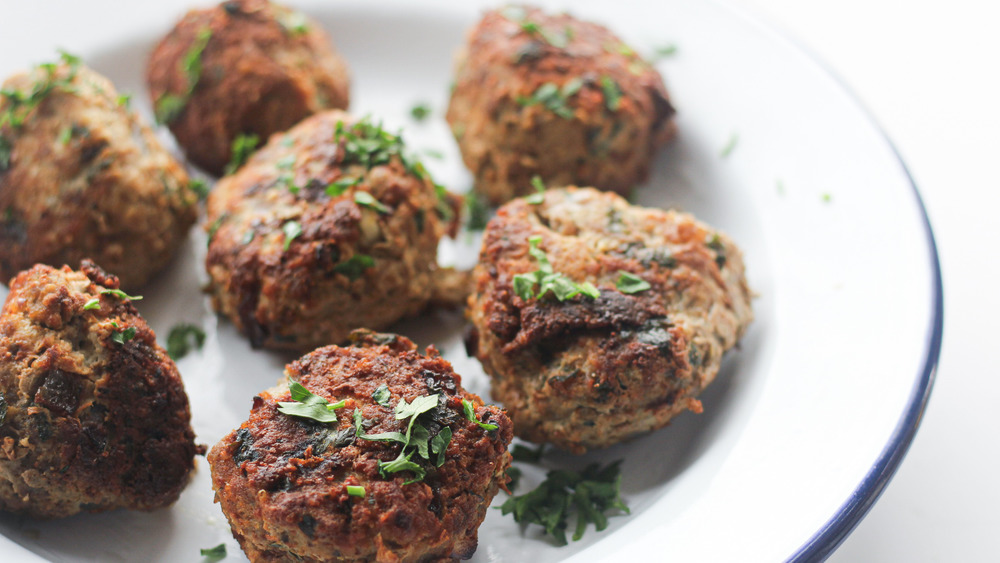 Susan Olayinka/Health Digest
If you have a meat thermometer, check the center of a few meatballs and take them out of the oil once they hit 165º degrees Fahrenheit. If not, just chop one or two in half and ensure they are cooked through, with no (or at least very minimal) pink inside.
Briefly place the finished meatballs on the paper towels to drip off the excess oil — then dig in! You can eat them as is, with a sauce, over pasta (remember to go with a low-carb pasta if you're sticking with the whole low-carb diet thing), or you can save them for later. "These will keep for three days in the fridge, and three months in the freezer," says Olayinka.
Low-Carb Meatballs
Meatballs and pasta aren't exactly low-carb, or at least that used to be the case. This recipe cuts out breadcrumbs to deliver some seriously tasty meatballs.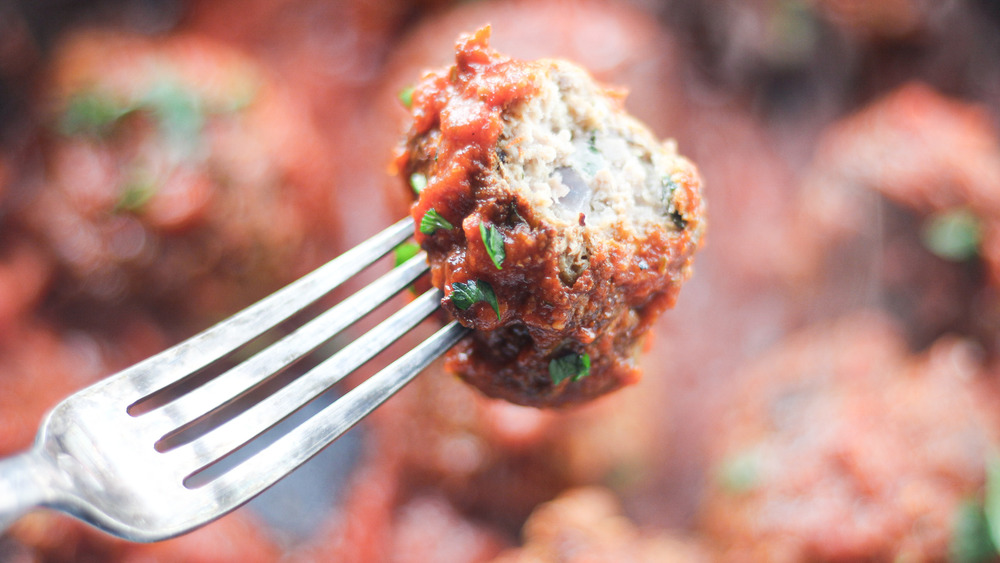 Ingredients
1.5 cups ground pork
1.5 cups ground beef
¼ cup of Parmesan cheese
½ red onion
2 cloves of garlic
¼ cup chopped parsley
½ teaspoon salt
½ teaspoon black pepper
2 eggs
vegetable oil for cooking
Optional Ingredients
2 cups of pasta sauce (optional serving suggestion)
Directions
Chop your onion, garlic, and parsley, then mix it in a medium bowl with the ground meats, Parmesan cheese, eggs, salt, and pepper. Use a spoon to ensure all ingredients are blended together.
Form the mixture into golf ball-sized spheres with your hands.
Pour vegetable oil into a frying pan on medium heat.
Once the oil is hot, place the meatballs in a frying pan and fry for 15 minutes, turning the meatballs about once a minute (ideally you can check the center temperature with a thermometer and stop cooking at 160º F).
Once the meatballs are cooked, serve with marinara sauce and fresh herbs, and with low carb spaghetti (legume-based or vegetable noodles, e.g.).
Nutrition
| | |
| --- | --- |
| Calories per Serving | 539 |
| Total Fat | 42.1 g |
| Saturated Fat | 15.4 g |
| Trans Fat | 1.0 g |
| Cholesterol | 206.4 mg |
| | |
| --- | --- |
| Total Carbohydrates | 2.9 g |
| Dietary Fiber | 0.5 g |
| Total Sugars | 0.9 g |
| Sodium | 518.7 mg |
| Protein | 35.0 g |