Cauliflower Steaks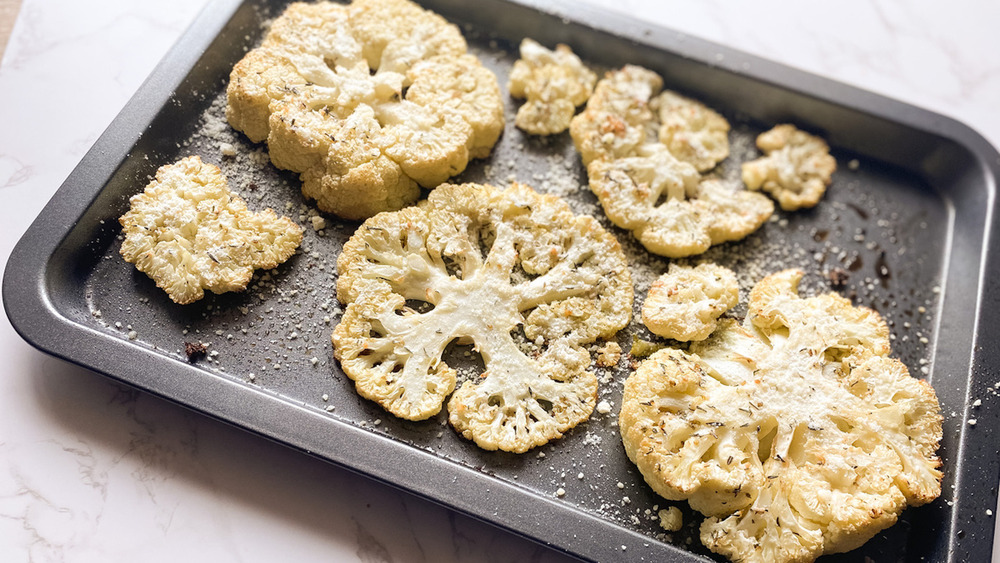 Kristen Carli/Health Digest
Everyone loves steak, right? Well, maybe not so much if you are a vegan or vegetarian, or if you are trying to cut back on eating red meat. If any of those scenarios sound like yours, registered dietician Kristen Carli has the perfect, hearty, healthy dish to fill your tummy and heart with joy. According to Carli, her cauliflower steaks "are so simple [and] make an impressive weeknight dinner."
You will only need a few ingredients and minimal prep time to pull together these cauliflower steaks, which make a great side dish or main course, depending on what else you plan on preparing for the meal. "These are great served with marinated lentils, quinoa salad, or mashed potatoes," Carli suggests. And if you think cauliflower steaks are boring, think again. Just wait — because Carli's trick for infusing this vegetable with flavor will change your mind, or your money back. Okay, okay, you get what we mean!
Gather your ingredients for cauliflower steaks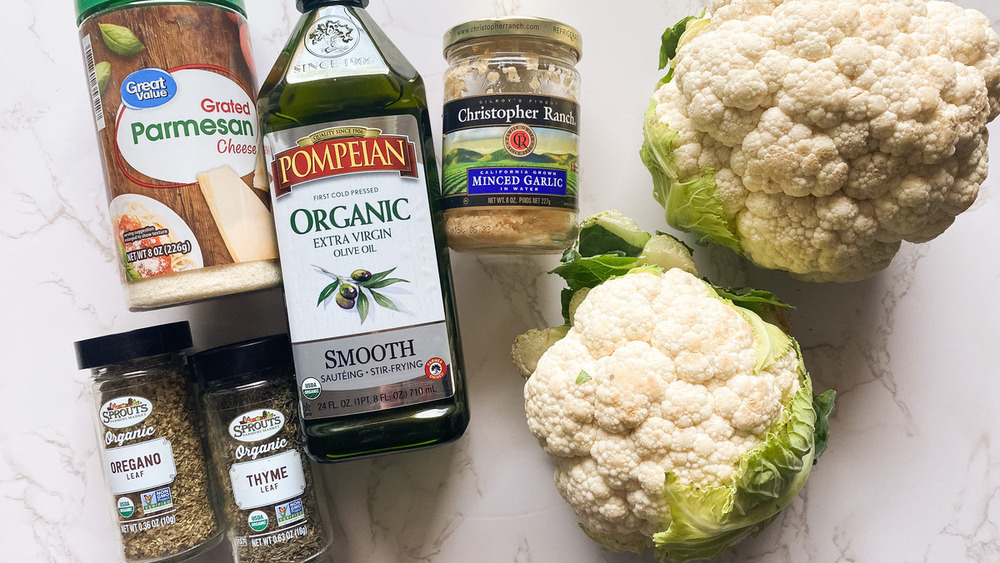 Kristen Carli/Health Digest
Get dinner on the table ASAP with this easy, totally tasty cauliflower steak recipe. Simply add to your shopping list two heads of cauliflower — note that this recipe makes six servings — garlic (which you will mince), oregano, dried thyme, and grated Parmesan cheese. In addition, grab some salt, pepper, and your favorite olive oil from your pantry.
We asked Carli why she chose oregano and dried thyme specifically for seasoning her cauliflower steaks, and as she puts it, "Italian spices pair well with Parmesan cheese." If you don't like oregano or don't have any on hand, but have a hankering for this dish, you can substitute oregano for marjoram or sage. Meanwhile, you can opt to use herbs de Provence or poultry seasoning instead of thyme if your taste buds prefer. Once your ingredients are all set, go ahead and preheat your oven to 400 degrees Fahrenheit, and prepare for deliciousness.
Prep your cauliflower and seasoning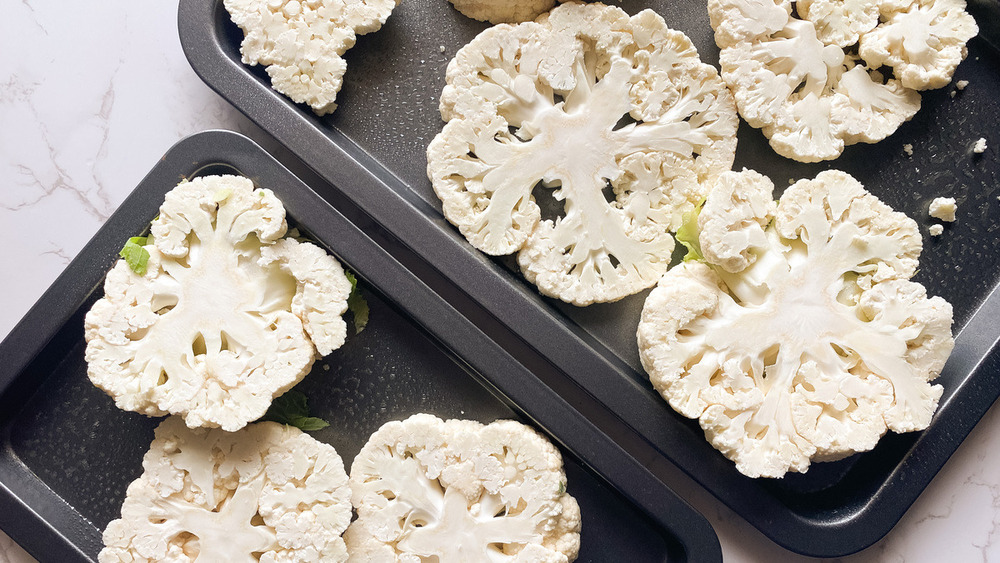 Kristen Carli/Health Digest
You will start prepping your dinner by spraying two large baking sheets with nonstick cooking spray. Set them aside. Then, slice your cauliflower heads into ½ to 1-inch slices, with Carli sharing her best tip for cutting up this potentially messy veggie: "I like to slice cauliflower by placing it on its side with the stems to be cut off first. Then, keep slicing the cauliflower until you have about three plus steaks."
Once your steaks are sliced, go ahead and place them on the baking sheets. Then, pull out a small bowl, to which you add your olive oil as well as the other ingredients — minced garlic, oregano, thyme, salt, and pepper. Carli advises home cooks to stir the oil and seasonings until they are well-combined. Now, there's just one more step until those beautiful steaks are ready to bake.
Brush the seasoned oil onto your cauliflower, and bake the steaks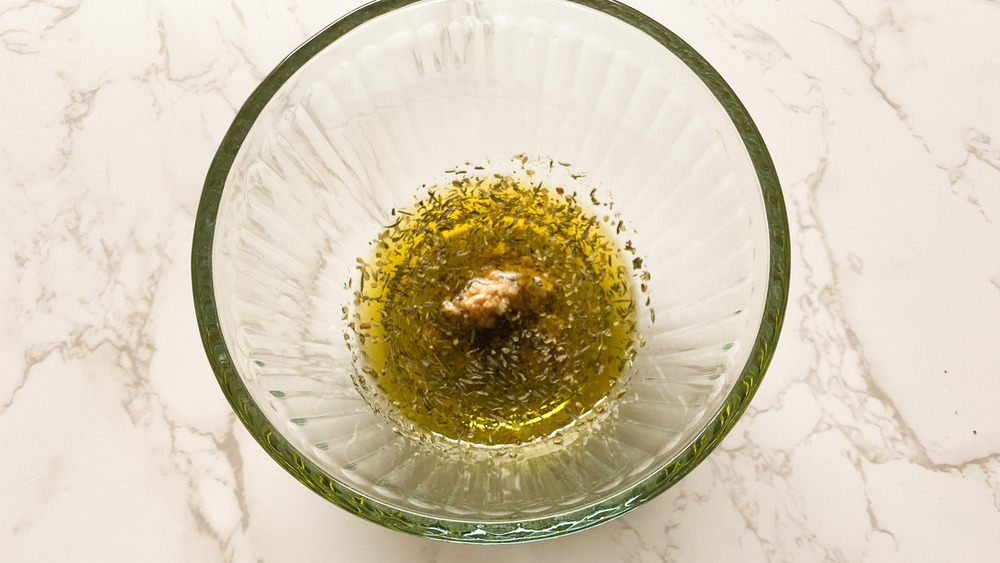 Kristen Carli/Health Digest
Brush your homemade seasoned oil right onto the cauliflower steaks, with Carli explaining about this special technique, "Brushing the seasoned oil [on the cauliflower] allows you to get in all the nooks and crannies, ensuring flavor in every bite." Yum!
You will bake the steaks for 30 minutes. Carli advises to watch the steaks in the oven to ensure they don't burn. "You want a nice golden brown."
The last step is to remove your golden brown cauliflower from the oven. While it's still hot, sprinkle on your grated Parmesan cheese. Is your mouth watering as well? Well, that's perfectly okay, because now it's time to indulge in this dish (unless, of course, you want to take a quick pic first and post it on Instagram to show off your mad culinary skills).
Cauliflower Steaks
These cauliflower steaks are so simple to prepare and can be enjoyed as a tasty side dish or main course.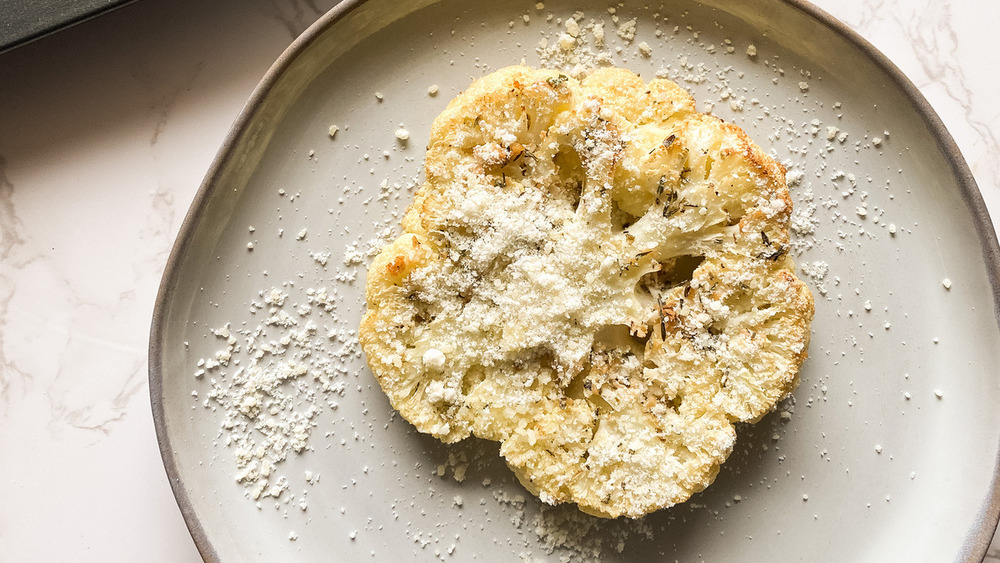 Ingredients
2 heads of cauliflower
½ cup olive oil
2 teaspoon minced garlic
½ teaspoon dried oregano
½ teaspoon dried thyme
1 teaspoon salt
½ teaspoon pepper
½ cup grated Parmesan cheese
Directions
Preheat oven to 400 degrees Fahrenheit. Spray two large baking sheets with nonstick cooking spray.
Slice cauliflower into ½ to 1-inch slices. Place on baking sheets.
In a small bowl, add ½ cup of olive oil, 2 teaspoons of minced garlic, ½ teaspoon of dried oregano, ½ teaspoon of dried thyme, 1 teaspoon of salt, and ½ teaspoon of pepper. Stir to combine.
Brush seasoned oil onto cauliflower. Bake for 30 minutes.
Remove from oven. While hot, sprinkle cheese over cauliflower.
Nutrition
| | |
| --- | --- |
| Calories per Serving | 255 |
| Total Fat | 21.7 g |
| Saturated Fat | 4.8 g |
| Trans Fat | 0.0 g |
| Cholesterol | 8.4 mg |
| | |
| --- | --- |
| Total Carbohydrates | 9.9 g |
| Dietary Fiber | 3.7 g |
| Total Sugars | 3.5 g |
| Sodium | 490.7 mg |
| Protein | 8.0 g |