Cranberry Salad To Get Spring Off To A Fresh Start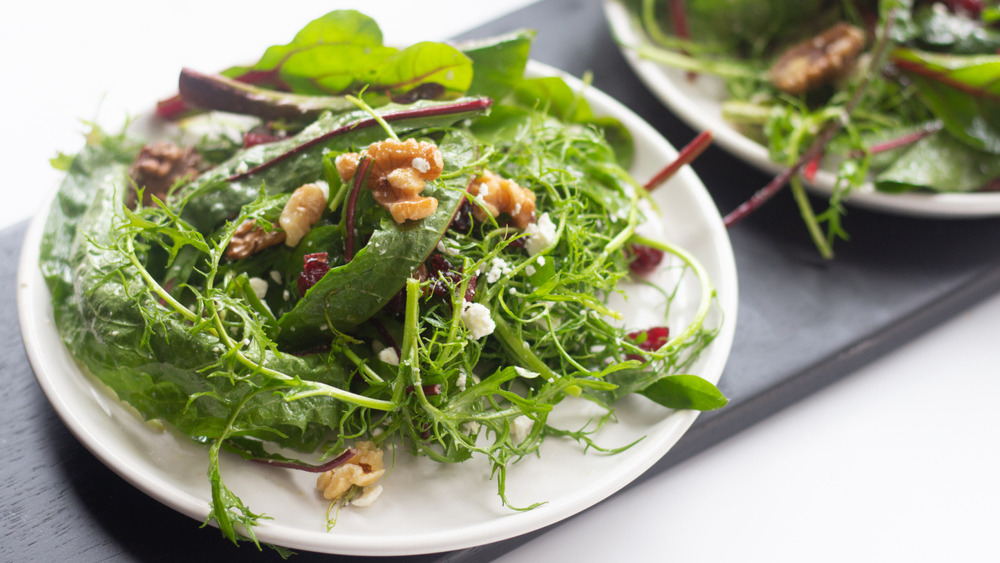 Susan Olayinka/Health Digest
There's something about a fresh salad served when the weather starts to get nice and the promise of summer is nearby. But the standard "side salad" with lettuce, tomatoes, onions, and ranch dressing can get a little boring (and by a little boring, we mean a lot boring). To mix things up, you don't have to become a sous chef and learn fancy new cooking methods. All you need to do is switch up your toppings. 
This cranberry salad developed by Susan Olayinka, the recipe developer and food blogger at The Flexible Fridge, couldn't be easier to make and requires nothing more than a bag of mixed greens, dried cranberries, feta cheese, and walnuts. It's the perfect salad to pair with a light lunch or a side to a steak or salmon filet at dinner. And even on days that still have a chill in the air, the cranberries, walnuts, and feta cheese crumbles all have a warmth to them that work as well in the fall as they do in the spring.
Gather your ingredients for cranberry salad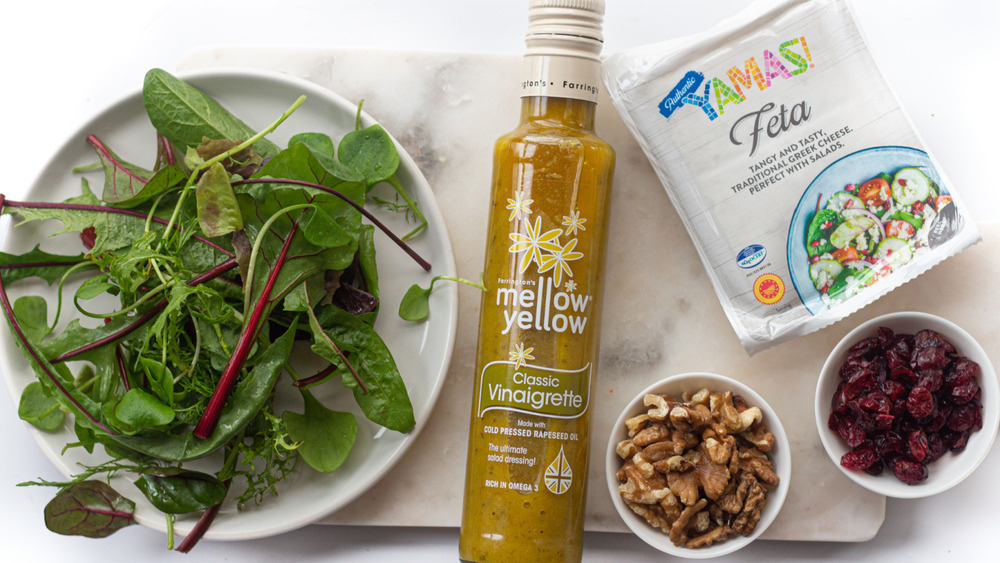 Susan Olayinka/Health Digest
The beauty of this salad is that you can make it with practically all prepared food items from your grocery store, so you don't have to cook a single thing. Simply grab your favorite bag of mixed greens — Olayinka suggests looking for something with a mix of lettuce, Swiss chard, arugula, and spinach — then grab pre-shelled walnuts, dried cranberries, and a block (or pre-crumbled) feta cheese. All of these items are often found near the pre-bagged salad, so you may not even have to make a full tour of the store. Even the vinaigrette in this recipe is bottled, so just choose your personal favorite, and get ready to toss your salad!
Wash and dry your greens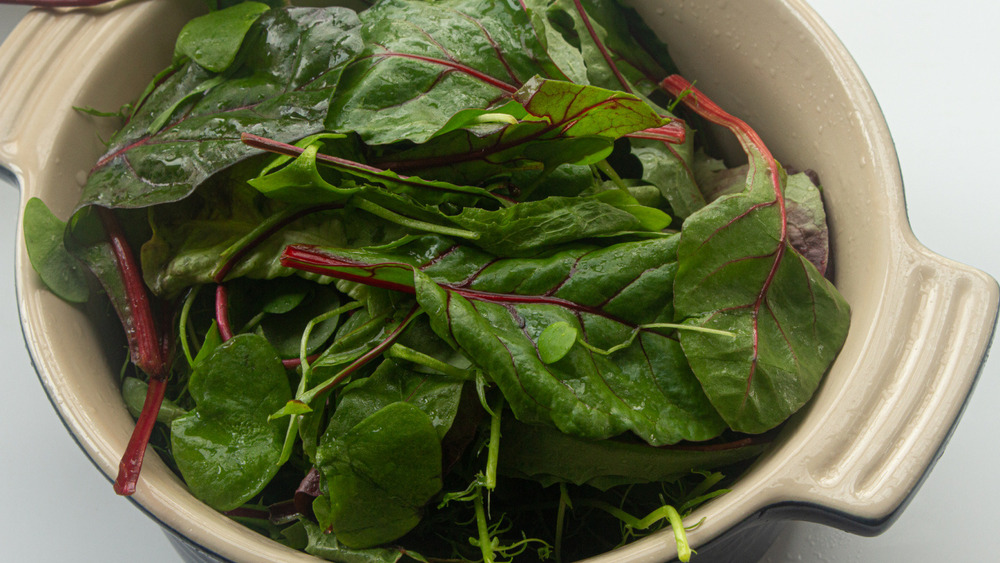 Susan Olayinka/Health Digest
Yes, pre-bagged salads typically come pre-washed (often triple washed), in which case you don't actually have to re-wash them (unless you like a little moisture on your salad greens). According to a study via the University of California, Davis, additional washing of these ready-to-eat greens (which specifically specify "washed" or "ready to eat") is not necessary. That being said, if you decide to purchase fresh greens, make sure you take the time to wash and dry them thoroughly before you mix up your salad.
Mix and massage greens with vinaigrette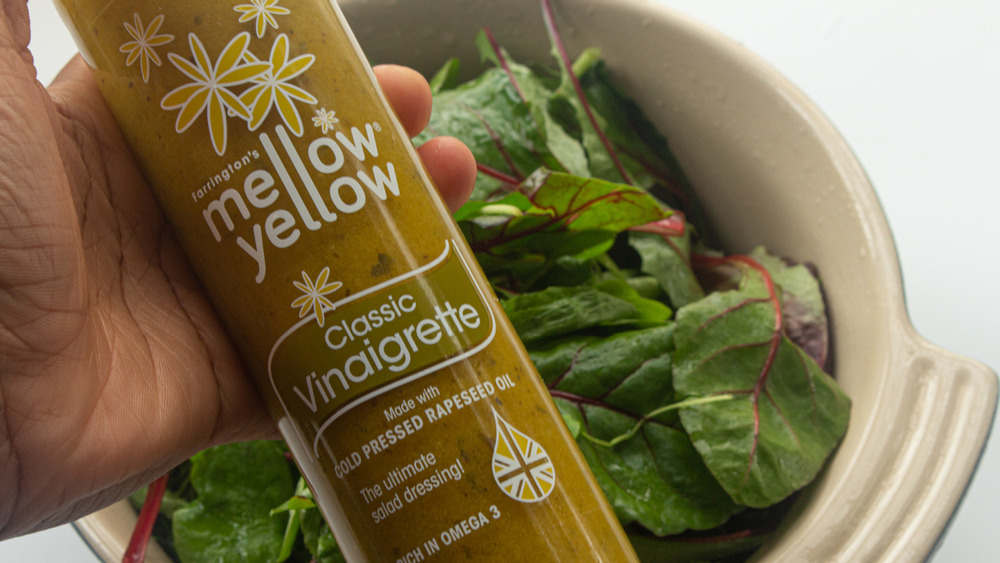 Susan Olayinka/Health Digest
Once the greens are ready, simply add the vinaigrette dressing and use it to massage the greens with your (well-washed) hands. If you don't usually massage your lettuce before you make a salad, don't worry, you're not alone. But this extra step (it only takes 30 seconds) can make a world of difference if you're eating tougher greens like kale. By simply massaging your lettuce in the vinaigrette, you'll not only help coat all the greens in the dressing, but you'll also help soften up the tough parts of these stiffer greens. 
Also, if you'd prefer to make your own vinaigrette rather than using a store-bought version, Olayinka says it's easy to do. "Just combine three parts oil, one part vinegar, and you can also add some additions like maple syrup [or] garlic." The type of vinegar and oil you use are completely up to you, so consider experimenting with something different each time you prepare the salad to find your favorite.
Add cranberries and other toppings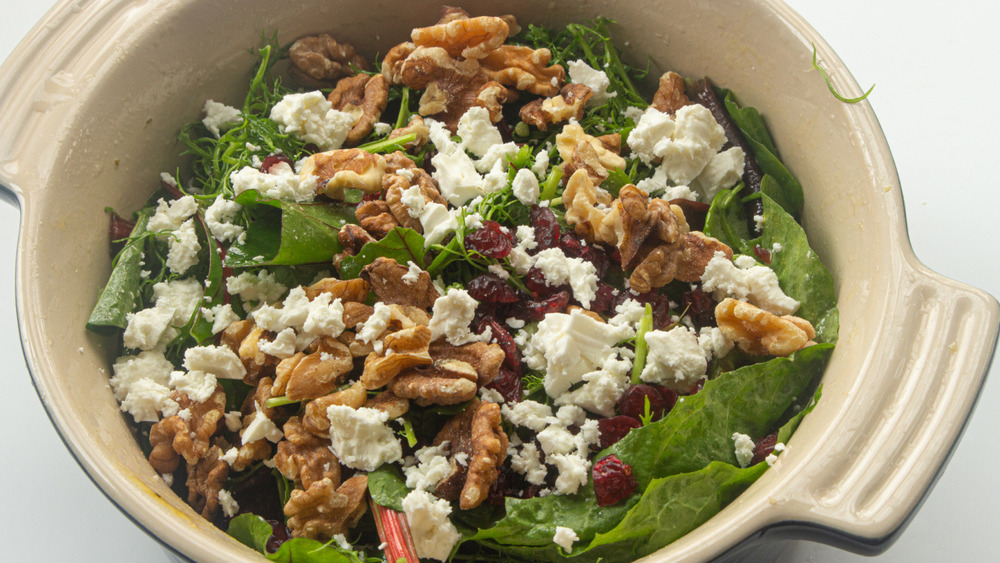 Susan Olayinka/Health Digest
Once your greens are ready to go, simply add the cranberries, walnuts, and feta cheese, and your salad is ready to serve! The whole thing comes together in just minutes, and really couldn't be easier to do. And, of course, it's always fun to experiment with different fruit, nut, and cheese flavorings. For instance, Olayinka suggests trying pistachios or pecans in place of the walnuts, or using Parmesan cheese instead of feta (not everyone loves the sharp feta flavor). Or, if you're vegetarian or vegan, you could use avocado as your added fat, rather than any cheese at all.
Cranberry Salad To Get Spring Off To A Fresh Start
This cranberry salad couldn't be easier to make and requires nothing more than a bag of mixed greens, dried cranberries, feta cheese, and walnuts.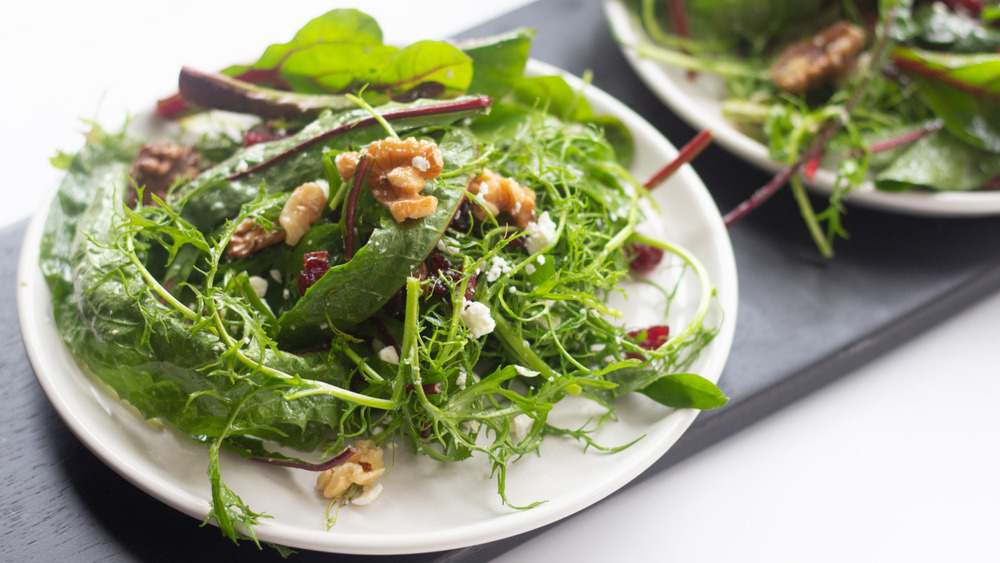 Ingredients
4 cups mixed salad
½ cup walnuts
¼ cup dried cranberries
3 tablespoons vinaigrette dressing
½ cup crumbled feta cheese
Directions
Wash and dry the mixed salad, and place into a mixing bowl.
Top with vinaigrette dressing, and massage the greens for 30 seconds.
Top with ¼ cup of dried cranberries, ½ cup of walnuts, ½ cup of crumbled feta cheese, and serve.