The Only Oat Milk Recipe You'll Ever Need
Jaime Bachtell Shelbert/Health Digest
There are so many alternative milks to choose from. With grocery stores selling soy, rice, coconut, almond, cashew, hemp, macadamia, and even pea varieties, oat milk may not be one you've tried yet. But if you happen to have oats on hand, and a cheesecloth or nut milk bag, you don't even have to buy a box from the store to test drive this dairy-free option. 
The reasons to give oat milk a whirl are actually pretty convincing. "Oat milk is perfect for individuals choosing a plant-based lifestyle and [those] who might have a nut allergy. It's creamier than your traditional store-bought nut milks, [with its] creamy, oat flavor. [It also] froths beautifully and is perfect for making your favorite lattes," says recipe developer Jaime Shelbert of Wholly Nourished.
Even if you're not quite ready to switch over to drinking oat milk, it works well in recipes where you can simply sub it in for other nut milks. Shelbert highlights the fact that the flavor is neutral, so it won't overpower your baking, as a more flavorful alternative milk like coconut milk might do. That being said, it's best used in sweet baked goods rather than savory ones. So, if you're ready to give oat milk a try, grab your ingredients and whip up a batch to use in your morning coffee. (Four servings worth will keep for up to a week!)
Gather your ingredients for oat milk
Jaime Bachtell Shelbert/Health Digest
The ingredients to make your own oat nut milk are very simple and straightforward, and you might already have them on hand. All you need is a cup of rolled oats, 4 cups of water, and a pinch of salt — that's it. However, if you'd like a sweeter milk, you have a few more ingredient options. For instance, you can add one or two pitted dates, agave nectar, date syrup, or maple syrup to the mix. Just expect to experiment a little bit with how much you end up adding in order to find your desired sweetness level.
Blend the ingredients well, and pour the oat milk through a nut bag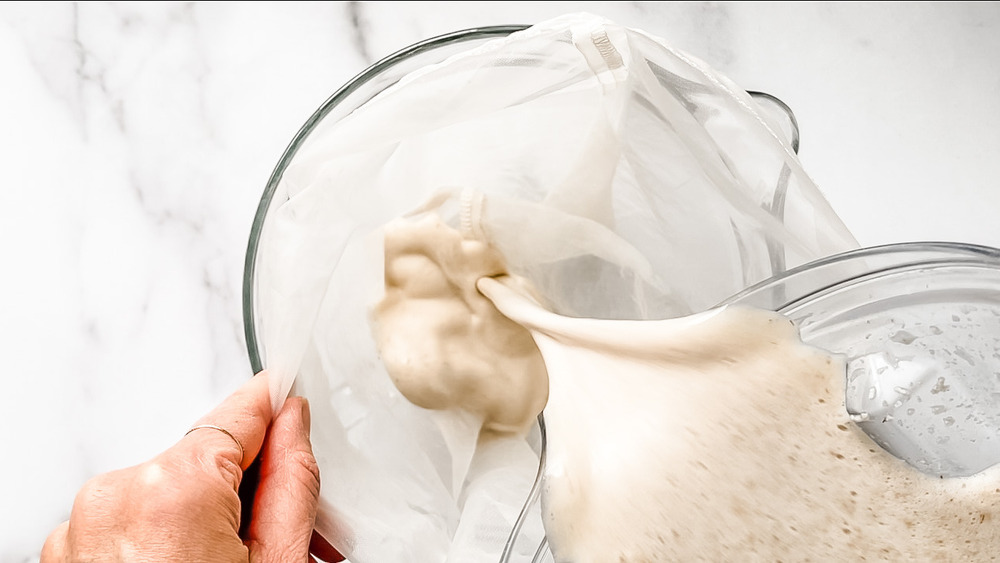 Jaime Bachtell Shelbert/Health Digest
Place your ingredients in a high speed blender. It's important that you use a high speed blender, because you want to liquify and break down the oats as much as possible. Lower speed blenders are less likely to fully pulverize the oats, leaving you with a less-creamy end result. This is also the point where you want to add the dates or the sweetener of your choice in order to end up with a sweeter oat milk. Blend for a minute, or until creamy-smooth.
Given how fibrous oats tend to be, it's important to remove any of the leftover fibrous oat bits before drinking the milk. Sure, you might be removing some of the fiber when you do this, but you're drinking oat milk as an alternative to regular milk — not to consume the eight grams of fiber that are found in the typical cup of rolled oats. Plus, according to Healthline, you'll still end up consuming roughly two grams of fiber per serving, which is more than dairy milks. 
All you need to do is pour the oat milk into a bowl or large measuring cup (one that can hold at least 4 cups of liquid) through a cheesecloth or nut milk bag. However, if you use a cheesecloth, Shelbert says you should double up to maximize the straining power (the weave of the cheesecloth isn't as tight as that of a nut milk bag).
Strain the oat milk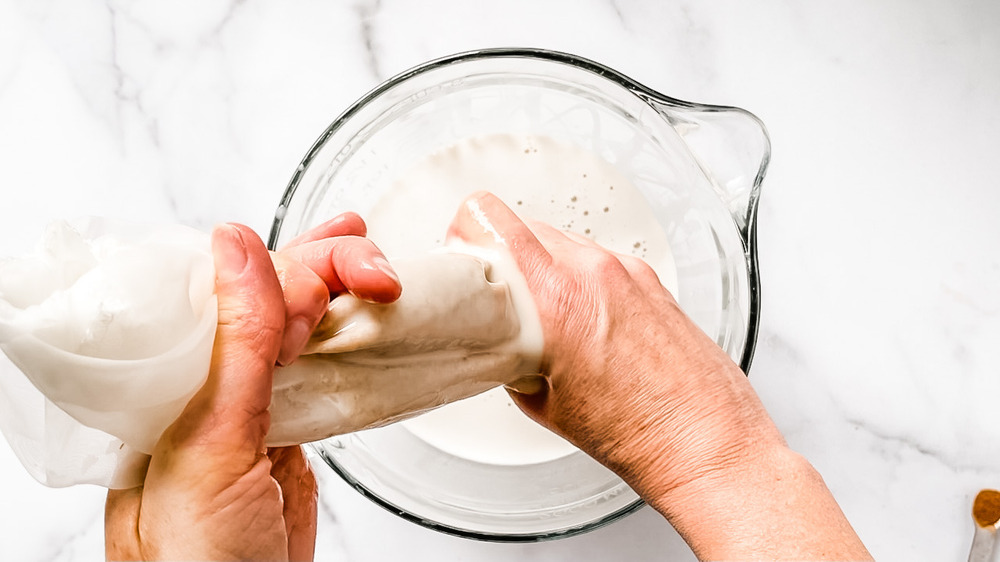 Jaime Bachtell Shelbert/Health Digest
As you pour the oat milk through the cheesecloth or nut milk bag, it's important to take your time to strain the milk well. This may take a little time — you might have to pour the milk into the bag a little at a time, pausing to allow the milk to naturally sift through the fine mesh weave. You can use your hands to help press the milk through, but don't overdo it! Trying to force the liquid through can leave you with a somewhat slimy oat milk consistency. Just allow gravity and time to do the hard work, helping it along without forcing the strain. 
Add optional flavorings, and refrigerate
Jaime Bachtell Shelbert/Health Digest
Once you've strained your oat milk, you're basically ready to enjoy! You have the option to add seasonings or flavorings at this point. Shelbert suggests ½ teaspoon of cinnamon as a natural way to help flavor your morning coffee, but she adds that you could also add vanilla or maple syrup. You could even add a couple tablespoons of unsweetened cocoa powder to enjoy a chocolatey oat milk. Then, simply store your milk in the fridge where it will keep for up to a week when stored in an airtight container.
The Only Oat Milk Recipe You'll Ever Need
Whip up a batch of this creamy oat milk to use in your morning cup of joe.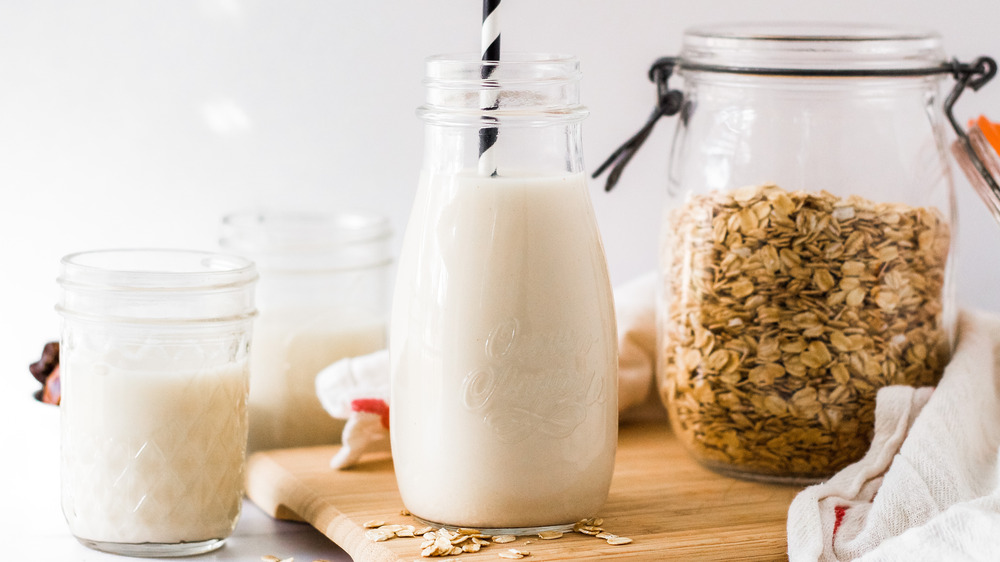 Ingredients
1 cup rolled oats
4 cups water
pinch of salt
Optional Ingredients
Directions
Place oats and water in a high-speed blender. Add pitted date(s) if using. Blend on high speed for one minute.
Pour oat mixture through a nut milk bag or cheesecloth.
Strain well.
Add ½ teaspoon of cinnamon at this point for flavor, if desired.
Refrigerate for up to one week.
Nutrition
| | |
| --- | --- |
| Calories per Serving | 74 |
| Total Fat | 1.4 g |
| Saturated Fat | 0.2 g |
| Trans Fat | 0.0 |
| Cholesterol | 0.0 mg |
| | |
| --- | --- |
| Total Carbohydrates | 13.6 g |
| Dietary Fiber | 1.9 g |
| Total Sugars | 0.3 g |
| Sodium | 46.9 mg |
| Protein | 2.7 g |