The Truth About The New 'Double Mutant' COVID Variant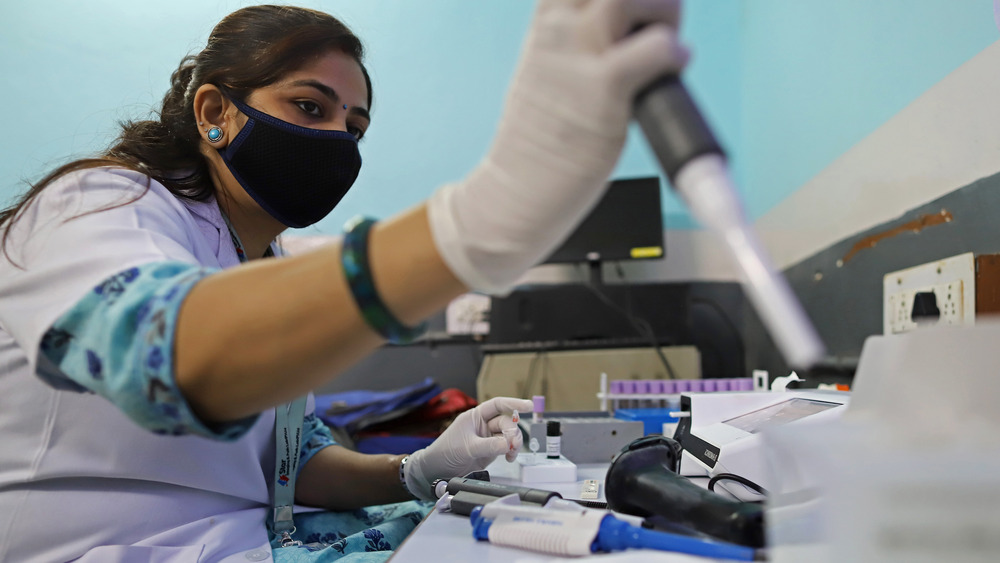 Bloomberg/Getty Images
Last month officials in India identified a new "double mutation" COVID-19 variant across 18 Indian states (via BBC News). While mutations are a normal evolutionary part of virus life and propagation, this may be the first recorded variant of the SARS-CoV-2 virus in which two different mutations occurred in the same virus particles. Dr. Shahid Jameel, Ph.D., a virologist, told BBC News that, "double mutation in key areas of the virus's spike protein may increase these risks and allow the virus to escape the immune system." This news comes at a critical time in the fight against the COVID-19 pandemic, as nations around the world are racing to vaccinate their populations, in hopes of slowing the spread of disease and curbing new mutation formation.
If there is one thing this global pandemic has taught us, it's just how easily and quickly an invisible enemy can spread around the world. Just as the previously identified U.K., Brazilian, and South African variants found their way into the United States, officials at Stanford University in California believe they have identified the first case of this new double mutation variant last week (via WebMD).
Vaccinations may help reduce the number of circulating variants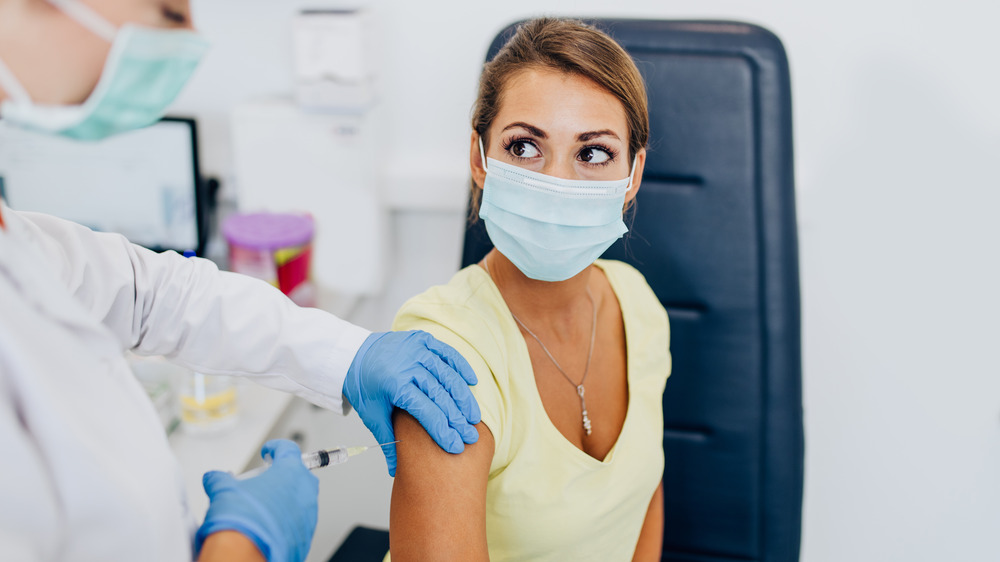 Shutterstock
This new variant has two identifiable mutations, technically known as E484Q and L452R (via Health). The U.S. Centers for Disease Control and Prevention (CDC) has a running list of "variants of concern (VOC)," which keeps track of the variants that have been found to be more infectious.  At the present time, this new variant is not yet on the VOC list, however health officials are actively testing and researching to determine whether this new strain is indeed more infectious and deadly.
Researchers are also trying to figure out whether or not the new variant will be able to evade vaccine immunity. Encouragingly, Dean Winslow, M.D., an infectious disease specialist at Stanford University, told WebMD, that "Most people will mount an immune response, maybe it will not protect against an all-out infection, but at least it will protect against moderate or severe disease."
Top health officials around the world are pushing to vaccinate the masses in an attempt to slow the formation of new, deadlier variants. Currently, the U.S. has administered nearly 170 million vaccines and countries like Israel and Gibraltar have vaccinated over 50 percent of their total populations. However, there are other countries who have yet to even begin vaccinations. With the ease and overall increase in international travel lately, it is now more important than ever to be aware that an outbreak anywhere in the world is a threat to every other country. In the meantime, continue to wear a mask, practice social distancing, and get vaccinated when eligible.