Easy Protein Powder Pancakes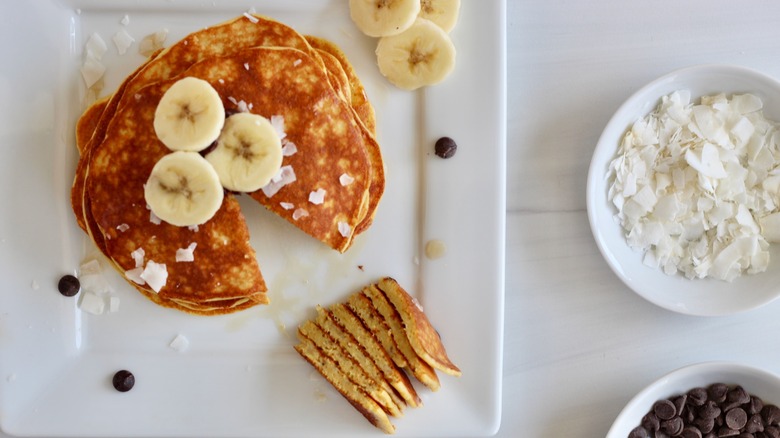 Mackenzie Burgess/Mashed
Pancakes are a classic comfort food perfect for everything from elegant brunches to cozy mornings at home. So when did the famous pancake first become popular? Although pancakes have been around for centuries, they became popularized during an annual event called Shrove Tuesday, or Pancake Day. Shrove Tuesday is the day before Lent, a period of time where Catholics traditionally were to give up certain foods including eggs, fat, and milk. To prevent these ingredients from going to waste, they would be used up in a day filled with pancakes before the fasting period.
Pancakes to this day remain widely loved around the world, with each culture having their own unique take on the stack. For this recipe, we created a healthier spin on pancakes (that can also be modified for vegans). These golden-brown cakes include mashed bananas, eggs, and protein powder for a lower-sugar, protein-packed breakfast. The easy, health-conscious recipe from registered dietitian and nutritionist Mackenzie Burgess, creator behind customizable recipe blog Cheerful Choices, will become a deliciously reliable go-to for your own pancake days.
Gather your ingredients for protein pancakes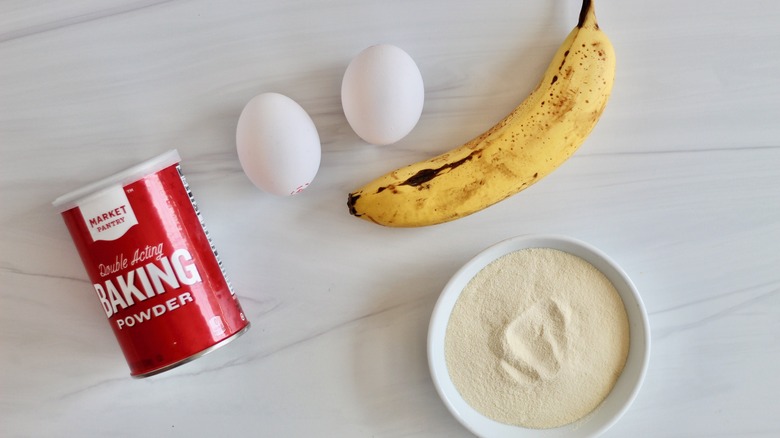 Mackenzie Burgess/Mashed
There's only four simple ingredients needed to make these protein pancakes, with optional ingredients for topping them. The recipe as written makes enough for six small pancakes, or about two servings. If you're wanting to make more, simply double the recipe to create more batter.
We're using eggs as the ingredient that helps bind everything together, but if you're sticking to a vegan diet, you could substitute the egg for a flax egg instead. To do this, just combine a tablespoon of flaxseed meal with three tablespoons of water and let it sit for five to 10 minutes to thicken.
The baking powder is the leavening agent that helps make the pancakes light and fluffy. However, since there's no flour used in this recipe, the pancakes will be slightly thinner than your classic stack.
Use up those ripe bananas for these protein pancakes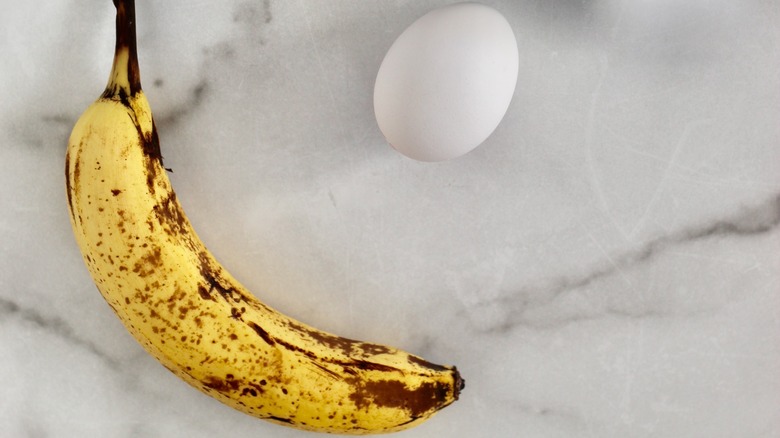 Mackenzie Burgess/Mashed
Never throw away your ripened brown bananas! They're perfect to use for baked goods like this paleo banana bread or these easy protein pancakes. In fact, the riper the better, because brown bananas have a higher sugar content than yellow bananas. This high sugar content naturally lends a sweeter taste for these pancakes without having to use additional forms of added sugar. Ripe bananas are also softer, making them easier to mash up. If you end up having extra brown bananas even after you make your pancakes, just freeze them and use them in smoothies, or make your own strawberry cheesecake "nice" cream.
The protein powder you should use for these pancakes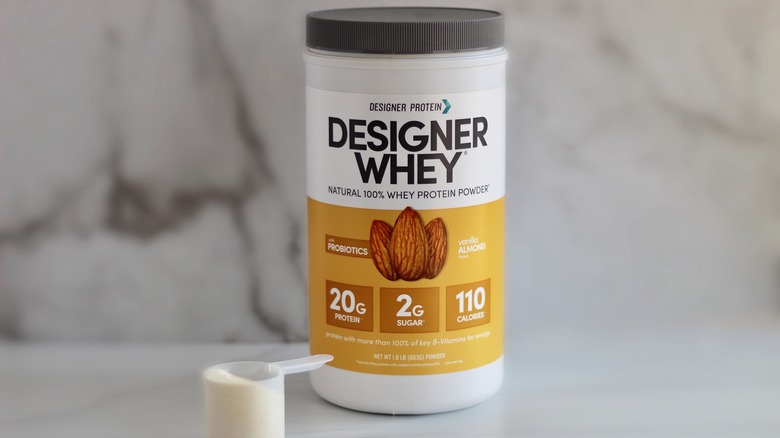 Mackenzie Burgess/Mashed
Although you could probably get away with using any flavor of protein powder, we recommend vanilla to achieve that classic pancake taste. Mackenzie Burgess chimes in, "One of my favorites to use for this recipe is Designer Whey Protein. This powder packs in 20 grams of protein per serving and comes in all different vanilla flavors, like french vanilla, vanilla almond, and vanilla coconut. They also have plant-based powders for individuals following a vegan diet."
Keep in mind, each protein powders' scoops might measure a bit differently, so it's best to measure out one-third of a cup, or weigh out 40 grams, to ensure you reach the right amount. If you've mixed up your batter and you find that it's too thin, you can always add a small amount of protein powder to thicken it. On the other hand, if the batter is too thick, add a small amount of milk (regular or plant-based) to thin out the batter.
Tips for cooking the perfect protein pancake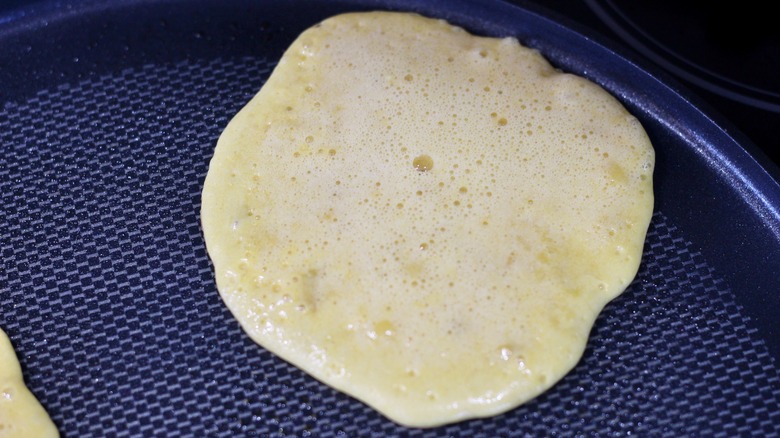 Mackenzie Burgess/Mashed
Once you've mixed together your quick and easy batter, use a quarter cup to measure out your pancakes. Add this amount of batter to a preheated pancake griddle or large pan over medium heat. (To see if the pan is hot, you can add a drop of water over the pan. It should ball up and sizzle around the pan.)
Once the batter has been placed on the hot surface, let it cook for two to three minutes. At this point, you should see small bubbles start to form on the top of the batter. This means it's cooked through to golden-brown perfection on the side that's down, and it's ready to flip over. Cook the other side for another two to three minutes.
Keep the protein pancakes warm until you're ready to serve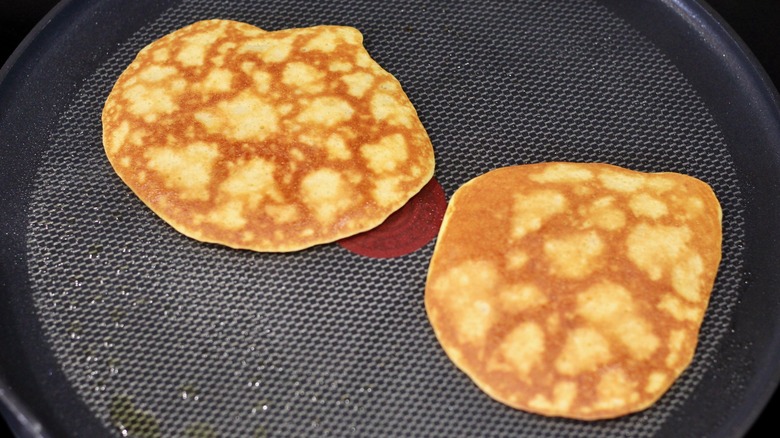 Mackenzie Burgess/Mashed
Once you've reached golden-brown perfection on both sides, keep the pancakes warm until you're ready to serve. You can do this by adding them to a plate wrapped in foil or using the "keep warm" function on a toaster oven. We recommend making these pancakes right before serving, so they're hot and fresh. However, you can always save leftovers for another breakfast snack. 
Store any leftover pancakes in a Ziploc bag or meal prep container for up to three days in the fridge or for up to three months in the freezer. To reheat, simply pop in the microwave for 20 to 30 seconds or until warm.
Some suggested toppings for your protein pancakes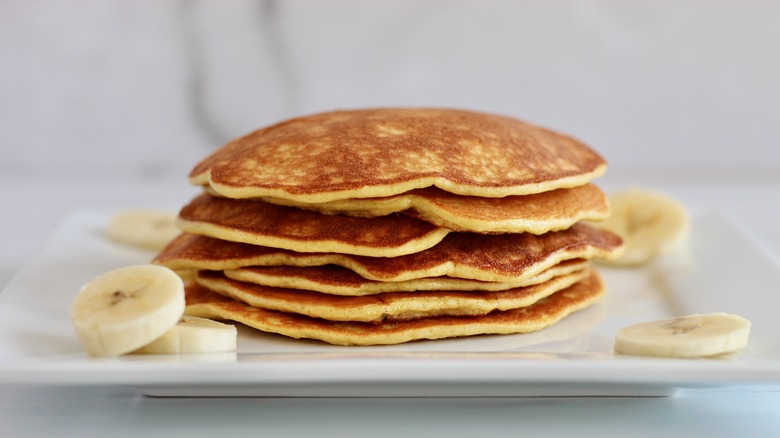 Mackenzie Burgess/Mashed
Although these pancakes are delicious on their own, we love to spruce them up with delicious toppings. Try adding a drizzle of maple syrup, chocolate chips, yogurt, shredded coconut, sliced bananas, berries, or whipped cream. 
You can mix toppings into the batter as well, but that might result in a pancake that's harder to flip, since these pancakes tend to yield a thinner batter. But no matter their size, you may notice feeling more satisfied after enjoying these pancakes. Mackenzie notes, "This stack is filled with a great balance of protein and fiber, helping us feel fuller longer."
To make it a full brunch, serve these banana protein pancakes with a hearty yet healthy egg casserole, a stack of heart-healthy oatmeal cookies, or some homemade oat milk. Your guests are sure to be impressed!
Easy Protein Powder Pancakes
You don't have to cancel pancakes if you're counting macros. These easy protein powder pancakes will be a delicious addition to breakfast, brunch or anytime.
Servings
6
small pancakes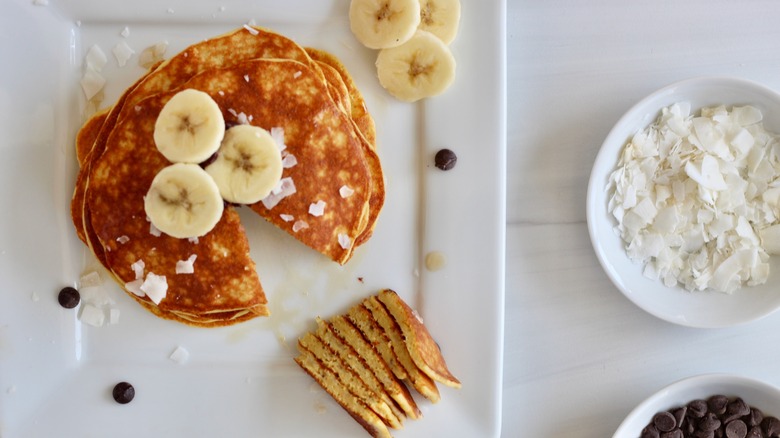 Ingredients
1 medium banana, extra ripe
2 large eggs
2 scoops vanilla protein powder
¼ teaspoon baking powder
Optional Ingredients
Optional toppings: maple syrup, chocolate chips, yogurt, shredded coconut, sliced bananas, berries, whipped cream
Milk (plant-based or regular) for thinning out batter, if needed
Directions
Preheat pancake griddle to 375 degrees Fahrenheit or large pan over medium heat on a stove.
Whisk together mashed banana, eggs, protein powder, and baking powder.
Check batter for consistency, and add extra powder if too thin or extra milk if too thick.
After you reach the right consistency, use ¼ cup to scoop out the batter and pour it over the hot griddle or pan.
Cook for 2 to 3 minutes per side. Wait until batter begins to form small bubbles on top before flipping.
Top warm pancakes with any desired toppings, like maple syrup, chocolate chips, yogurt, shredded coconut, sliced bananas, berries, or whipped cream.
Nutrition
| | |
| --- | --- |
| Calories per Serving | 100 |
| Total Fat | 2.5 g |
| Saturated Fat | 0.7 g |
| Trans Fat | 0.0 g |
| Cholesterol | 62.0 mg |
| | |
| --- | --- |
| Total Carbohydrates | 9.0 g |
| Dietary Fiber | 1.5 g |
| Total Sugars | 5.8 g |
| Sodium | 148.9 mg |
| Protein | 10.6 g |