Why Your Next COVID-19 Vaccine Could Be Different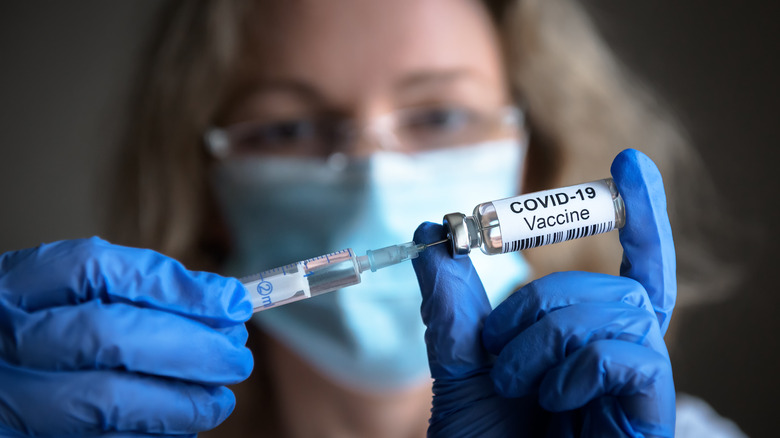 Shutterstock
This past month, pharmaceutical giants Pfizer and Moderna both revealed their vaccines remained highly efficacious six months after their second dose has been administered (via CNBC). This is great news in a constantly evolving stream of research and knowledge surrounding the SARS-CoV-2 virus. Both companies released new data, which demonstrated that the Pfizer vaccine was 91.3 percent effective and Moderna's vaccine was more than 90 percent effective six months after the second dose. While it is still uncertain how long vaccine immunity will last, both companies agree that a third booster shot is very likely.
Moderna's CEO Stephane Bancel revealed in an interview with CNBC that the company is hoping to make a booster shot available and approved by this coming fall. In addition to its 90 percent efficacy six months after the second dose, their vaccine was also found to be more than 95 percent effective against severe disease at that time as well. Despite the promising news, the emergence of concerning variants, particularly the B.1.351 "South Africa" variant, is putting the pressure on scientists for boosters to be made available as soon as is safe and possible.
Could you get a combined flu and covid booster shot next?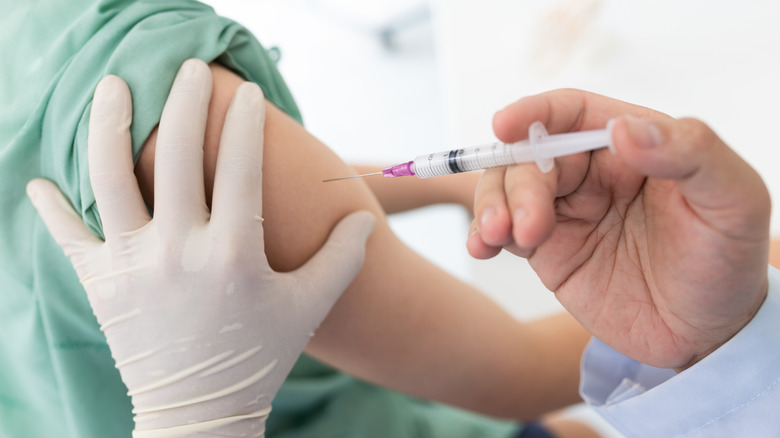 Shutterstock
Moderna in particular has some big plans for its booster shots. In September of 2020 the company announced plans to develop a seasonal flu vaccine (via Best Life). Bancel revealed that in addition to developing a flu vaccine, they are seeking to "combine our flu vaccine to our COVID vaccine, so you only have to get one boost at your local CVS store." The idea of seasonal flu and COVID-19 vaccines is becoming more widely expected as COVID-19 is behaving more similarly to the influenza virus in regards to mutations.
The ideology is that annual flu vaccines aim to protect you against what is expected to be the prevailing flu strain that season. Epidemiologists do extensive global surveillance when it comes to seasonal influenza vaccinations, and some years they predict more accurately than others. The same may be the new norm with COVID-19. Albert Bourla, CEO of Pfizer, agrees with this sentiment. His company is also working on a booster vaccine against the variants finding a way to evade the current vaccination. He said, "Every year, you need to go to get your flu vaccine, it's going to be the same with COVID. In a year, you will have to go and get your annual shot for COVID to be protected."
There is still so much which is not yet known about COVID-19, but the progress we have made in the past year should not be overlooked and taken for granted. The currently available COVID-19 vaccines have been shown in real world studies to be very effective in preventing disease transmission and protecting people from severe disease. As time goes on, we will learn how long immunity from vaccinations lasts, and how often boosters may be needed.