The Three Ingredients You Don't Want To See In Your Nail Polish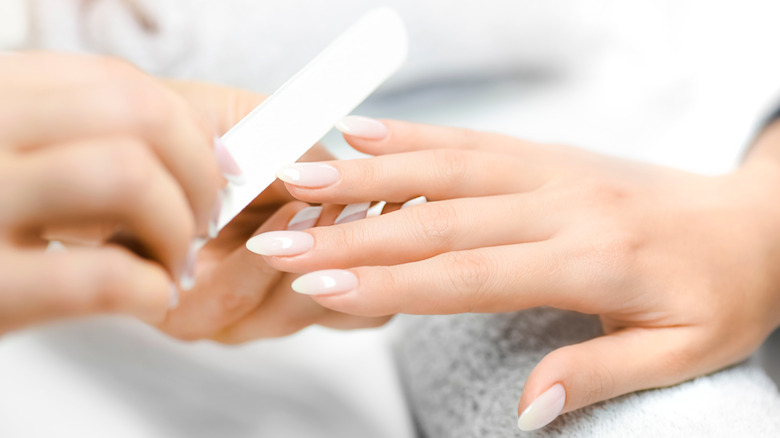 Shutterstock
Many love the relaxation of treating themselves to a manicure and pedicure. But while you're indulging in your spa treatment, you may want to take note of the nail polish products in use — especially if you're pregnant. There are tons of chemicals listed on the average nail polish bottle, but a few are actually dangerous and should be avoided.
Known as the "Toxic Trio" or "Big 3," formaldehyde, toluene, and dibutyl phthalate (DBP) are three chemicals you want to try to avoid in your nail polish (via DERMA Doctor). You may be wondering what these chemicals are and how they are dangerous. Let's break them down.
Formaldehyde is used in plywood and particle board and is also used as a preservative, sterilizer and embalmer. It can be commonly found in nail polishes that advertise "nail hardening." Formaldehyde is considered a carcinogen, and has been linked to nasal and lung cancers, according to DERMA Doctor.
How to paint your nails safely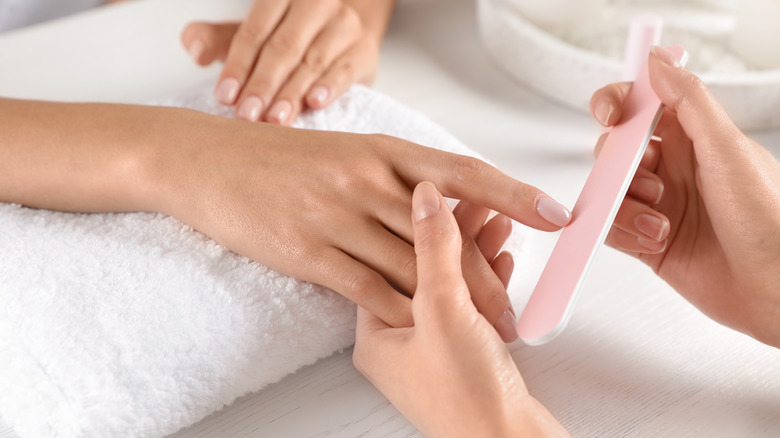 Shutterstock
DBP and Toluene are two chemicals that can have reproductive or pregnancy impacts and are banned in Europe, but not in the United States. DBP, which makes your nail polish more durable, has been linked to fertility issues, as it interferes with normal hormone function (via The Healthy).
The chemical toluene is added to nail polish to keep the application smooth and can cause dizziness, headaches, nausea and eye irritation. Inhalation during pregnancy is linked to birth and developmental defects in children, according to The Healthy.
You may be panicking at this point, but don't fret — there are plenty of nail polish options out there that don't have "the Big 3" in them. Be cautious of the "non-toxic" labels, as their accuracy is questionable. DERMA Doctor suggests OPI, Zoya, and Sheswai as possible options to check out.
If you don't want to give up your spa day, choose a well-ventilated spot or a salon that uses non-toxic nail polishes. When painting your nails at home, be sure you are also in an area with good airflow and choose your products wisely.