Healthy Sweet Potato Casserole Recipe Your Guests Will Go Nuts Over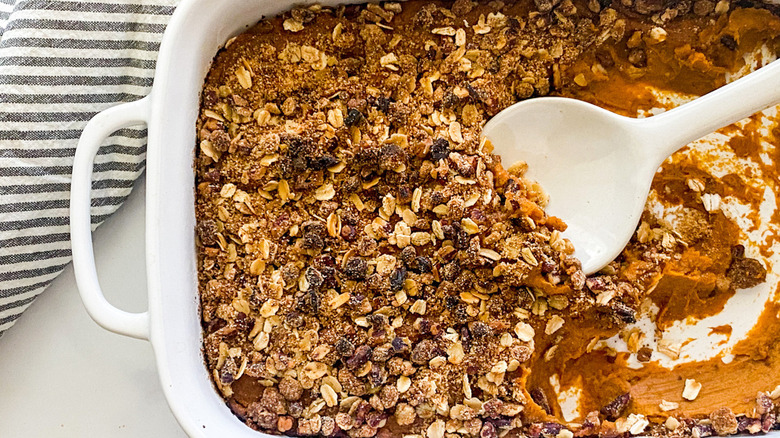 Miriam Hahn/Health Digest
A classic sweet potato casserole often feels more like a dessert than a side dish, with buttery, brown sugar goodness packed into the casserole itself, in addition to a heavenly marshmallow topping. It's something everyone in the family likely looks forward to enjoying over the holidays. But, with this version from recipe developer and wellness coach Miriam Hahn of YouCare-SelfCare on deck, sweet potato casserole gets a really healthy spin.
"As a wellness coach, I love to take traditional recipes and make them healthier," says Hahn, and she's succeeded in this case by combining sweet potatoes with anti-inflammatory spices like cinnamon, protein and healthy fat-rich pecans, fiber-dense oats, and just a hint of sweeteners like maple syrup and coconut sugar. These supporting players are a far better complement to the health benefits of the sweet potatoes themselves, which are rich source of eye health-boosting vitamin A and fiber for improved gut health (via Healthline).
"It is a great side dish that can be made ahead [of time]," says Hahn, "so [this recipe] works well if you are doing any sort of entertaining where you want a veggie with a little more flair!"
Gather the ingredients to make sweet potato casserole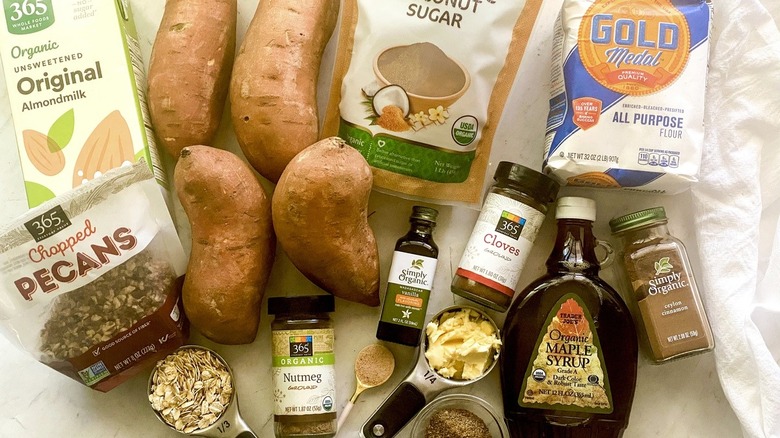 Miriam Hahn/Health Digest
To make this sweet potato casserole, you'll begin, unsurprisingly, with the sweet potatoes. Four of them should suffice! Once baked until tender, they'll be blended with maple syrup, plant-based almond milk, and ground flax seed, which Hahn uses, not for its flavor, but for its nutritional profile. "I always try to add ground flax seed to any baked goods, because they add fiber and essential fatty acids," she says.
Joining these ingredients are the classic baking spices: cinnamon, nutmeg, and ground cloves. A touch of vanilla extract and a pinch of salt (Hahn prefers Himalayan pink salt, which is rich in certain essential minerals), and the base is complete.
For the topping, you'll need chopped pecans, rolled oats, flour, butter (or a vegan substitute), and coconut sugar. "I often use coconut sugar instead of brown sugar, as it is a little less processed," explains Hahn.
Bake the sweet potatoes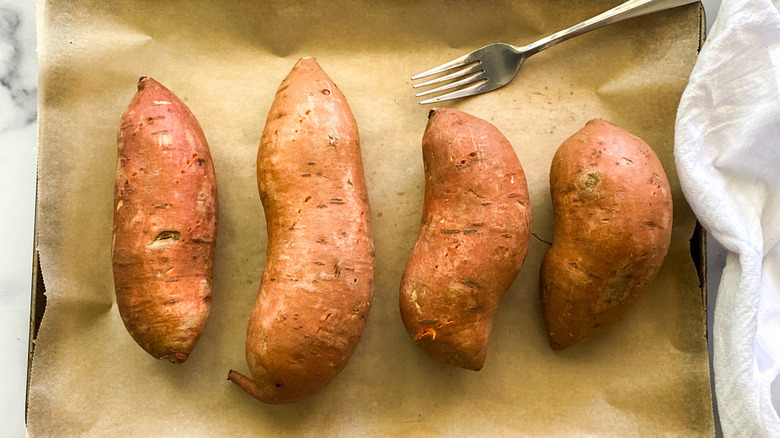 Miriam Hahn/Health Digest
The longest step of this recipe is the first one: baking the sweet potatoes. First, preheat the oven to 400 F. Then, turn your attention to the spuds. Pierce the potatoes all over with a fork, and then place them on a baking sheet lined with foil or parchment paper. Sweet potatoes contain a lot of natural sugars that can bubble out of them over the course of their hour in the oven, and protecting your pan like this means that you won't be scrubbing caramelized sugar off it later!
If you don't have time to bake the sweet potatoes the day you plan to serve, never fear. According to Hahn, you can bake them a day in advance to save time the day of.
Make the delicious crumble topping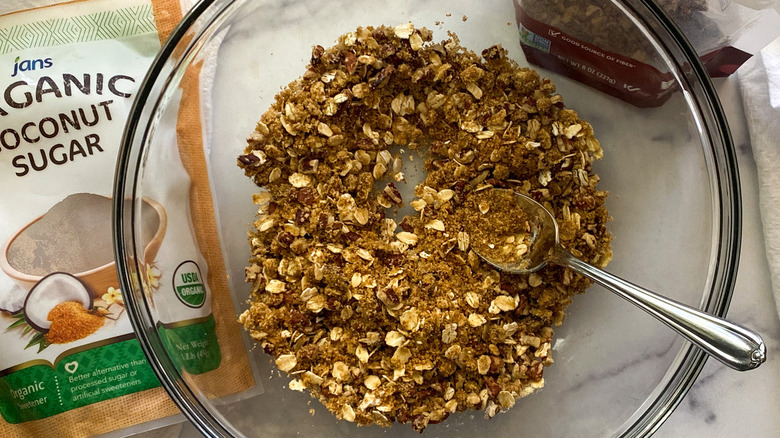 Miriam Hahn/Health Digest
While the potatoes bake, stir together the delicious casserole topping. Simply stir together the pecans, coconut sugar, oats, flour, and melted butter (or Earth Balance spread for a vegan version of the dish). Coconut sugar, which is made from the sap of the coconut palm, contains minerals such as zinc, iron, potassium, and calcium (via Healthline).
While the flavors in this crumble are classics — especially when enjoyed during the holiday season — you should feel free to change things up, if you'd like. "You can also use walnuts and even add dried cranberries or cherries to the crumble topping," Hahn suggests.
Blend the sweet potatoes for your casserole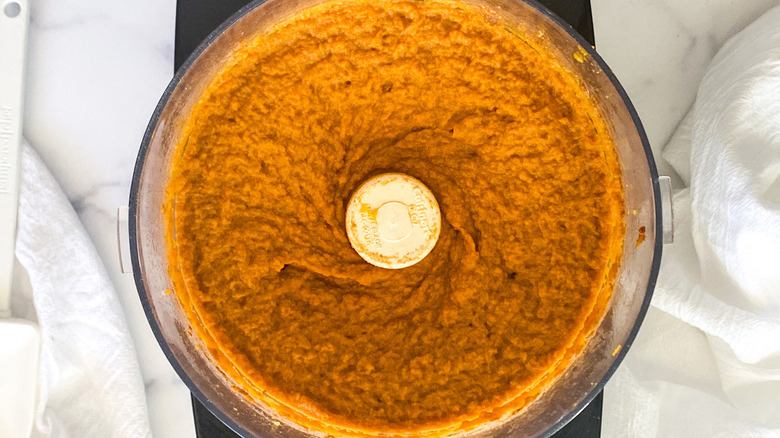 Miriam Hahn/Health Digest
When the sweet potatoes are fully cooked, set them aside to cool until you can handle them comfortably — we don't want any sugar or steam burns! When they're cool enough, cut them open and peel them, discarding the skins. Transfer the soft flesh to a food processor, and blend until smooth.
Once the potatoes are nice and creamy, add the almond milk, flax, vanilla, and spices. You can also add the maple syrup at this time, which, Hahn notes, "adds sweetness also but helps give a nice texture to the dish."
Blend once more until nicely combined, or if you'd prefer, you can simply mash all of the ingredients together by hand. "I think in this dish, making it be extra smooth makes it a little fancier than when it is mashed by hand," says Hahn, "but honestly, both are great!"
Bake the sweet potato casserole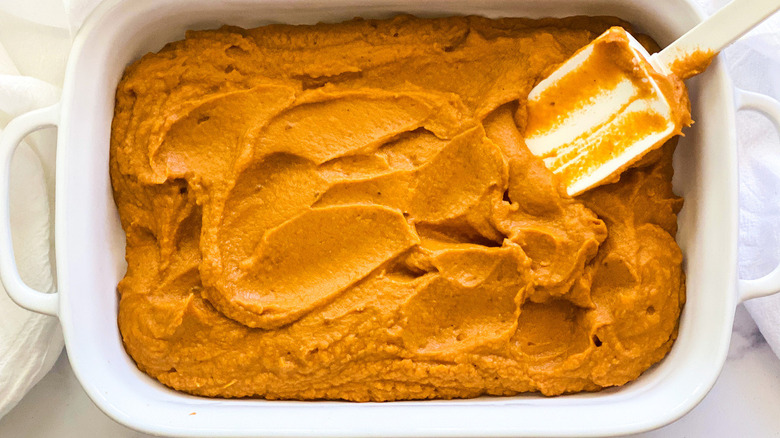 Miriam Hahn/Health Digest
Both the filling and topping are done, and now it's time to bake! Spread the sweet potatoes out in an even layer in a 9x12-inch casserole dish, and sprinkle the pecan crumble over the top. Place in the oven and bake, uncovered, for 40 to 45 minutes, until the top is golden brown and you whole kitchen smells of baking spices and a rich, sweet aroma. The sweet potatoes will reveal their depth of flavor, and you just may wonder why you topped them with marshmallows in the first place!
Healthy Sweet Potato Casserole Recipe Your Guests Will Go Nuts Over
Sweet potato casserole gets a healthy spin with this recipe, which boasts a heavenly crumble topping.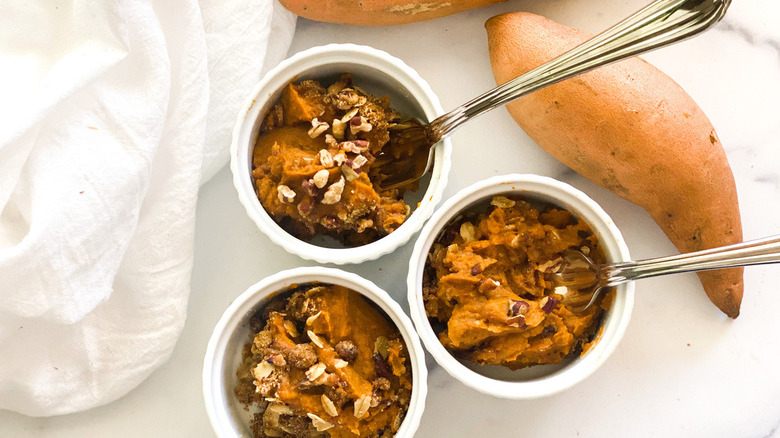 Total time: 1 hour, 50 minutes
Ingredients
4 medium to large sweet potatoes
½ cup pecans, chopped
¼ cup coconut sugar
⅓ cup rolled oats
⅓ cup all-purpose flour
¼ cup butter or Earth Balance, melted
½ cup unsweetened almond milk
¼ cup pure maple syrup
1 tablespoon ground flax seed
1 teaspoon vanilla
1 teaspoon cinnamon
½ teaspoon nutmeg
½ teaspoon ground cloves
½ teaspoon Himalayan pink salt (or regular salt)
Directions
Preheat the oven to 400 F.
Pierce the sweet potatoes several times with a fork. Place the potatoes on a lined baking sheet and bake for 45 minutes to an hour, or until the sweet potatoes are soft.
For the crumble topping, stir together the pecans, coconut sugar, oats, all-purpose flour, and melted butter.
When the potatoes are done, let them cool. Then, cut them open and discard the skin. Put the soft sweet potatoes in a food processor and blend.
Add in the almond milk, maple syrup, ground flax, vanilla extract, and spices. Blend again to combine.
Spread this mixture into a 9x12-inch casserole dish and top with pecan crumble mixture.
Bake uncovered for 40 to 45 minutes until the top is golden brown.
Nutrition
| | |
| --- | --- |
| Calories per Serving | 205 |
| Total Fat | 9.0 g |
| Saturated Fat | 1.7 g |
| Trans Fat | 0.0 g |
| Cholesterol | 0.0 mg |
| | |
| --- | --- |
| Total Carbohydrates | 29.6 g |
| Dietary Fiber | 3.3 g |
| Total Sugars | 12.6 g |
| Sodium | 206.4 mg |
| Protein | 2.6 g |