How Long Will The Johnson & Johnson COVID-19 Vaccine Be Paused?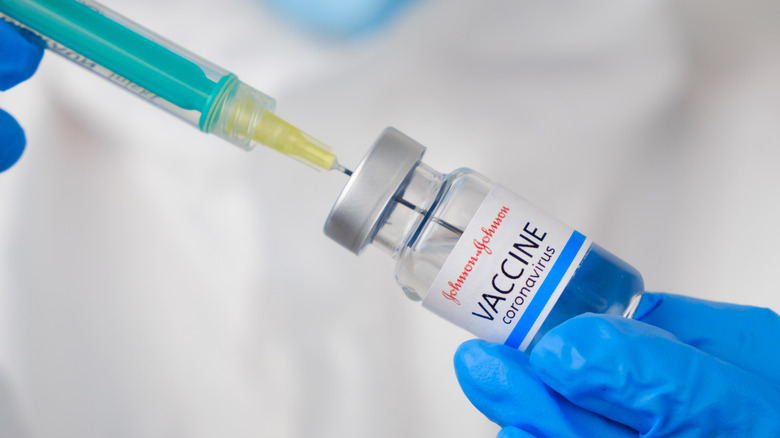 Shutterstock
An advisory panel for the Centers for Disease Control and Prevention is scheduled to meet to decide the fate of the Johnson & Johnson COVID-19 vaccine. The Advisory Committee on Immunization Practices will vote on whether to lift the pause on the one-dose vaccine, which was initially taken out of circulation more than a week ago due to concerns about blood clots that may or may not have been linked to the vaccine (via The New York Times).
Out of the 6.8 million doses of the Johnson & Johnson vaccine that were administered prior to the pause, there were only six cases of a rare, but life-threatening blood-clotting disorder called cerebral venous sinus thrombosis. The blood clots were exclusively reported in women under the age of 48 and occurred between six and 13 days after the vaccine was administered. Due to the severity of the disorder, federal health officials at both the CDC and the Food and Drug Administration recommended a pause on the single-dose shot in order to investigate any possible connection between the blood clots and the vaccine. After more than a week of investigating, the CDC only found a few additional cases of the rare blood-clotting disorder. As a result, health officials are leaning toward lifting the pause on the vaccine, although this has yet to be confirmed. 
The Johnson & Johnson vaccine may come with a warning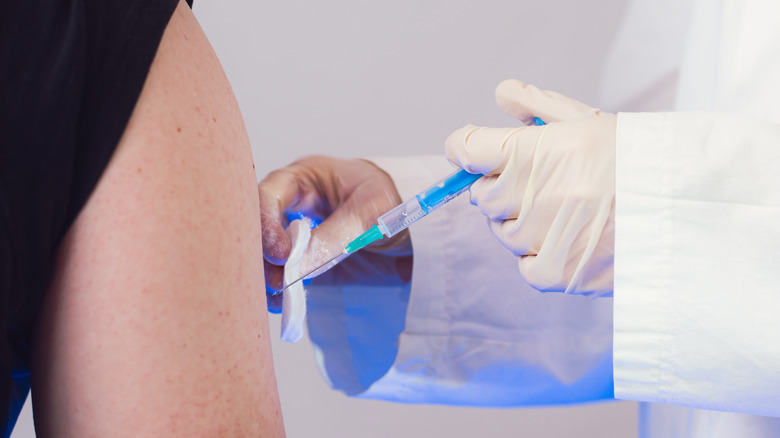 Shutterstock
Due to the rarity and severity of the blood-clotting disorder, and the fact that it has only been reported in women between the ages of 18 and 48, the advisory panel may request that the Johnson & Johnson vaccine come with a warning for younger women. 
"For women 18 to 48 years, or 18 to 50 maybe, we may say 'you may get vaccinated, but we'd like to just make sure that you are aware of this very rare event," Dr. Wilbur Chen, a professor at the University of Maryland School of Medicine and a member of the CDC's advisory committee, told Insider. Chen and other health experts agree that, while it's important to be cautious, the benefits outweigh the risks. 
The Johnson & Johnson vaccine is 100% effective at preventing severe illness and hospitalization, and the risk of developing a blood clot is extremely rare if it's even connected to the vaccine in the first place. Not to mention, COVID-19 poses a much greater risk. "You can't completely remove risk with any vaccination, but you can darn well try to make sure that you reduce risk as much as possible. And that's what we're trying to do at this point," Chen continued. "I'm not willing and eager to continue the pause for much further."