The Real Reasons People Aren't Getting Their Second COVID Vaccine
Shutterstock
Millions of Americans are not getting their second dose of the COVID-19 vaccine, according to new data from the Centers for Disease Control and Prevention (CDC). Around 5 million people have missed their follow-up appointments for the second shot of the Moderna and Pfizer-BioNtech vaccines (via The New York Times). This accounts for nearly 8% of those who have received their first dose of either COVID-19 vaccine. 
There are a variety of reasons why people are missing their second dose. Some said they were worried about the vaccine's side effects, which may be stronger after the second shot, while others felt that they were sufficiently protected with just one dose. Another reason, however, is insufficient vaccine supply. Some vaccine providers, like Walgreens, have canceled second-dose vaccine appointments due to a vaccine supply shortages. While some people were able to make appointments at other pharmacies and vaccination sites, others faced too many obstacles and gave up.
Why is it important to get the second dose?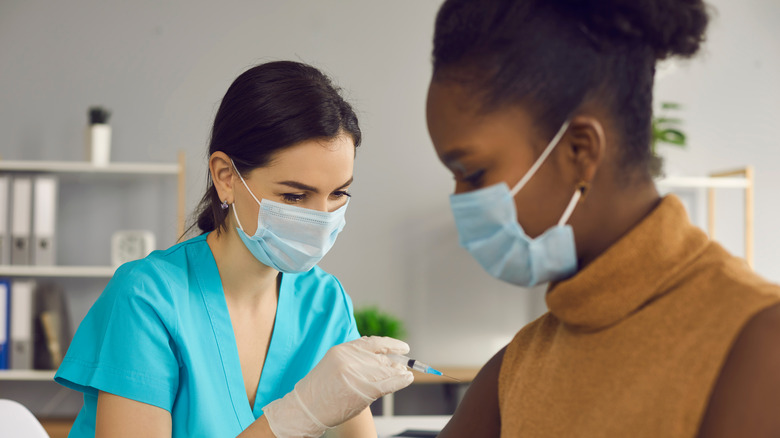 Shutterstock
Although the first dose of the vaccine is 80% effective at preventing infection and severe illness, it does not provide full immunity (via Good Housekeeping). That's because the first shot stimulates a weaker immune response than the second booster shot, which may leave you more susceptible to infection. It's also unclear how long protection from a single shot will last or how much protection it will provide against newly emerging variants of COVID-19. 
"When you look at the level of protection after one dose, you can say it's 80%, but it is somewhat of a tenuous 80%," Anthony Fauci, M.D., said during a White House press briefing. "When you leave it at one dose, the question is how long does it last? You're in a tenuous zone if you don't have the full impact." 
Both the Moderna and Pfizer vaccines, however, are 90% effective at preventing infection and hospitalization after two doses and can provide substantial protection for at least six months. So while getting one dose of the COVID-19 vaccine is technically better than nothing, you're not fully protected until you receive both doses of the vaccine.