This Is What Real Housewives Star Teresa Giudice Does At The Gym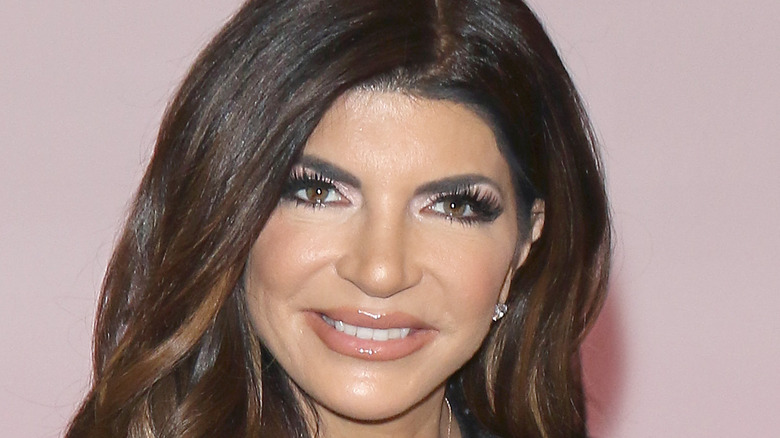 Jim Spellman/Getty Images
Theresa Giudice is one busy woman — raising four daughters, writing best-selling cookbooks, and starring on the most recent season of the Real Housewives of New Jersey. Yes, she's got a lot on her plate but that doesn't stop her from making time to get to the gym. In reality, housewives might best be known for doing a light yoga class, followed by a trip to the sauna. Giudice's training regime is a tad more hardcore, and she's got the muscles to prove it.
Being in the public eye may be enough motivation to stay fit for some, but apparently Giudice needs even more of a motive to stay in top form. This working mother regularly enters bikini competitions, which requires her to be dedicated to fitness. According to Cheatsheet, Giudice commits 45 minutes to weight training daily and keeps up the variation by using hand weights and resistance machines. When it comes to cardio, she does not one, but two 45-minute sessions of cardio a day. Again, she keeps it varied by switching between the treadmill or elliptical.
Giudice should add "planking queen" to her resume
Like most reality TV stars, Giudice is an open book about many aspects of her life, including what it takes to keep her body toned. She often posts on her social media clips of her workouts, along with giving praise to her trainer, Patrice Vignola. Her Instagram is filled with demonstrations of her strength training at the gym. "Killed shoulders today with @patricevfitpro. Go to my story to see full workout," she writes. She's also quick to answer her followers questions. When one admirer asks her how often she goes to the gym, Giudice responds on her Instagram, "4 to 5 days a week." 
Even a stint in prison couldn't slow this lover of fitness down. In an interview with People, Giudice shares that there was a gym in the prison she was in that offered classes and competitions. "I did the longest plank, and it was 9 minutes and 19 seconds," she says, when referring to one of the competitions. She adds, "So I was proud of myself for that." 
It is clear Giudice isn't drawn to the more relaxed housewife workout. Whether it's a home gym, regular gym, or prison gym, it doesn't seem to matter to this muscular mom of four. She works hard for that definition, and doesn't seem to be letting up anytime soon.