The Reason Some Women Don't Wear Underwear At The Gym
Shutterstock
Whether you hit the weight room twice a week, budget time for a spin class, or make a point of breathing through regular yoga sessions, you know the struggles of finding good gym clothes. Leggings that don't go sheer during a squat and bras that hold everything in place without strangling you are at the top of the list. And right there with them is the ever-elusive pair of panties that won't chafe or chap or wedge itself into an uncomfortable spot at the wrong time.
What if you could cross one of those things off your list of worries for good? Some women already have. They never have to worry about changing sizes or whether the company is going to stay in business. And the best part? It's not a miracle product. They're cutting a product out entirely. When these women head to the gym, they're leaving their underwear at home.
Underwear just slow these women down. They cause visible panty lines that are even more obvious in most leggings or yoga pants. Wedgies can range from embarrassing to irritating to painful. And then there's the chafing. All of these issues, as it turns out, are remedied by going commando. As Alyssa Dweck, M.D., told Shape in 2018, skipping underwear can help reduce chafing, especially during high-motion cardio, because there is less fabric against sweaty, sensitive skin.
Is going underwear-less safe?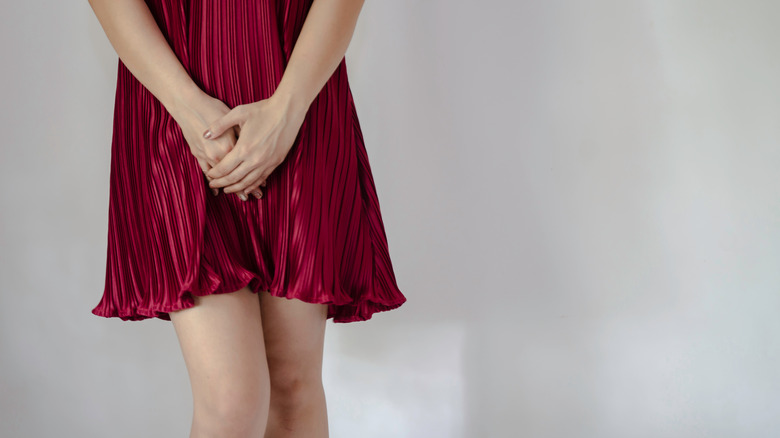 Shutterstock
Chafing advice isn't all Dr. Dweck shared with Shape. She also got into the details on whether or not going commando was safe. For most women, the biggest concern would be bacteria build up in their leggings. This, in turn, could lead to a yeast infection.
Dr. Dweck was clear, however: Panties don't reduce a woman's risk of a yeast infection. The best risk reduction method is shedding your exercise clothes as soon as possible. So leave your undies at home if you want, just don't forget a clean pair of pants to put on when you've thrown in the towel.
In fact, there is a chance that women don't need underwear at all. Lakeisha Richardson, M.D., is a Mississippi-based OBYN and she didn't mince words when interviewed by Health in 2019. "There is no scientific evidence that women have to wear underwear."
So long as your workout pants are moisture wicking, both Dr. Dweck and Dr. Richardson went on in their separate interviews, to say that skipping underwear might actually lead to a more comfortable workout. It's a sentiment echoed by the writer of the Self article and one you might find yourself agreeing with. Ultimately wearing – or skipping – underwear is a personal choice. Try out both and see which works best for you.