Here's What's Really In Your Granola Bar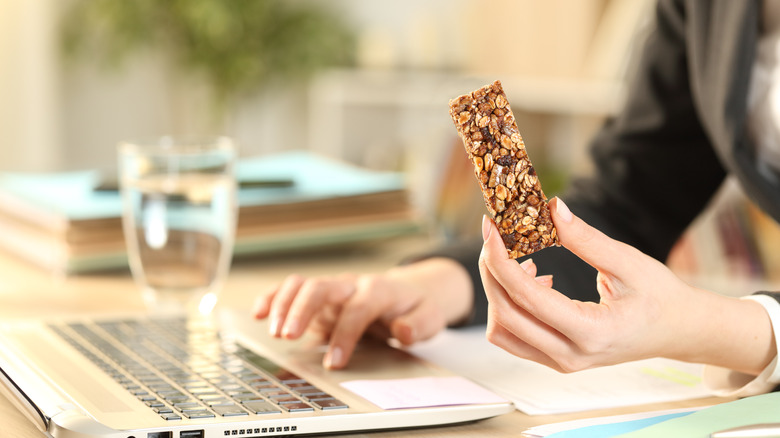 Shutterstock
Granola bars have long been a staple for busy moms, athletes, and anyone looking for a convenient snack. But while they seem like a healthy option, many granola bars have a long list of ingredients you may be unaware of.
According to Eat This, Not That!, many popular bars in grocery stores contain high amounts of sugar, sodium, and refined carbohydrates. A Chocolate Brownie Clif Bar, for example, contains 21 grams of sugar in a single bar. Quaker Chewy Dipps Peanut Butter bars have less sugar per bar but also contain 4 grams of saturated fat (an unhealthy fat that has no true benefits) and only 1 gram of fiber, which means it won't keep you full for very long. Some nutrition labels even make their serving sizes less than an entire bar, which can be misleading if you're just glancing at the sugar and fat content.
Other popular granola bars like Atkins and Fiber One brands boast very little sugar per bar. That might sound healthy, but the sweetness in the bar is usually made up with artificial sweeteners or sugar alcohols. These can negatively impact your appetite or cause digestive issues when consumed in high amounts.
When you choose the right options, granola bars offer many health benefits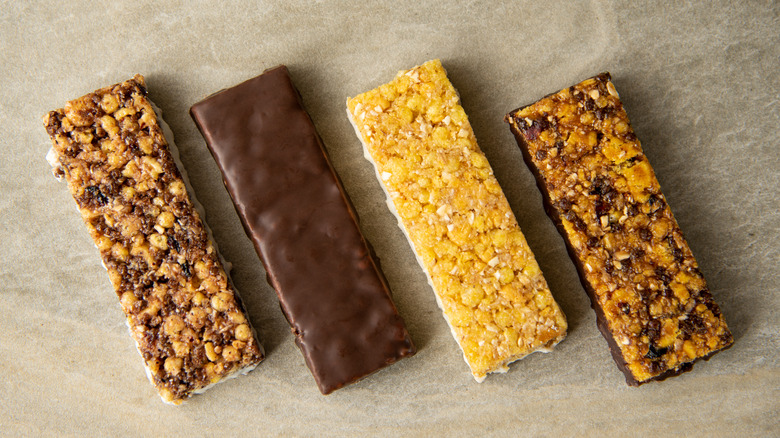 Shutterstock
When you select healthy options, granola bars become a convenient, pre-portioned snack that can help you avoid overeating (via Healthline). Many granola bars also contain vitamins and minerals like calcium, iron, and magnesium.
The key to finding a granola bar that's actually healthy is to look for low amounts of sugar (both natural and artificial) and high amounts of fiber. This will help to keep your blood sugar levels steady and your stomach full. It's best to find a bar that has less than 10 grams of sugar per serving, as well as at least 5 grams of protein and 3 grams of fiber. You can also make your own at home by combining oats, nuts, nut butter, and a natural sweetener like honey or pure maple syrup. Some granola bar recipes can be eaten raw and others recommend baking the bars for a crunchy snack.
If you want to buy your bars in the store, some of the best options on the market include Kashi Chewy Granola Bars, KIND Healthy Grains Oats & Honey with Toasted Coconut Bars, and Cascadian Farm Organic Chewy Granola Bars (via Verywell Fit).