What Dr. Now's Diet Plan From My 600-Lb Life Really Looks Like
Of the many TLC shows that television lovers become obsessed with, the hit show "My 600-Lb Life" is one of the most popular. Since 2012, the show has captivated viewers. Some get emotionally invested in the struggles of the participants, while others stay fascinated by their failures, successes, and health transformations.  
The brains behind the participant's success, Houston-based obesity surgeon Dr. Younan Nowzaradan (Dr. Now), is known and loved for his ability to be compassionate, yet skip the sugar-coated coddling. According to his website, Dr. Now accepts the most challenging, morbidly obese candidates that most other doctors have rejected. The famous doctor's mission statement, "Helping to provide a higher quality of life to those struggling with obesity," supports what he says consistently on the show — weight loss surgery is merely a tool to use toward a greater goal.
Dr. Now creates a personalized diet plan for each of his clients to adhere to prior to surgery. Most plans have a calorie limit of 1,200 calories, with the goal of introducing a healthier lifestyle to the participants, as well as showing them how to reduce their daily caloric intake.
Healthy habits for a healthy life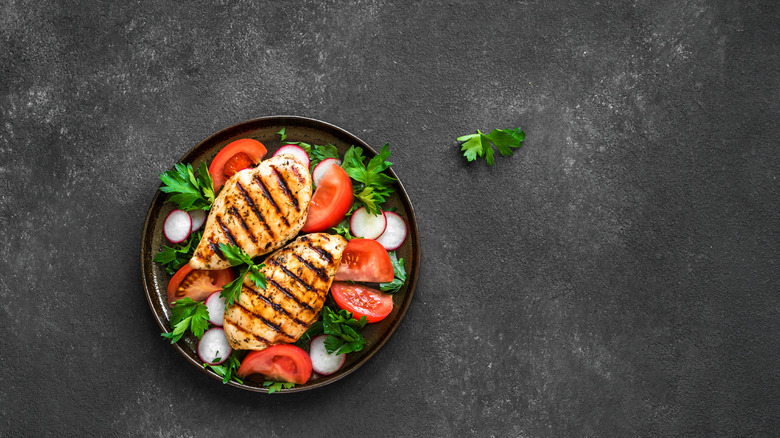 Shutterstock
Youtuber Zachary Michael paid Dr. Now to do a cameo for his show, hoping to learn more about his nutrition program. In that video cameo, Dr. Now states that the participants eat only three times per day, at about 400 calories per meal, with no snacking. The doctor also says the diet consists of mostly proteins and vegetables, and that "My 600-lb Life" participants can lose up to 50 pounds in one month. This weight-loss plan is necessary for the patient to be approved for their surgery, as it proves that they have the skills to continue a healthier way of eating for their recovery and post-surgery life.
According to Distractify, the participants on the show are given more explicit directions — specifically low-carb, low-fat, and high-protein. They are also advised to avoid sugary drinks as well as starchy, high-carb foods. When watching the show you will notice a repetitive conversation, as Dr. Now explains that living a healthy lifestyle begins with the decision to change behaviors, including eating habits, and those changes must be maintained through the future.
There is no doubt that Dr. Now's methods work, as many of his patients have had major success and now lead healthy, happy lives, giving us the happy endings we truly love to see.