Healthy Banana Egg Oat Pancakes Recipe For The Whole Family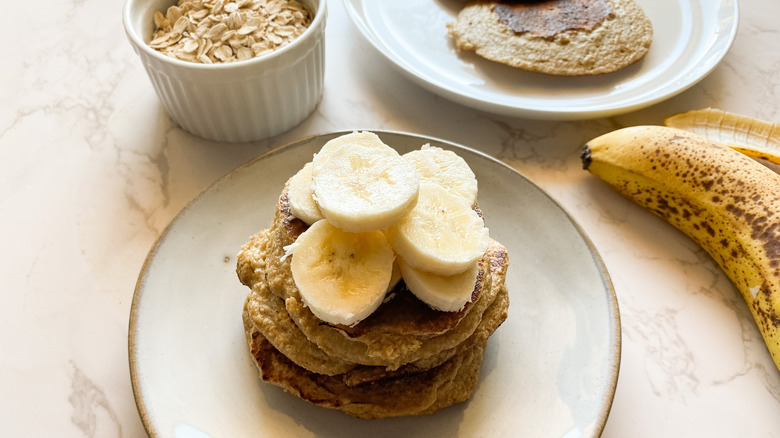 Kristen Carli/Health Digest
If you've been cutting back on refined carbs or gluten for any reason, starting your day off with pancakes may be a fading memory. But, it actually doesn't have to be that way. As a matter of fact, you can whip up delicious, fiber and protein-filled pancakes without refined carbs in just 15 minutes. (No, we are not joking!) This delicious pancake recipe makes six pancakes (and serves two people), but you can easily double or triple the recipe to make pancakes for the entire family on a cozy weekend morning.
Just keep in mind, because the recipe uses bananas, eggs, and rolled oats as the batter, the flavor definitely skews "banana." As such, you'll want to think about toppings and pairings that pair well with bananas. "I recommend using banana slices, cinnamon, maple syrup, walnuts, or even whipped cream," says private practice registered dietitian and recipe developer Kristen Carli. "These would also be great with blueberries or a strawberry sauce." And of course, if you're in a rush, you could always smear a little peanut butter between two pancakes and take a peanut butter pancake sandwich to go. Yummy!
Gather your ingredients to prepare banana egg oat pancakes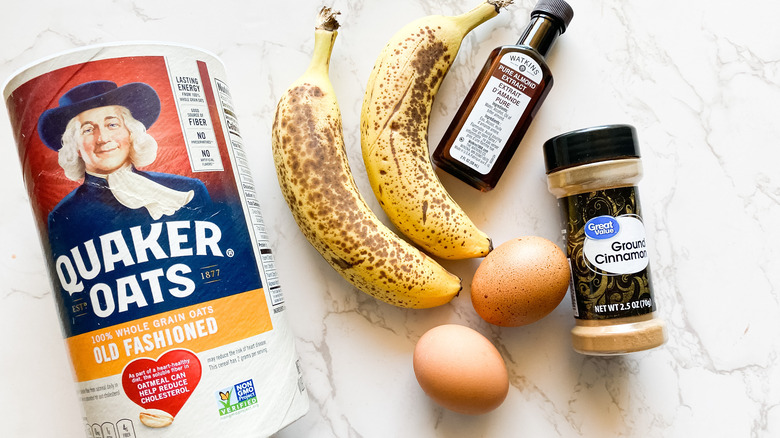 Kristen Carli/Health Digest
Aside from whatever toppings you want to include with your pancakes, you only need five ingredients to whip up a batch of these pancakes. Grab your bananas, eggs, rolled oats, ground cinnamon, and almond extract to get started. One thing to keep in mind is that if you have a true gluten allergy or intolerance, you'll want to make sure that the oats you choose are gluten-free. Oats themselves are actually gluten-free, but they're often processed and packaged in plants where gluten products are handled, so there's a risk for cross-contamination (via Quaker Oats). Just check your labels to be on the safe side.
Blend your ingredients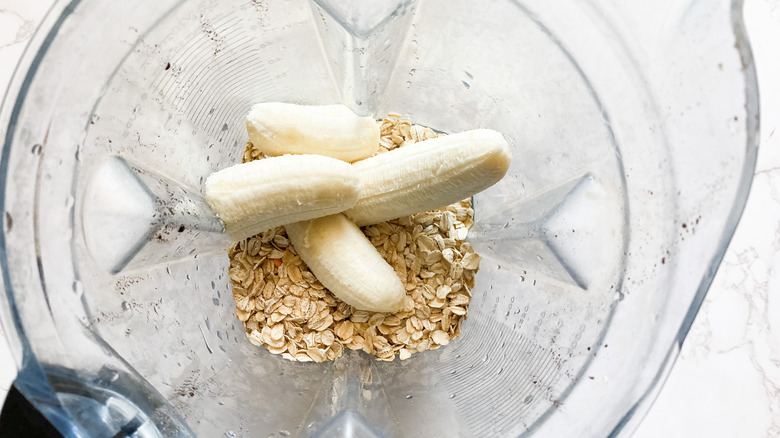 Kristen Carli/Health Digest
Your prep work for making your pancakes really couldn't be simpler. Simply place your five ingredients into a high-speed blender, and blend together until smooth — roughly a minute, although you may need more or less time, depending on your blender. A high-speed blender helps ensure that you won't under-blend or be left with unblended parts. "You do not want any chunks," says Carli. "If you under-blend, you run the risk of leaving chunks."
Cook your banana oat pancakes
Kristen Carli/Health Digest
Heat up a skillet over medium heat. (It's important that it's not too hot, or else your pancakes will burn.) Spray your pan with non-stick cooking spray. "[You] can use oil or butter, [but] the benefit of using nonstick cooking spray is that it leaves a very thin layer," says Carli. "If you use butter or oil, be sure to only use a little to coat the pan. Don't use too much!"
Pour your batter into a bowl, then use a ladle to scoop out your batter, pouring two pancakes onto the skillet. When bubbles appear, flip the pancakes and cook on the other side, checking to make sure both sides cook through. Repeat until all the batter is used, and six pancakes have been made.
Stack your banana oat pancakes, and enjoy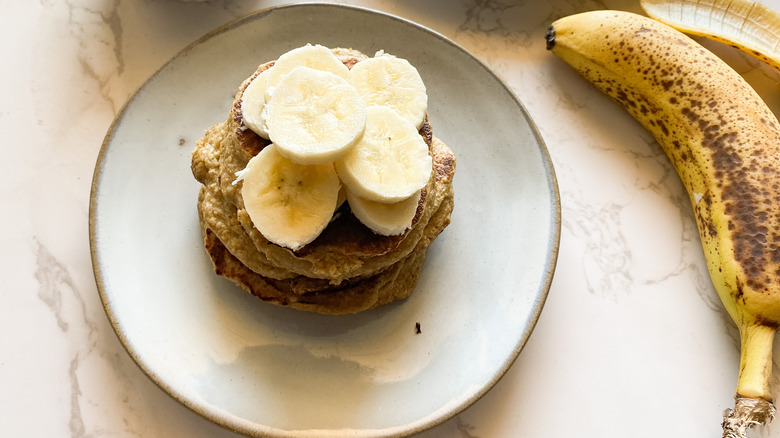 Kristen Carli/Health Digest
Place three pancakes on each plate (three pancakes is a serving), and top with butter and sliced bananas. Or, if you'd prefer, use another fruit or nut topping along with syrup. And remember, even though the oats offer fiber, and the eggs offer protein to help keep you full, three pancakes alone might not be enough if you need to power through a busy morning. Carli suggests pairing them with a side portion of fruit, eggs, or even hash browns.
Healthy Banana Egg Oat Pancakes Recipe For The Whole Family
Top off these delicious banana oat pancakes with banana slices, cinnamon, maple syrup, walnuts, or even whipped cream.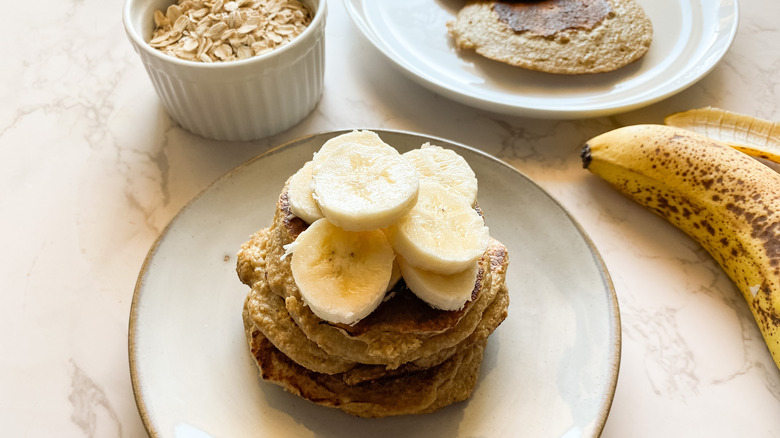 Ingredients
2 bananas
2 eggs
1 cup rolled oats
2 teaspoons ground cinnamon
1 teaspoon almond extract
additional bananas, for serving
butter, for serving
maple syrup, for serving
Directions
Place all ingredients into a blender. Blend until smooth.
Heat a large skillet over medium heat. Spray with non-stick cooking spray. Using a ladle, scoop out batter and pour two pancakes onto the skillet. Once bubbles appear, flip each pancake, and cook remaining side. Repeat with all batter until all six pancakes have been cooked.
Place pancakes on a plate. Serve with butter and sliced bananas on top.
Nutrition
| | |
| --- | --- |
| Calories per Serving | 525 |
| Total Fat | 11.5 g |
| Saturated Fat | 4.6 g |
| Trans Fat | 0.2 g |
| Cholesterol | 170.7 mg |
| | |
| --- | --- |
| Total Carbohydrates | 98.6 g |
| Dietary Fiber | 9.8 g |
| Total Sugars | 48.0 g |
| Sodium | 70.0 mg |
| Protein | 13.0 g |