When You Use Too Much Heat On Your Hair, This Is What Happens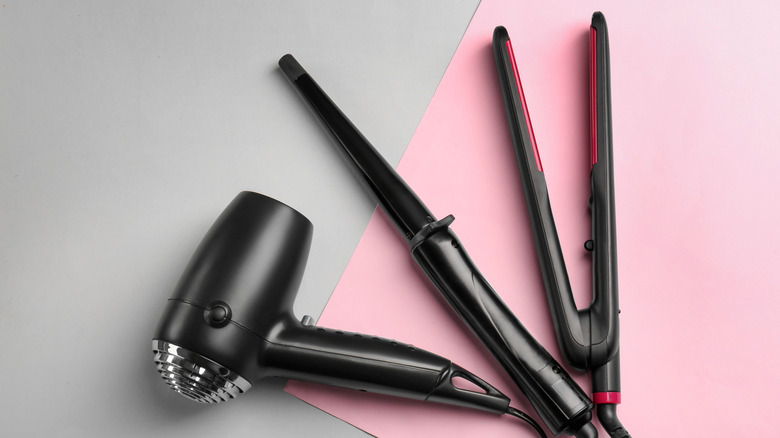 Shutterstock
A good percentage of us suffer from hair envy from time to time. Those with pin straight locks may stop in their tracks when someone with natural textured curls walks by. On the flip side, those with curly hair might watch in awe when someone with a sleek and chic bob crosses their path. As a result, we get inspired, and many of us like to get creative by playing around with different hair lengths and styles. 
Enter the straightener, curling iron, and blow dryer. Heat appliances such as these have been helping us attain our sought after lively curls and pin straight styles for years. They help us yes, but are they actually good for the overall health of our hair?
Apparently, not so much. FEKKAI brand stylist partner Chad Wood, explains to Well + Good, "Too much heat on the hair causes breakage — constantly heating and cooling will weaken the hair, leading it to break," he says.
Too much heat can change the natural texture of your hair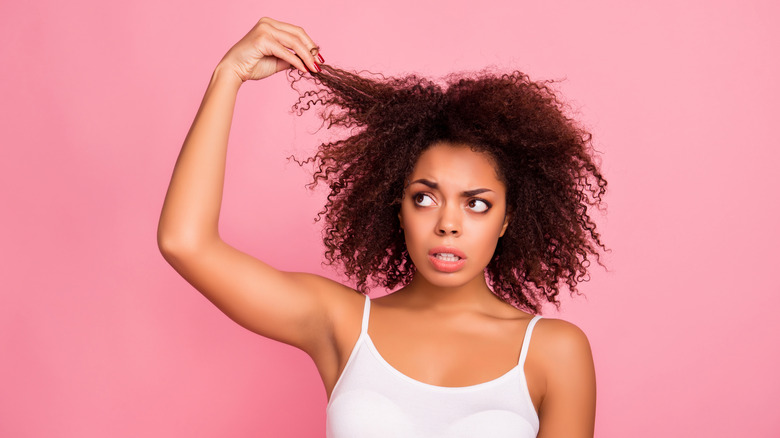 Shutterstock
Breakage is no good. But perhaps what's even more worrying, is that the overuse of heating appliances on our hair can make another lasting change. Giovanni Vaccaro, the artistic director for Glamsquad, tells Pure Wow, "Long-term heat styling can change your natural texture and you may start to see this happen if you are someone who regularly uses a flat iron and gets your hair colored or highlighted often," he says. 
Changing hair's natural texture can become an all-out battle to try and get it back to how it was prior. According to Healthline, if you have straight hair and have been using too much heat on it, then you might experience strands becoming more dry and brittle. It can also make split ends more noticeable. If your curly hair has been exposed to too much heat, then it may start to frizz, tangle, and become more unpredictable.
Heat styling doesn't have to have a bad reputation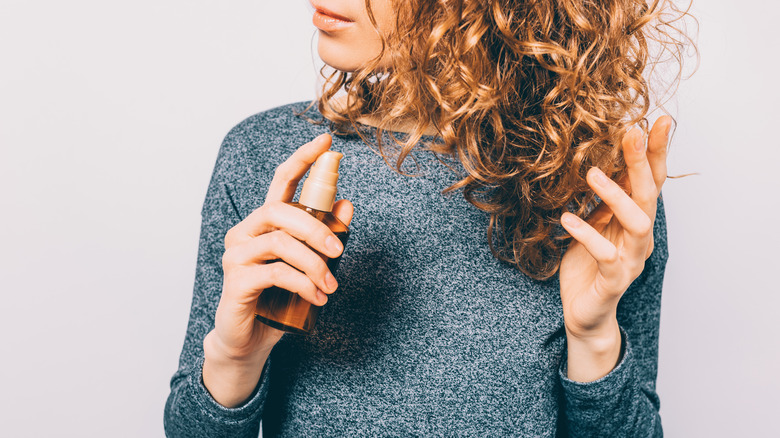 Shutterstock
We're not trying to scare you away from your desired sleek bob or bouncy curls. In fact, there are ways you can protect your hair from breakage and texture changes while still cranking up the heat. "Heat styling can get a bad reputation, but if you take the right measures to protect your hair beforehand, you don't have to give it up," says Vacarro via Pure Wow. "I always advise using a thermal protectant before styling because it acts like a barrier between your hair and the heat to protect it from drying out and causing excessive damage," he states. 
We're happy there are barriers out there that can help protect our hair from too much heat. But if you ever want to take an indefinite break from the curling iron, blow dryer, or straightener to rock the hair you were genetically blessed with, then we support that too.