Grilled Beets Recipe That Just Made Your Cookouts That Much Better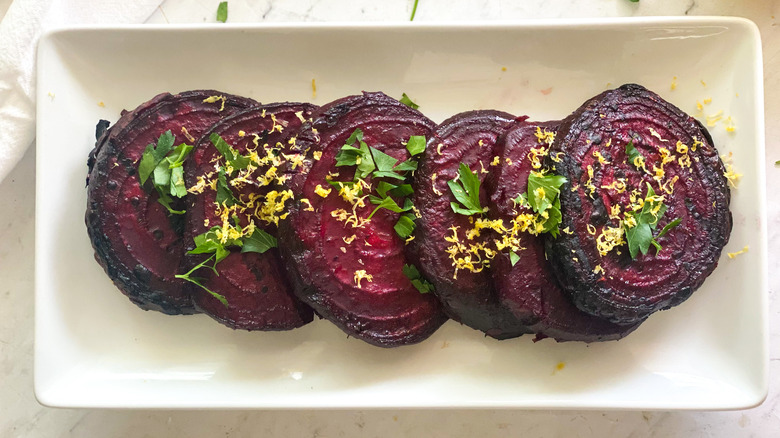 Miriam Hahn/Health Digest
Beets may not be the first thing that comes to mind when you think about grilling. But if you're looking for a way to switch up your usual routine (and add this bright red vegetable to your repertoire), it's definitely time to give this grilled beets recipe a whirl. 
This recipe does require 40 minutes to 1 hour and 15 minutes of cook time (depending on the size of your beets), and you really should allow another hour for them to marinate (which is factored into the overall prep time), so it's not a side dish you can whip up in a casual 15 minutes. That being said, if you have the time and you're planning a poolside barbecue, they make for the perfect pairing for hotdogs, hamburgers, grilled barbecue chicken, or even steaks.
"The beets take on a tangy flavor with the combination of the sweet nature of the beets with the maple syrup balancing out with the lemon and vinegar," says recipe developer and wellness coach Miriam Hahn of YouCare-SelfCare. She also adds that when she doesn't eat them straight off the grill, she'll cut them up and use them as part of a roasted vegetable salad. Which, when you think about it, mixing sweet and tangy grilled beets with roasted broccoli, Brussels sprouts, and corn does sound pretty delicious. So, fire up your grill and try something new this summer.
Gather your ingredients to prepare this easy grilled beets recipe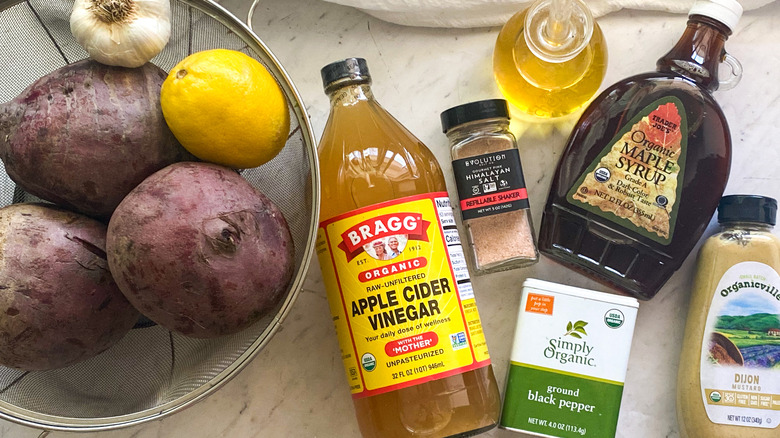 Miriam Hahn/Health Digest
Start by gathering up all the appropriate ingredients. You'll want two to three good-sized beets, two minced cloves of garlic (or just use the equivalent of pre-minced garlic to save time), apple cider vinegar, maple syrup, a lemon (you'll use both the zest and juice), olive oil, salt, and pepper. Then, if you're so inclined to add an aesthetically pleasing garnish, you can consider topping off the dish with chopped fresh herbs such as thyme, rosemary, or parsley before serving.
Prep, wash, and boil your beets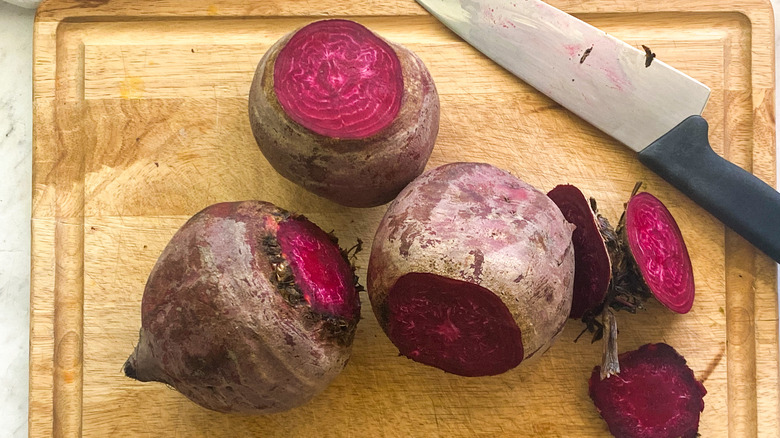 Miriam Hahn/Health Digest
One of the steps that takes the longest, but is also incredibly easy to do, is the first step. Simply wash your beets, cut off the end with the root, then boil them. You'll place your beets in a large pot, covering them with at least 3 inches of water before bringing them to a boil on high heat. 
After the water starts to boil, lower the temperature to a medium-high level and continue cooking for 30 to 60 minutes. The time it takes to boil your beets depends entirely on how large your beets are, so after the first 30 minutes, check them every five to 10 minutes to see if they're cooked through. the best way to test is to stick them with a knife or a toothpick — when the sharp edge cuts easily into the beet, you'll know they're done.
Whisk together your dressing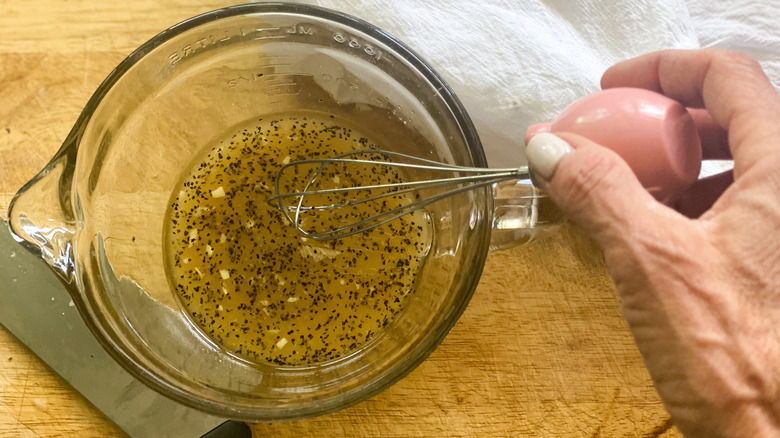 Miriam Hahn/Health Digest
While your beets are cooking, you can whisk together your marinade. Start by finely zesting your lemon. When it's fully zested, set the zest aside (just pop it in the fridge) and juice the lemon itself into a small bowl. Combine this juice with the minced garlic, vinegar, maple syrup, olive oil, salt, and pepper. Whisk the ingredients together until they're well-combined, then set the marinade aside until the beets are done boiling. 
Peel, slice, and marinade your beets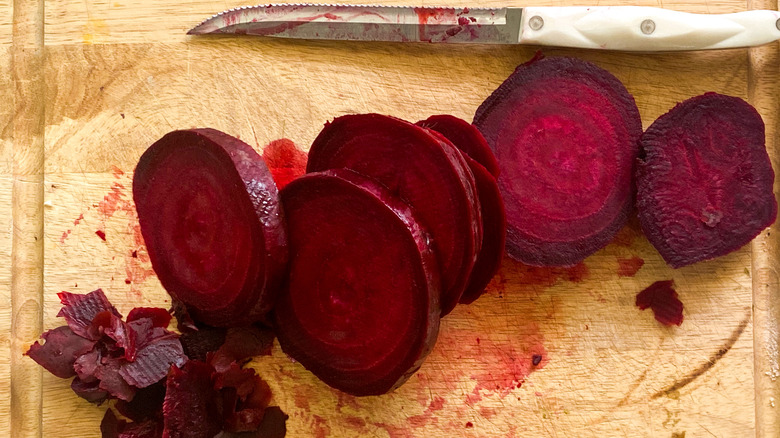 Miriam Hahn/Health Digest
Now that the beets are done boiling, you'll want to wear gloves while handling them to prevent the juice from staining your hands. And remember, just-boiled beets are going to be hot, not unlike a boiled potato. Before trying to handle them, rinse them (or dunk them) in cold water to make them easier to pick up and touch. 
When they're cool enough to handle, use a vegetable peeler to peel the skin away, then cut them into slices that are roughly ½-inch thick. With the beets ready-to-go, place them in a container, and pour the marinade evenly over the top. Ideally, you'll allow the beets to marinade for at least an hour, although Hahn concedes you can probably get away with 30 minutes if you're in a hurry (and you can certainly allow them to marinade for longer if you're prepping this dish ahead of time). The main intention is to allow the flavors of the marinade to soak into the beets so that the flavors are retained when grilling them.
Also, while your beets are marinading, go ahead and fire up your grill. You want it hot and ready-to-go when the beets are ready to hit the grill.
Grill your prepped beets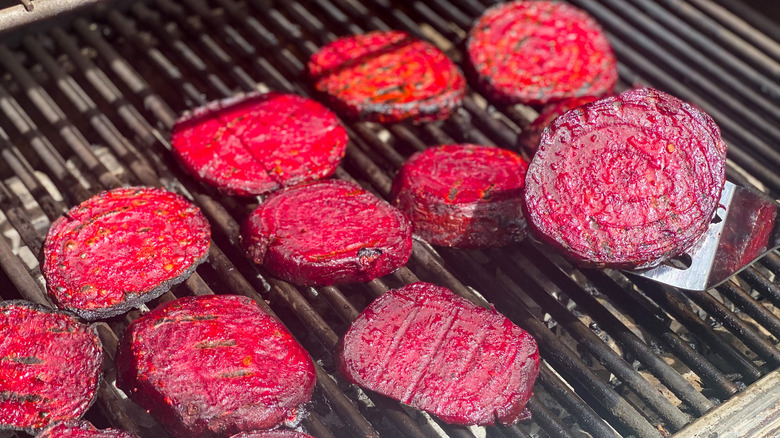 Miriam Hahn/Health Digest
It's grilling time! If your beets have soaked in the marinade for at least 30 minutes, all you have to do is transfer them from their container onto your grill. You should cook them on medium-high heat for roughly five minutes per side. That being said, if your beets are smaller, you can probably get away with two to three minutes per side. "The beets are pretty much cooked through when you boil them, so when you grill them, you're going for the sear marks and the grill flavor," says Hahn. "If the beets are smaller, you'll be able to sear them and get the grill marks quicker."
Plate, season, and serve your grilled beets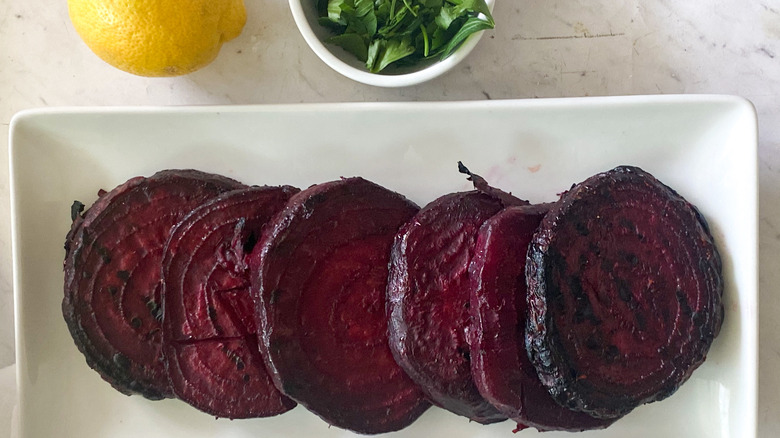 Miriam Hahn/Health Digest
With your beets nicely grilled, simply remove them from the heat, and transfer them to a serving tray. Sprinkle the lemon zest on top, and if so desired, add your other chopped herbs. This recipe makes the perfect side dish for other grilled entrées, but there are lots of ways you can get creative with serving them. In addition to chopping them up to make a roasted vegetable salad, you could also add the grilled rounds as a hamburger topping along with sautéed onions and maybe a little ranch dressing.
Grilled Beets Recipe That Just Made Your Cookouts That Much Better
If you have some extra time and want to prepare a great side dish for your next pool party, these grilled beets pair well with hotdogs, hamburgers, and steak.
Ingredients
2 to 3 beets
juice and zest of 1 lemon
2 garlic cloves, minced
½ cup apple cider vinegar
2 tablespoons maple syrup
3 tablespoons olive oil
1 teaspoon sea salt
½ teaspoon pepper
Optional Ingredients
Directions
Wash the beets, and cut off the root end.
Place them in a large pot with water to cover by at least 3 inches, and turn the heat on high. Bring to a boil, then lower to medium-high and cook for 30 minutes to 1 hour. This really depends on the size of your beats. (Very large ones will likely take 1 hour.) They are done when you can easily stick a knife or toothpick in.
While the beets are cooking, zest the lemon, and set aside. Combine the juice from the lemon with the minced garlic cloves, vinegar, maple syrup, olive oil, sea salt, and pepper. Whisk to combine.
When the beets are tender, rinse under cold water. Wearing gloves (so your hands don't get stained), peel the beets and cut into slices about ½-inch thick.
Put in a container, and pour the dressing in to coat all the pieces. Let this sit for at least 30 minutes to 1 hour.
When done marinating, put the beets on a medium-high heat grill, and cook for about 5 minutes on each side. If your beets are small, you won't need to cook as long.
When they are done, put the cooked beets on a serving tray, add the lemon zest and any fresh herbs, if desired.
Nutrition
| | |
| --- | --- |
| Calories per Serving | 151 |
| Total Fat | 10.3 g |
| Saturated Fat | 1.4 g |
| Trans Fat | 0.0 g |
| Cholesterol | 0.0 mg |
| | |
| --- | --- |
| Total Carbohydrates | 14.0 g |
| Dietary Fiber | 2.0 g |
| Total Sugars | 10.0 g |
| Sodium | 273.5 mg |
| Protein | 1.1 g |