Healthy Vegetarian Meatloaf With Beans Recipe Is The Ultimate Meal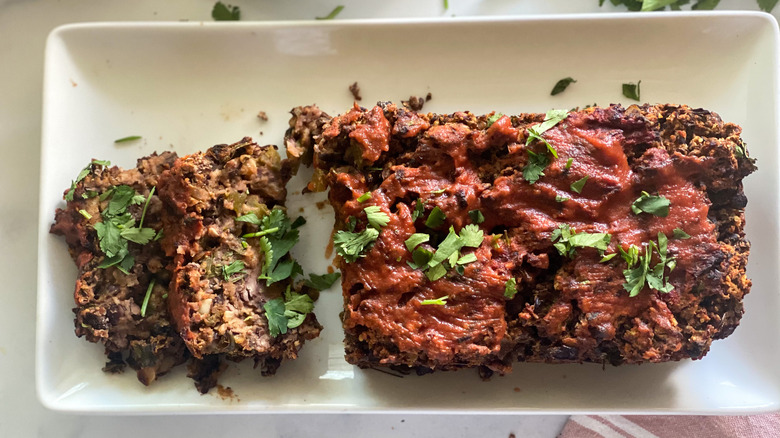 Miriam Hahn/Health Digest
Ready to indulge in your favorite homestyle meal without the extra cholesterol? This vegetarian meatloaf with beans is sure to satisfy your craving, and it may even win over the meat lovers in your family. Plus, it boasts heart-healthy ingredients such as garlic, black beans, and olive oil (via Healthline). You needn't worry about subpar protein intake with this meal, either. According to the USDA, just ½ cup of black beans contains about 7 grams of protein.
If you're short on time, recipe developer and wellness coach Miriam Hahn of YouCare-SelfCare suggests making it earlier in the week. "I love this recipe because it is such a good make-ahead meal that you can just pop in the oven when you are ready," she says. This filling vegetarian loaf serves up to eight people, making it the perfect choice for a night in with the whole family. If you've been looking for a guilt-free, flavorful meal, you might have just found your next go-to.
Gather the ingredients to prepare vegetarian meatloaf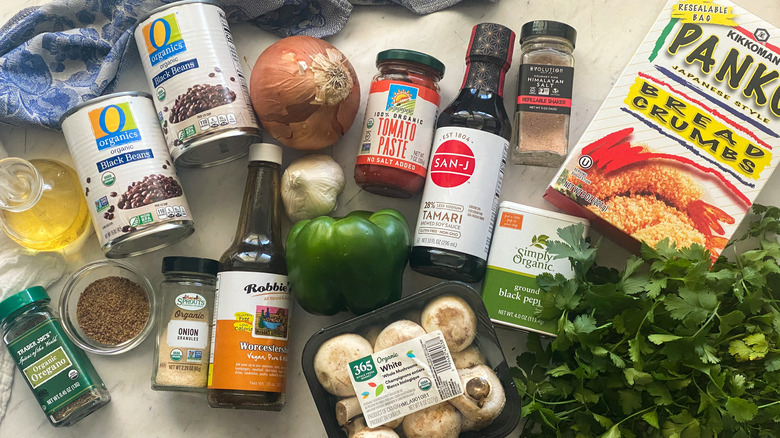 Miriam Hahn/Health Digest
Before you can jump right into dicing and mincing, you ought to make sure you have all the right ingredients. Hahn's recipe calls for 2 cans of black beans, one small onion, one small green pepper, two cloves of garlic, flaxseed, breadcrumbs, tomato paste, and avocado or olive oil. On the spice side, you will need soy sauce, Worcestershire sauce, onion powder, oregano, salt, and fresh cilantro. Don't have fresh cilantro? No problem. You can swap dried cilantro for fresh, though this may alter the flavor. Spices Inc. recommends that you substitute 2 tablespoons of dried cilantro for a ¼ cup of fresh cilantro. (Note that ¼ cup is the same as 4 tablespoons.)
If you have a soy allergy, Hahn recommends coconut aminos as a replacement for soy sauce, or just leaving the soy sauce out with no substitute. You can also make this recipe vegan by swapping Worcestershire sauce for a vegan alternative, such as a mixture of apple cider vinegar, brown sugar, dijon mustard, and allspice.
Prepare the flax seed gel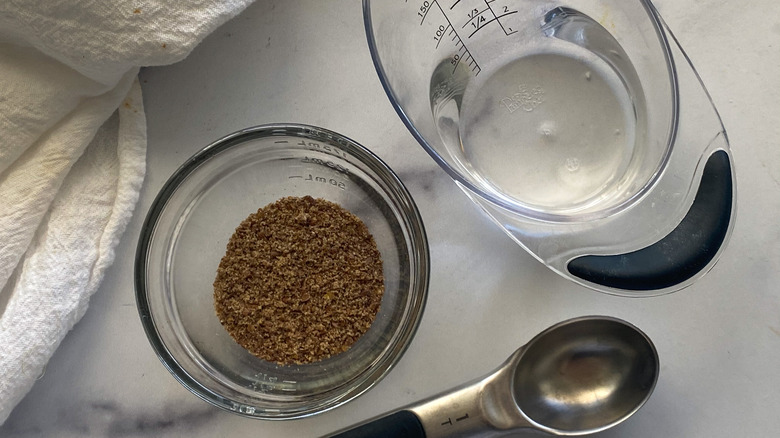 Miriam Hahn/Health Digest
First off, preheat the oven to 375 F. Then, it's time to make the flax seed gel.
If you are new to egg substitutes, the most interesting part of this vegetarian meatloaf is arguably the flax seed. Flax seeds have a gum inside the shell coating, which creates a gelatinous substance when the seeds combined with water (via Healthline). As a result, flax seed gel is an excellent egg substitute in baking, because it works like an egg to hold the ingredients together.
"As a wellness coach, I am always finding ways to sneak fiber in," says Hahn. "The flax seeds when mixed with water form a gel and help bind the ingredients together. They are such a great source of fiber as well as fatty acids, protein, and antioxidants." Don't have any flax seeds on hand? Hahn suggests using chia seeds instead. "They work equally as well and provide many nutrition benefits," she says.
Blend the beans, and prepare the vegetables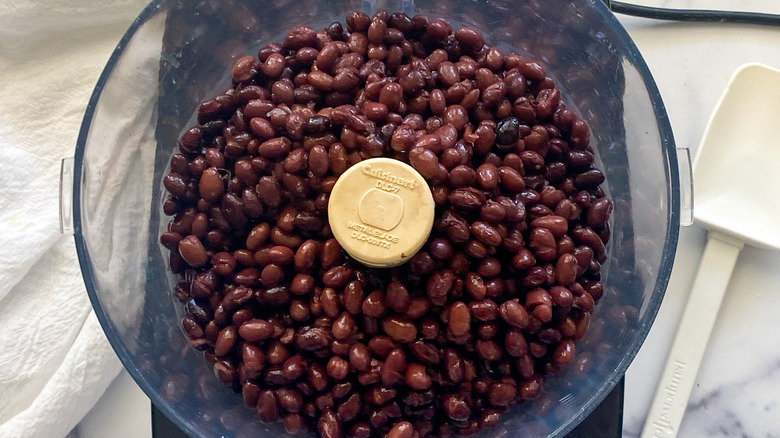 Miriam Hahn/Health Digest
While your ground flax seed is resting and turning into a gel, blend your beans. Hahn suggests using a food processor to speed up the process. If you want to put a little more elbow grease in your meal, you can use a mortar and pestle to make a bean paste. Just make sure that you don't over-blend your beans. The extra chunks and skins will make for a delicious, chewy texture in the final vegetarian meatloaf.
This is also a great time to prepare your vegetables. Remember to wash the green pepper and scrub the mushrooms before cutting to remove dirt, bacteria, and pesticides. To maintain a good texture in your meatloaf, Hahn recommends chopping the onion well and dicing the mushrooms and green pepper.
Sautée the vegetables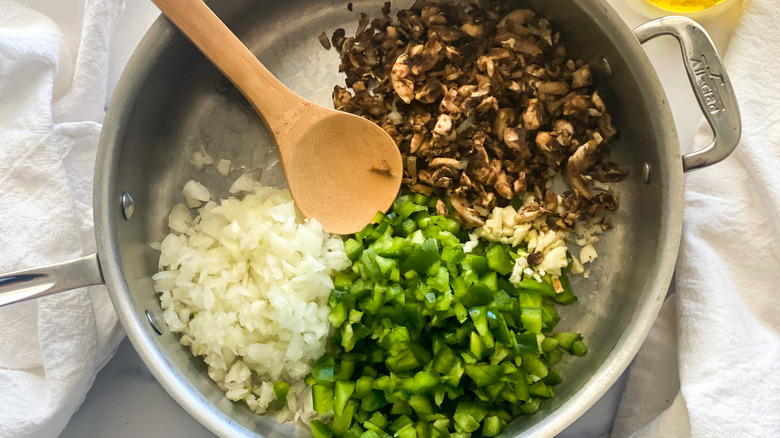 Miriam Hahn/Health Digest
It's time to make your kitchen smell like a dream. Sautéing vegetables is certainly one of the most aromatic portions of the cooking process, and it makes you feel as though the "cooking" has truly begun. Begin by heating up oil in a pan, then add the vegetables. You may want to cook the onions and green peppers first, because they often take the longest to cook. Cooking onions will also flavor the oil, which will permeate the rest of the vegetables and boost the overall flavor of the dish.
In addition, Hahn suggests that you cook the vegetables on medium heat just until they soften. Don't cook them for much longer than 10 minutes, as they will get additional cooking time in the oven. Then, add in the soy sauce, tomato paste, and Worcestershire.
Assemble the vegetarian meatloaf, then bake it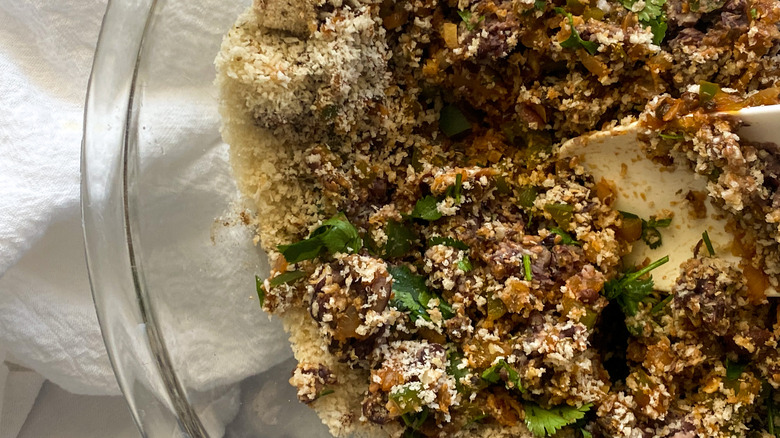 Miriam Hahn/Health Digest
Once your vegetables have softened, you're ready to combine your ingredients and create your vegetarian meatloaf. Toss the blended black beans, cooked veggies, flax seed mixture, breadcrumbs, cilantro, and spices into a large bowl. Mix the ingredients with your favorite mixing tool until all the ingredients are evenly combined.
Finally, grease your loaf pan with cooking spray, and scoop the mixture into the pan. If you don't have cooking spray, your olive or avocado oil will work just as well. You may consider lining the loaf pan with a piece of parchment paper that extends beyond the edges of the pan. This can make it easier to transfer the entire loaf out of the pan and onto a serving plate.
Bake your vegetarian meatloaf at 375 F for 1 hour to 1 hour and 10 minutes. Once it's done, let it sit for about 15 minutes before serving.
Pair your meatloaf with the ultimate sides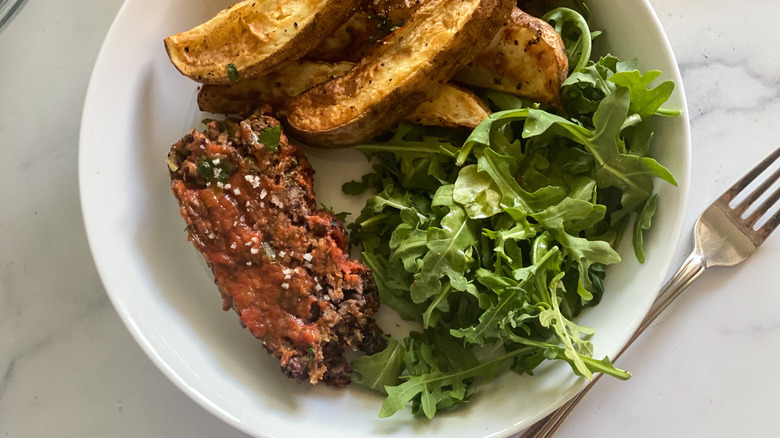 Miriam Hahn/Health Digest
Are you wondering what sides will pair best with this tasty meatloaf? Well, Hahn loves combining this meal with a side of greens. A freshly tossed salad or a simple steamed vegetable will do the trick. In addition, Hahn's homemade steak fries make a delicious pairing. To make these scrumptious fries, simply cut potatoes into thick wedges, spray them with cooking spray, and pop them into an air fryer for 15 minutes. If you're craving a little more flavor, you can season the potato wedges with a little onion powder, garlic powder, salt, and pepper, or your favorite seasoning.
Healthy Vegetarian Meatloaf With Beans Recipe Is The Ultimate Meal
Pair this homemade vegetarian meatloaf with a freshly tossed salad, steamed veggies, or steak fries for the ultimate meal.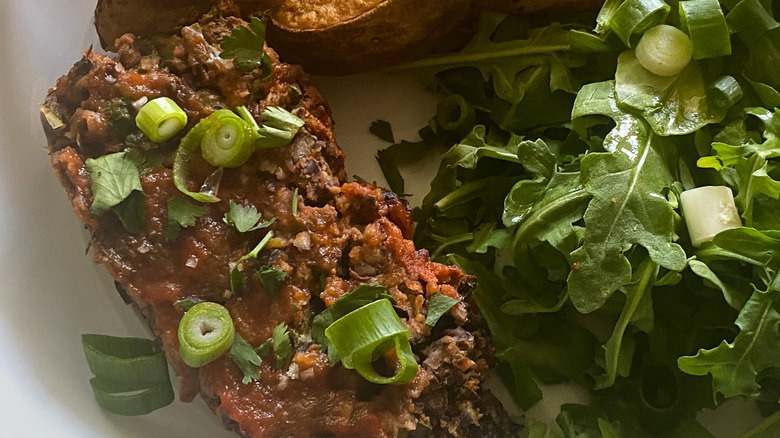 Total time: 1 hour, 20 minutes
Ingredients
1 tablespoons ground flax seed
2 tablespoons water
2 cans black beans, rinsed and drained
1 small onion, chopped
3 cloves garlic, minced
1 small green pepper, diced
½ cup mushrooms, diced
1 teaspoon avocado or olive oil
1 teaspoon soy sauce
2 tablespoons tomato paste
2 tablespoons Worcestershire sauce
1 cup panko or regular breadcrumbs
¼ cup cilantro, chopped
1 teaspoon onion powder
1 teaspoon oregano
1 teaspoon salt
Directions
Preheat oven to 375 F.
In a small bowl, combine the ground flax seed and water. It will turn into a gel in about 10 minutes.
Put the beans in a food processor, and pulse to break down, but do not fully blend.
Sauté the chopped onion, minced garlic, diced green pepper, and diced mushrooms in the oil for about 10 minutes until soft. Add in the soy sauce, tomato paste, and Worcestershire.
Add the cooked vegetables to a large bowl, and add in the black beans, the flax mixture, breadcrumbs, chopped cilantro, and spices. Mix well, and transfer to a sprayed loaf pan.
Top the loaf with ketchup or tomato paste and bake for 1 hour to 1 hour and 10 minutes. It should start to pull away from the loaf pan and look firmed up.
Let it sit for about 15 minutes before slicing.
Nutrition
| | |
| --- | --- |
| Calories per Serving | 151 |
| Total Fat | 1.5 g |
| Saturated Fat | 0.2 g |
| Trans Fat | 0.0 g |
| Cholesterol | 0.0 mg |
| | |
| --- | --- |
| Total Carbohydrates | 27.4 g |
| Dietary Fiber | 8.7 g |
| Total Sugars | 2.1 g |
| Sodium | 362.6 mg |
| Protein | 8.2 g |