The Intense Workout That Gets KJ Apa In Shape For Riverdale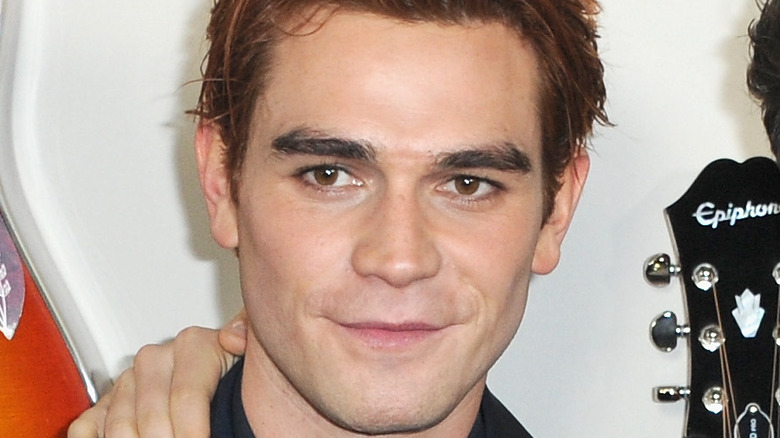 Albert L. Ortega/Getty Images
Kenati James Fitzgerald, perhaps better known as KJ Apa, is one of many muscular characters on the CW Network. According to Seventeen, Apa plays Archie Andrews on the hit show Riverdale. 
The 22-year-old's most famous role to date almost didn't become a reality.  Riverdale director, David Rapaport, tells the magazine, "I passed on him the first time he came in. He didn't seem prepared." Luckily, Apa got another shot. On his second audition, Rapaport claims, "He came back in and his read blew me away. Sometimes people have bad days and you miss something."
Since he's secured the role, the actor has really doubled down on his commitment to his high-school-student-turned-prison-boxer character and puts in the hours it takes to stay in admirable shape. His trainer, Alex Fine, tells Men's Health just what the rising star does to maintain his lean and muscular physique. "It's pretty brutal," Fine shares. "[Apa] has to be in outrageous shape pretty much year-round for all the roles that he's doing."
Apa's workouts are intense, but don't happen every day
Fine explains to Men's Health that he pushes Apa to do three different exercises back-to-back. And when doing a bench press, Apa varies his grips to activate different muscles. Fine favors exercises that rely just on body weight, but throws on some extra when it is necessary. "He's wearing about ten to twelve pounds of weight right now," says Fine, pointing to Apa in a weighted vest. "That's because he's getting strong enough to where he can push his own body weight."
Apa's trainer has stated that his workouts are pretty challenging but luckily, they are not every day. According to The Jacked Gorilla, Apa works out between three to six times a week, though he has been known to train for — not just one, but two — 90-minute sweat-inducing sessions on the days he does work out. Those long sessions include a mix of mixed martial arts, weight training, and cardio.
And this celebrity's diet appears to be as strict as his workouts. His personal trainer (who also works with other cast members on Riverdale) strongly recommends staying away from the carbs and following a low-calorie diet for washboard abs. "[Apa] is pretty strict already," Fine says to the New York Post. 
Despite Archie Andrew's love for Pop's Chock-lit Shoppe, Fine advised the star, "No chips. No bread." That's ok, KJ. We don't see Superman snacking on chips, either.