Inside Megan Thee Stallion's Kettlebell Exercise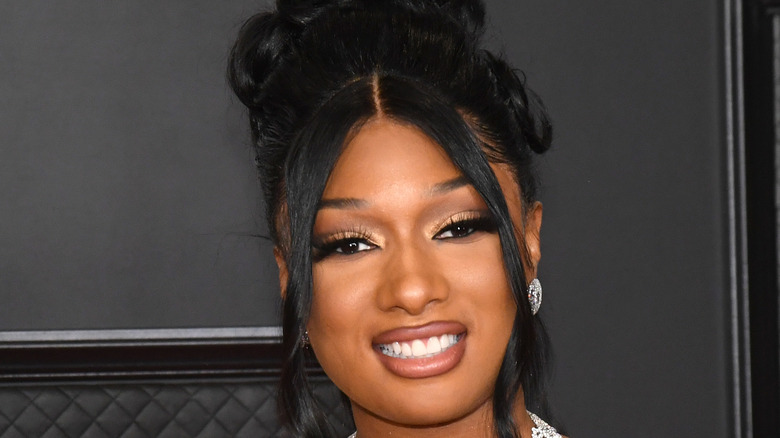 Kevin Mazur/Getty Images
Megan Thee Stallion is a queen in the music industry. Her solo work regularly tops the charts and she has collaborated with everyone from Cardi B to Maroon 5. And there is not one Birds of Prey fan that has forgotten the way Megan Thee Stallion and Normani made them feel with "Diamonds."
With drive like that, it's no surprise that Megan pushes herself just as hard out of the studio too. Her Instagram feed is full of self-promotion and networking (the sort of thing all artists are involved in) and Megan seems to excel at with her genuine nature and powerhouse skill.
But that's not all her Instagram boasts. Megan has been working on a project called Hottie Boot Camp 2.0 with her trainer, Tim Boutte. Boutte is a former pro athlete and now works as a celebrity trainer helping stars like Megan get in shape and rock the body they're trying to achieve.
For Megan, that means strong legs and a strong core. And, to that end, Boutte created a 5-move kettlebell workout as part of Megan's Hottie Boot Camp 2.0. It's an intense workout that targets the core, glutes, and thighs. And, as Megan's manager T. Farris found out, it fits right in with any program called a boot camp.
Girl (workout) power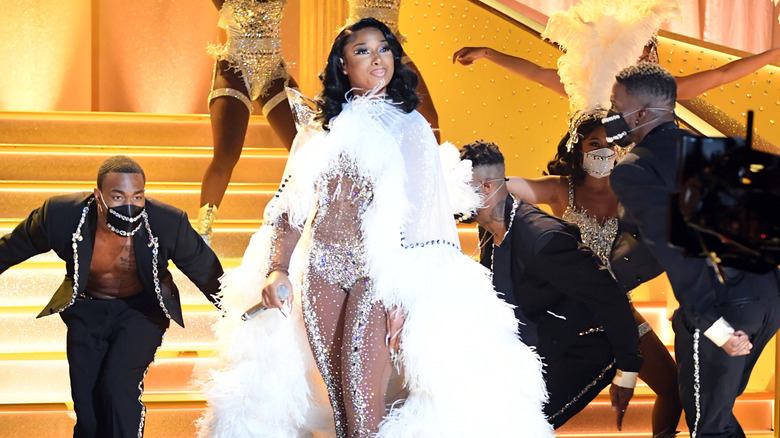 Kevin Winter/Getty Images
The killer kettlebell workout relies on a 30-on, 30-off system where each move is repeated for 30 seconds followed by 30 seconds of rest. Megan demonstrates the entire workout in an Instagram post shared on March 29th, starting with an elliptical workout that would knock out most people on its own.
After that Megan grabs her kettlebell and heads out into her driveway to finish up — all while her manager teases her about her 'girl workout'. So Megan does what most people would do. She has him join her, and together they move through the five workouts Boutte put together: kettlebell swings, goblet squats, kettlebell stationary lunges, Bulgarian split squats, and suitcase squats.
Even one round of these exercises would be rough. The American Council on Exercise researched kettlebell exercises and found that they work our dynamic balance, increase our aerobic capacity, and pump up our core strength. Megan knocks the set out of the park, though. Even the Bulgarian split squat, which requires the foot of your back toe to be elevated (demonstrated on Healthline), doesn't slow her down. Her manager throws in the towel in the second set. Megan, however, knocks out all five, her determination pushing her through.
Megan's workout isn't for the faint of heart and her results make it clear that Boutte's routine is working for her. Like Sebastian Stan, Megan knows the power of kettlebells in a good workout. She isn't shy about saying how much she hates the routine. But, she says, "It gets the job done" — and her fans would agree.