Easy Oyster Mushroom Jerky Recipe That Delivers A Smoky, Sweet Taste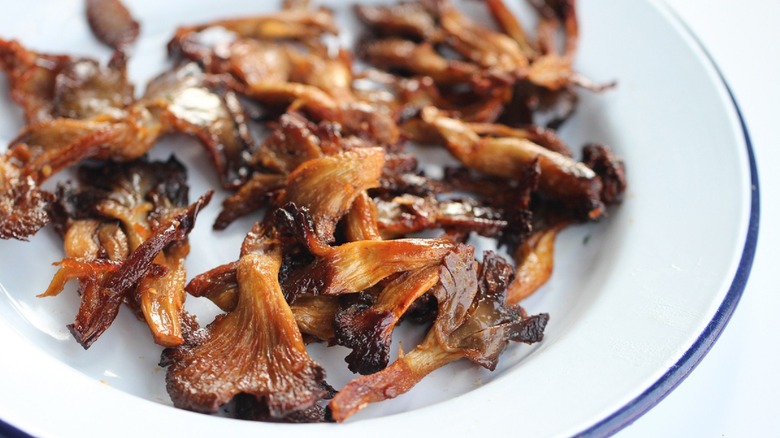 Susan Olayinka/Health Digest
Real talk here: Eating right and making healthy choices can be tough, especially when it comes to snacking. Sure, we might spend a ton of time planning breakfasts, packing lunches, and making sure there's a nutritious dinner on the table, but what about in-between meals?
That's where a lot of us fall apart, and it's not just because of the time element — it's also because there are probably a bunch of amazing snacks currently in your pantry. If you've made a promise to snack healthy only to find yourself elbow-deep in a bag of chips while chilling at home, you are certainly not alone.
Fortunately, we have Susan Olayinka to thank for this oyster mushroom jerky. She's the recipe guru over at The Flexible Fridge, and she's made it a point to come up with some healthy recipes that hit the spot, no matter what the craving may be. If you're looking for snack options that are substantial but still perfect for grazing, Olayinka absolutely has you covered with this recipe.
Wait, what? That's right! It turns out that you can absolutely make jerky out of oyster mushrooms, and it's so good that you'll never even feel the need to look at pretzels or chips again. Set aside just two hours of oven time (prep is super easy) and you'll have some jerky you're guaranteed to make again and again.
Gather the ingredients to prepare oyster mushroom jerky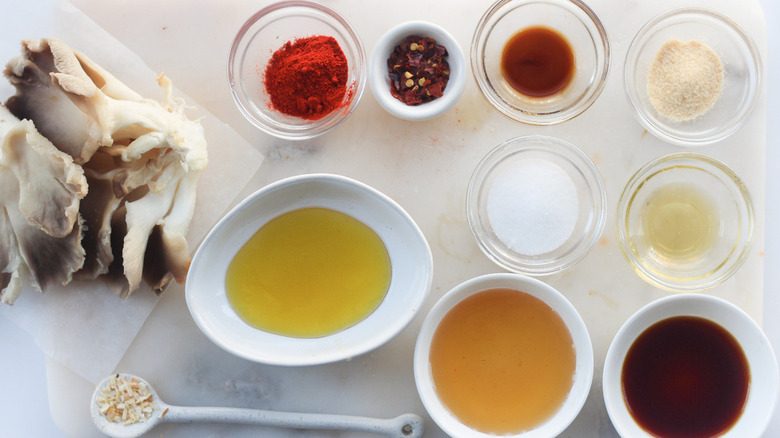 Susan Olayinka/Health Digest
One of our favorite things about this recipe is that it takes just a few minutes of prep time, and that's a total win. Start by gathering all your ingredients so they're well within reach. This is going to be a quick prep!
You'll need your oyster mushrooms, of course, and Olayinka says that if you happen to be a fan of other mushrooms, it's entirely possible that this will work just as well with some substitutions. She says, "I have only ever tried these with oyster mushrooms. Other types of mushrooms — like Portobello or button — appear to have a higher water content, so they might take much longer to dry out. Shiitake may be great, too!"
In addition to your mushrooms, you'll need garlic powder, salt, extra-virgin olive oil, liquid smoke, honey, paprika, onion powder, soy sauce, apple cider vinegar, and chili flakes.
While you're gathering the ingredients, you can also heat up your oven to 225 F.
Prep the mushrooms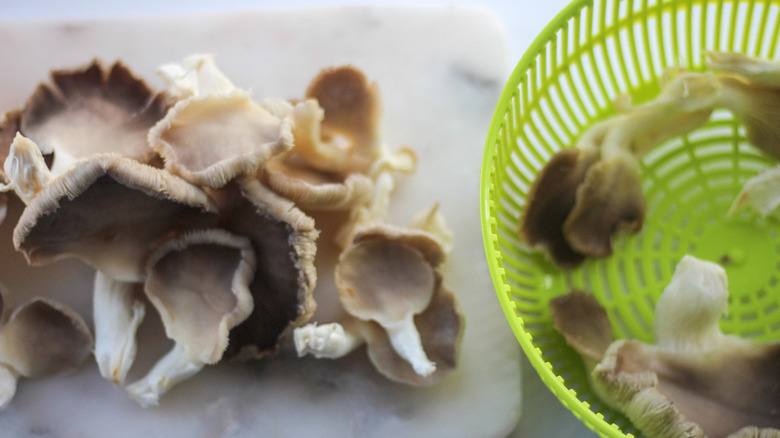 Susan Olayinka/Health Digest
The first part of this recipe is prepping the mushrooms. If you're sticking with Olayinka's oyster mushrooms, this step is super simple even if you've never done it before. Start by cutting away the central stem. The mushrooms will fall apart, kind of like they're a head of cauliflower.
Then, you should give them a quick rinse. We all know soggy mushrooms are pretty gross, so Olayinka has a shortcut that makes this part easy. "A salad spinner is great for drying these. I used mine, and my mushrooms weren't soggy at all," she says. Make sure you spin them really, really well. The goal is going to be removing all the moisture, so this is crucial.
Mix the ingredients together, and prepare the oyster mushroom jerky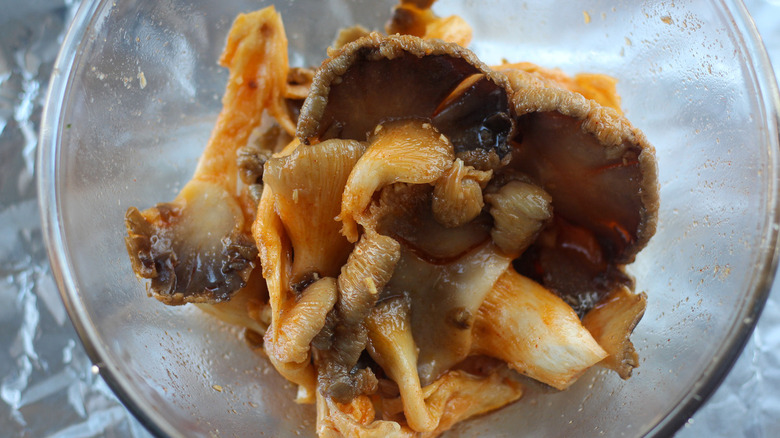 Susan Olayinka/Health Digest
Grab a mixing bowl for your ingredients. A little tip is to select one that's a little bigger than you think you're going to need. It will make mixing much easier, and you're going to want to make sure all the nooks and crannies of your mushrooms are covered.
Add the mushrooms to the bowl, then add the garlic powder, salt, paprika, onion powder, and chili flakes, along with your liquid ingredients: the extra-virgin olive oil, liquid smoke, honey, soy sauce, and apple cider vinegar.
While many of the ingredients here probably look familiar, one that might give some pause is liquid smoke. Olayinka says it's a bit of a secret ingredient in this recipe. "I love liquid smoke. Having an ingredient that gives a [smoky, sweet,] BBQ-y taste is genius ... and when you pair it with paprika, it's amazing!" Still, she cautions, "A little bit goes a long way, though, as it's very potent."
Mix thoroughly until everything is incorporated, then move on to the next step.
Lay the mushrooms out on a baking tray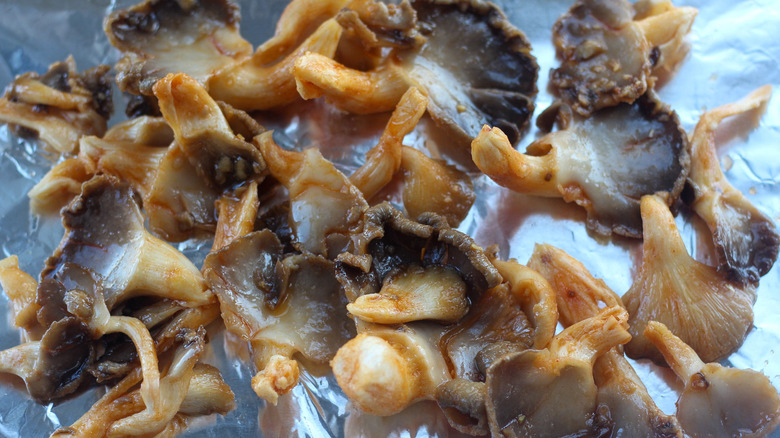 Susan Olayinka/Health Digest
The goal here is going to be to get as much moisture as possible out of your mushrooms to get that jerky texture, so air flow is key. Transfer your mushrooms to a baking tray that's been lined with aluminum foil — that will help make cleanup a breeze. When you're laying out your mushroom, be sure to minimize overlap on the trays in order to help ensure even heating. If necessary, it's better to use an extra tray instead of stacking them too closely together.
Bake the mushroom jerky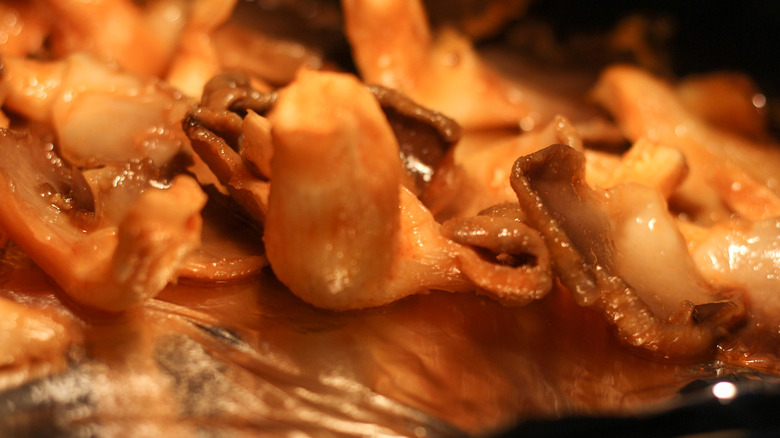 Susan Olayinka/Health Digest
Now, it's time to bake your oyster mushroom jerky. You're one step closer to enjoying this delicious snack, so get excited. It's going to take about two hours for the mushrooms to properly dry, and you'll want to flip them over when you're about an hour into the baking time. Again, be sure to try to minimize how many mushrooms overlap, as it'll help make sure the heat is doing what it should be.
Enjoy the mushroom oyster jerky, and store leftovers in the fridge to snack on later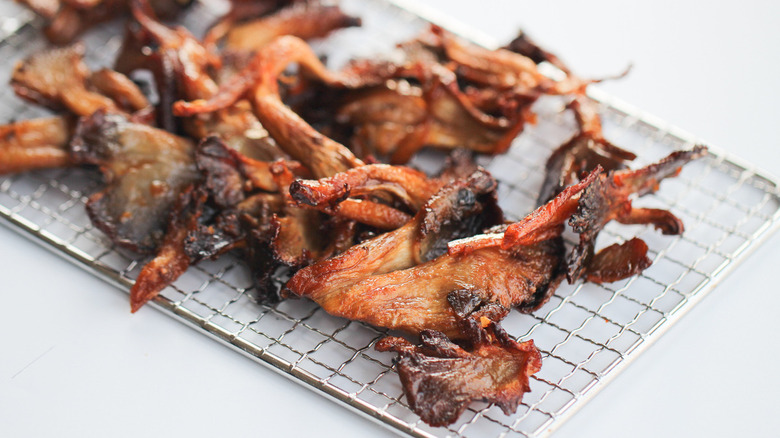 Susan Olayinka/Health Digest
After those two hours are up, your mushrooms should be nice and dried out to the texture of jerky! Check them (and pop them back in for a little longer, if needed), and once they're dried, remove the tray from the oven, and let them cool.
They're ready for serving, and here's the great part: Olayinka says that they store really well, and they'll stay fresh in the fridge if you store them in an airtight container. And that's the brilliance — you know those afternoons or evenings when you're feeling a little hungry, but definitely don't want to make a whole meal? A few pieces of mushroom jerky will seriously hit the spot and satisfy cravings. Plus, you'll feel great knowing you're making a healthy choice choosing to snack on these mushrooms.
Easy Oyster Mushroom Jerky Recipe That Delivers A Smoky, Sweet Taste
This oyster mushroom jerky is such a simple snack to whip up when you're craving a salty, sweet treat.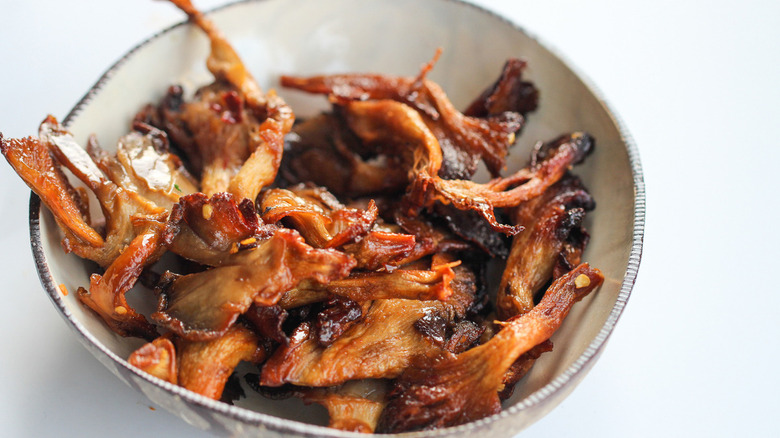 Total time: 2 hours, 3 minutes
Ingredients
4 cups oyster mushrooms
½ teaspoon garlic powder
½ teaspoon salt
¼ teaspoon paprika
¼ teaspoon onion powder
½ teaspoon chili flakes
2 tablespoons extra-virgin olive oil
½ teaspoon liquid smoke
2 tablespoons honey
1 teaspoon soy sauce
½ teaspoon apple cider vinegar
Directions
Preheat oven to 225 F.
Lightly wash the oyster mushrooms, and dry thoroughly with a salad spinner.
Add mushrooms to a large mixing bowl, with the garlic powder, salt, paprika, onion powder, chili flakes, extra-virgin olive oil, liquid smoke, honey, soy sauce, and apple cider vinegar. Mix completely.
Lay the mushrooms out on a baking tray.
Bake for 2 hours, turning the mushrooms over at the 1 hour mark.
Serve, and enjoy. Keep leftovers in an airtight container in the refrigerator.
Nutrition
| | |
| --- | --- |
| Calories per Serving | 164 |
| Total Fat | 9.5 g |
| Saturated Fat | 1.3 g |
| Trans Fat | 0.0 g |
| Cholesterol | 0.0 mg |
| | |
| --- | --- |
| Total Carbohydrates | 19.3 g |
| Dietary Fiber | 2.8 g |
| Total Sugars | 12.8 g |
| Sodium | 331.1 mg |
| Protein | 4.1 g |